Archived Arts & Entertainment
The maker and the mare: Haywood artisan combines love of horses, jewelry
Tuesday, January 04, 2022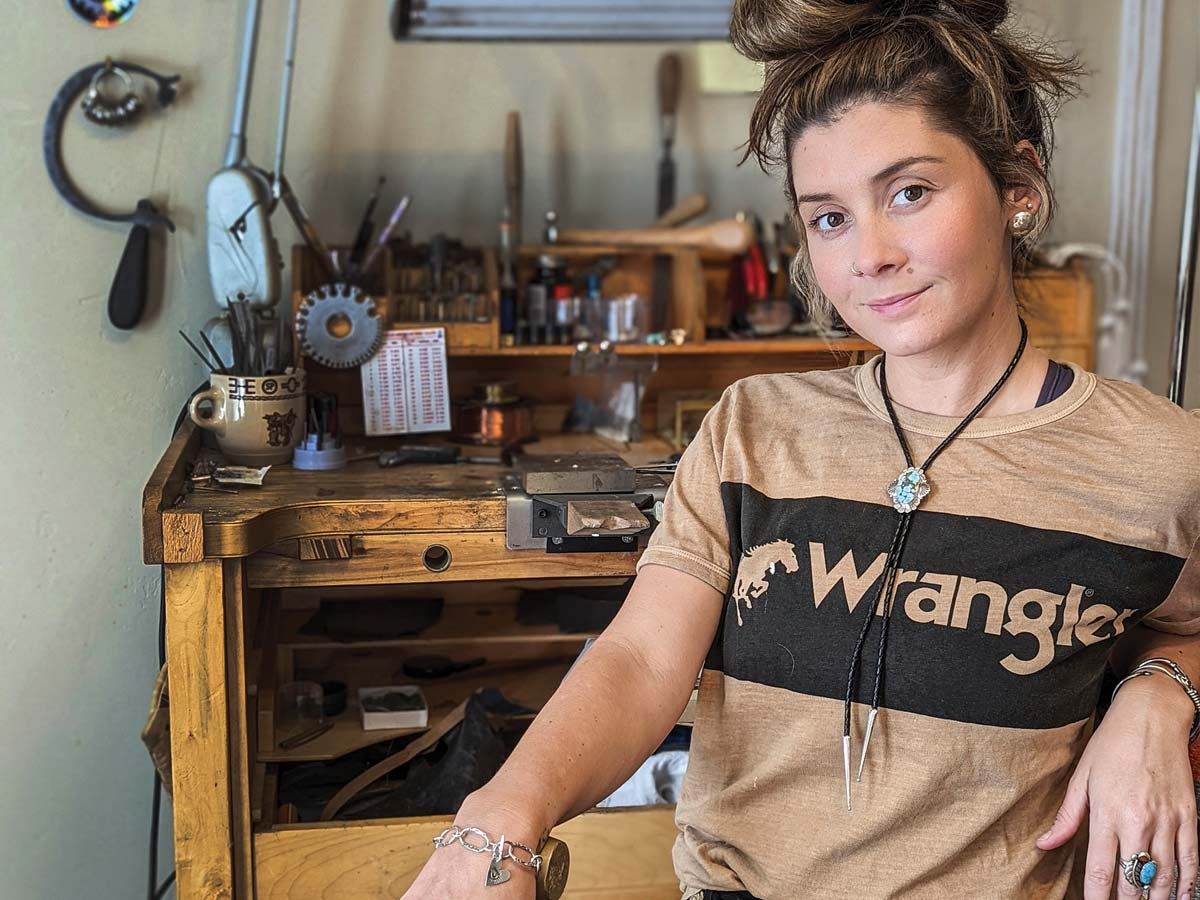 Jean Osborne, owner/artisan at The Maker & The Mare, at her studio in Clyde.
Raised on a family farm just outside of Greensboro, Jean Osborne was surrounded by hundreds of cows and thousands of acres — a place where she roamed freely and in her own time on her horse.
"I grew up riding horses and working on the farm, and that's where not only my love of horses comes from, but also my work ethic, something I learned from my father," Osborne said. "Being on a horse is something so natural and peaceful for me, that unbreakable bond between you and the animal — you treat horses like you treat people, and you treat people like you treat horses."
Following high school, Osborne went to Brevard College and studied sculpture. After a while, she realized that medium wasn't her true artistic passion. That, and she missed being on horses. Soon, Osborne left college and headed west, working on dude ranches, all while diving into other creative realms on the side.
"I've always been creative and dabbling in all different kinds of art," Osborne said. "But, when I was on those dude ranches, I realized that I wanted to combine my love of the ranching lifestyle with my love of silversmithing — there's just so much art in that type of living and that type of work with horses."
Osborne decided she wanted to make personalized pieces for horses and riders alike, from custom bits to spurs, but also earrings and necklaces with a western feel and equestrian flare. Making her way back east, she entered the famed metalsmithing program at Haywood Community College in Clyde.
"It's funny, I grew up around horses and art, but it never clicked that this is obviously my path in life — to create and to ride, and to combine both," Osborne said. "I've always worn jewelry and collected rocks and crystals. There's something so unique about jewelry. It's the first thing you notice on someone, where you can immediately tell so much about that person's style and attitude, and it usually breaks the ice and sparks conversation."
The pieces of her life and her art were falling into place, literally and figuratively, especially when her inspiration emerged from the "vaquero lifestyle" (aka: horse-mounted livestock herder), something at the heart of Osborne and her work — in the studio or on the saddle.
"The vaquero lifestyle isn't just a way of training horses, you're starting a relationship. You're starting an unspoken communication with them, one where you both equally have to learn," Osborne said. "In this process — this vaquero way — your end game is to make a 'finished' horse, with the steps to do this involving different gear."
That gear includes a snaffle bit (very mild on the horses' mouth), hackamore (rawhide braided nose piece and a leather hanger around the ears, no bit involved), two reins with a spade bit, then finally ending the training process with a spade bit alone. It's a process Osborne immerses herself in throughout the year as a burgeoning horse trainer, one until the tutelage and guidance of storied instructor Robbie Potter.
"It's a long journey to get a horse into a spade. But, when it happens, it's like a ceremony. It's pure harmony between you and the horse, and the way you work and ride together," Osborne said. "And that's why I want to be a silversmith, to be able to start a horse in a snaffle bit I made myself, then to finally adorn them in a spade bit once they're finished — my ultimate goal is a true fusion of my two crafts."
With her home studio now in Clyde, Osborne's work (the business now dubbed, "The Maker & The Mare") is in high-demand these days as online orders and commissions constantly roll in. Her waitlist can extend out for months, with each piece hammered and shaped with precision, passion, grace and grit — something at the core of all timeless, mesmerizing art.
"It's crazy and humbling to see people wearing my pieces. It makes you feel so good, there's no other feeling like it," Osborne said. "You spend your life looking for something that you love, and you want to be able to do it without angst, to look forward to getting up and going to work. I wake up, make a cup of coffee, walk into my studio, open the windows, open the doors, and create — life is good."
Want to know more?
For more information on Jean Osborne and her fine art jewelry/metalsmithing business, The Maker & The Mare, go to themakerandthemare.com or email This email address is being protected from spambots. You need JavaScript enabled to view it..