Archived Reading Room
Reading our way into the New Year
Wednesday, December 29, 2021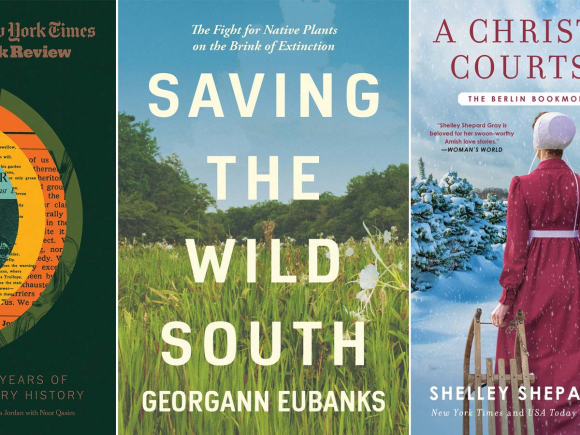 Let's kick off 2022 with a bunch of books.
You may have already boxed up the ornaments and carried the tree to the curb, but it's still not too late in the holiday season to enjoy Shelley Shepard Gray's "A Christmas Courtship" (Simon & Schuster, 2021, 306 pages). Set in Amish country, this romance novel features several courtships and budding relationships, including one between woodworker Atle Petersheim and his long-time heartthrob Sadie Mast, a widow and mother of three who is unaware of Atle's attraction when she asks him to build a bedroom for her oldest son.
So how did an old guy like me get hooked into reading a romance novel? I don't remember the initial impulse that prompted me to take it to the library's check-out desk, but I'm glad I read this book. It gave me a break from the ugly headlines and bitter politics of our public square, and reading a book where violence and obscenity are absent was a delight. One scene that did amuse me occurred when a librarian encourages the shy bachelor Atle to read a romance novel for tips and advice on the ways of courtship. He is profoundly embarrassed by the book, hiding it away as he leaves the bookmobile, and I found his discomfort amusing, as like him I was reading a romance novel.
Best of all, no one in "A Christmas Courtship" asked the question: "Are you vaxxed?"
On that same trip to the library, I brought home "The New York Times Book Review: 125 Years of Literary History" (The New York Times Company, 2021, 368 pages). Edited by Tina Jordan with Nor Quasim, this weighty volume should delight bibliophiles. The editors have included a history of how the Times Book Review came into being, but the bulk of the book gives readers sample reviews, reflections on various writers, and a boatload of photographs and illustrations.
The "Times Book Review" is definitely a dipper book, meaning visitors can turn to any page at random and begin their explorations. On page 243, we learn that Stephen King, master of the horror novel, reviewed books for years for The Times, including Elmore Leonard's "Glitz "and Louisa May Alcott's "A Long Fatal Love Chase." Farther along, we find Ray Bradbury chiding W.H. Auden for altering a poem.
I did have two quarrels with this collection. First, it badly needs an index. I wanted to see whether the editors, or for that matter, The New York Times, had included certain writers in this salute to literature, in particular Pat Conroy, Anne Tyler, and James Lee Burke, but had no way to discover them here except by flipping through the last 50 pages or so.
And those last 50 pages seemed to me laced with political correctness. Here were lots of female authors and writers of color from America and from around the world, but white guys? There weren't enough of them included to make up a game of poker.
For those who spend the winter dreaming of spring and flowers, "Saving the Wild South: The Fight for Native Plants on the Brink of Extinction" (The University of North Carolina Press-Chapel Hill, 2021, 256 pages) might help get them through the cold evenings of January and February. Here Georgann Banks points readers to 10 wild plants in danger of disappearing forever from our Southern landscape. Banks interviews botanists and conservationists attempting to protect these plants, takes us along with them into valleys and hills as they search for these beauties, and gives us the history behind the plants and the region in which they grow. Photographs of these men and women of science, and the native plants they are attempting to protect, add much to this narrative.
Also enhancing "Saving the Wild South" is Banks's calm and clear but passionate prose. She is a fine writer who ably blends past and present into her story, making this a valuable book for those who enjoy reading about regional history as well as conservation of our natural landscape.
And for parents and teachers looking for creative ways to interest your students in reading, spelling, and writing, check out "Bringing Up Bookmonsters: The Joyful Way to Turn Your Child into a Fearless, Ravenous Reader" (The Experiment LLC, 2021, 278 pages). Here Amber and Andy Ankowski offer scores of ideas to make literature and reading fun and attractive to children. Their lively approach can be seen in the opening sentences of the book's Introduction:
Cover yourself in khaki and throw on one of those big, round explorer hats. Because we're about to go on an adventure.
Past mountains of dirty laundry…
Across carpets booby-trapped with tiny toy landmines…
And deep into the lair of the legendary, elusive creature known as the bookmonster!
The bookmonsters are children, of course, "curious, imaginative, and able to keep themselves entertained for hours."
Drawing on their professional experiences — Amber teaches children's language and cognitive development at the University of California, Los Angeles, and Andy is an award-winning advertising creative director — and from lessons learned from their own children, the Ankowskis cover everything from enticing kids to read to family conversations at mealtime that help develop vocabulary. The "Bookshelf" at the end of "Bringing Up Bookmonsters" contains a solid selection of recommendations of good children's literature.
Enjoy and Happy New Year!
(Jeff Minick reviews books and has written four of his own: two novels, "Amanda Bell" and "Dust On Their Wings," and two works of nonfiction, "Learning As I Go" and "Movies Make the Man." This email address is being protected from spambots. You need JavaScript enabled to view it..)