Archived Arts & Entertainment
Dawn a new day: Greg Ormont of Pigeons Playing Ping Pong
Wednesday, December 29, 2021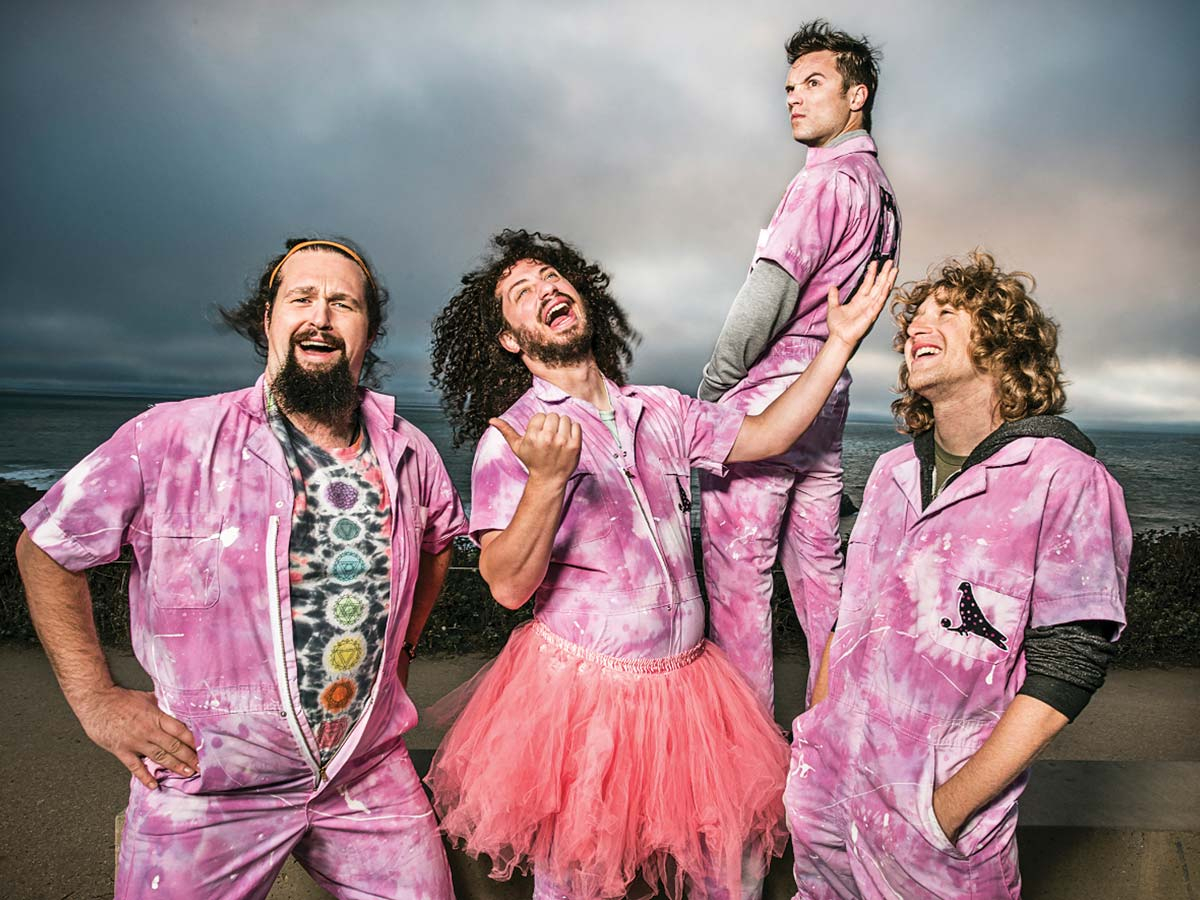 Pigeons Playing Ping Pong.
In the long, storied history of jam bands and the rollicking aura of time and space surrounding each unique musical entity, comes the notion of artistic themes and pure mischief at the hands of those on both sides of the microphone.
For Baltimore, Maryland-based group Pigeons Playing Ping Pong, the quartet is well-regarded for its keen sense of self, one of immense improvisational talent, and also using its platform to elevate not only its sound and scope, but also the experience of the listener in the midst of a performance — a sacred setting where Pigeons truly shine as a pillar of the modern jam era.
And with its annual New Year's Eve celebration just around the corner, the band is once again calling the Harrah's Cherokee Center–Asheville its headquarters for another go-round of its highly-anticipated pranks, costumes and song selections — all amid an unfolding scene of music and madness only found at a live show.
Smoky Mountain News: Pigeons is based out of Baltimore. How would you describe that scene? What makes it unique?
Greg Ormont (lead singer/guitarist): The club that like everyone goes to here is the 8x10. It's a tight room, about 350-person capacity. But, it really feels like 200. And that's where you see the same people every time. So, while it's not a massive jam scene, it's certainly tight-knit, which is what I think sets our scene apart.
When I moved to Maryland for college, my guitarist, who grew up here, would take me to the 8x10 all the time. We'd catch The Bridge (a legendary Baltimore jam/rock act) shows where it was sold out every week — and every week was different, no repeats.
Eventually, The Bridge sort of passed the torch to us when they started playing less. And we got to do some residencies at the 8x10 [to fill that jam-band void]. It's where we started playing theme shows more regularly. So, as we talk about our upcoming New Year's Eve show in Asheville, we've been doing themes for well over 10 years, with part of the reason doing those 8x10 shows.
With those New Year's Eve shows, we had to push ourselves musically to create some new cover ideas or teases or mashups of our own songs — to not only stretch our material, but make it exciting for the fans, and for us. And it's been so much fun that we still do it to this day.
SMN: And I would surmise at the core of the ethos of the band is always challenging yourself — musically and artistically.
GO: Oh, absolutely. I mean, we have a lot of songs now. It would be very easy to stop writing and ride the songs that people know and play less unique sets. But, frankly, that's just not fun.
Each time we play, it's fun. But, it's the most exciting when we're doing something new, which goes for the band as well as the fans — it's the ethos of the jam scene. With these particular theme shows, we put a lot of time and effort into making these shows happen.
It's extra visual elements going on and some gags around New Year's Eve, which are really fun and exciting to plan. We've been able to kind of see our vision through in a larger sense. So, it's not just fun covers, we're also able to bring in some extra elements that the crowd would never expect.
SMN: Why is the spectacle aspect of your shows so important?
GO: Well, we've been inspired by the bands that came before us. And I also come from a theater background. So, as a kid, I did plays and musicals. I'm very comfortable with costume changes, big crafts and the visual aesthetics.
But, I would say, more than any of that, our inspiration comes from the band Phish. Before Pigeons started playing our New Year's Eve shows, guitarist Jeremy [Schon] and I would see Phish for New Year's — every year, no matter where they were. And we've seen some really cool gags and visual elements at those shows that stuck with us for life.
With New Year's Eve, I think people pour a lot of expectation and excitement into it. We kind of take it as our job to exceed those expectations and to make it more of a spectacle — something beyond just a balloon drop, something more to write home about, this really exciting memory.
It's a task we don't take lightly. It feels like an honor to be able to kick off someone's year, and that they trust us in showing them a great time. We want to make good on that expectation, and also scratch all of those creative itches as musicians and creators of the moment — it's a beautiful thing.
SMN: Your band name comes from experiments by famed psychologist B.F. Skinner, in regards to his "principle of reinforcement." How does that theory play into what we love about live music and art?
GO: That's a really interesting question. I don't know if anyone's ever asked me that, and I can tell you, I've been asked about the band name more times than I can remember.
Well, I mean the process of teaching pigeons to play ping pong is about establishing habits, and those habits can be positive habits, too. And I think, as it relates to live music, we've all grown to trust ourselves to be open to new music, to be vulnerable or amongst likeminded people to try new things. And the habit that forms from that is really rewarding.
If you take a risk on a new band and you give it a genuine shot, typically your reward will be a great time. And that goes for meeting friends, at live shows and just living life, in general.
If you respond to the positive stimuli, you get positive results, just like when B.F. Skinner flashed a light in front of a bird to make them hit a ball. The crux of all that is, at least with human nature, you'll get shown the stimulus. You'll get flashed the light, but it's your choice if you're going to take the bait — to take the ride and get the reward.
Want to go?
Beloved jam-band Pigeons Playing Ping Pong will hit the stage for "Arena 54 New Year's Eve: An Intergalactic Disco Celebration" at 7 p.m. Friday, Dec. 31, in the ExploreAsheville.com Arena at Harrah's Cherokee Center–Asheville.
Openers for the Dec. 31 concert will be Keller Williams and Funk You. In preparation for the holiday showcase of sound and spectacle, there will be an intimate kick off concert at 9 p.m. Thursday, Dec. 30, at The Orange Peel in Asheville.
For more information and/or to purchase tickets, go to pigeonsplayingpingpong.com and click on the "Tour" tab.