Archived News
Cherokee rolls out ARP spending plan
Wednesday, December 08, 2021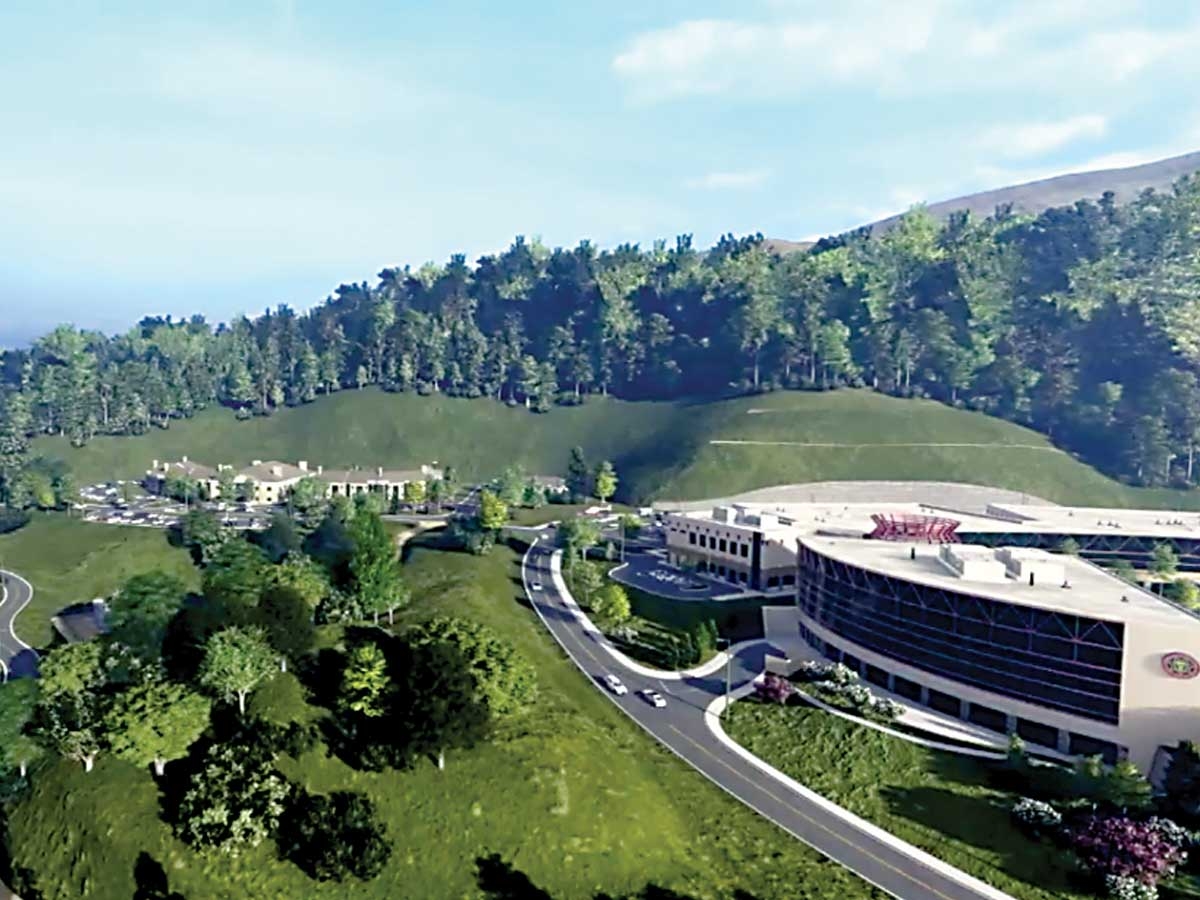 Nearly one-fifth of Cherokee's ARP funds will go toward a $105 million long-term care campus planned for the property adjacent to the existing hospital. EBCI rendering
A long-term care center, massive expansion to broadband access and direct payments to tribal members are some of the many uses the Eastern Band of Cherokee Indians plans for the $117 million it will receive directly from the American Rescue Plan — with even more money likely to come from ARP-funded grants other agencies are in the process of awarding.
"After all these agencies are done with their competitive processes, that number could substantially increase," said EBCI Secretary of Treasury Cory Blankenship.
Spending guidelines for tribes are similar to those that govern cities and counties, but with more flexibility, especially when it comes to addressing access to housing, health care and broadband internet. The tribe "really wanted to make a long-term investment in those areas," Blankenship said.
To develop its plan, the tribe engaged a consultant to review the guidelines and then met with elected leaders to get their input on spending priorities. From there, tribal leadership developed internal policies on funding use and finalized its plan.
While $117 million dwarfs the typical annual budget for surrounding counties, it represents just 18.5% of the $633 million budget the tribe adopted for the current fiscal year. And while only $10.5 million of the sum will be used to make up for lost revenue, Blankenship said that the tribe could have justified using the entire $117 million that way. Overall, he said, the ARP funding brings the tribe about level with where it would have been financially had the pandemic not occurred.
The single largest line item in the ARP spending plan is $25 million toward the construction of a new long-term care facility to replace the aged Tsali Care Center. Tribal Council approved the $105 million project in August, and at the time didn't know that ARP funds would be available to help. The $25 million will nearly cover the estimated $27 million needed for site work. The facility is expected to open in early 2025.
The plan also includes $20 million for broadband expansion, a game-changing project that will run fiberoptic cable to nearly all of the Qualla Boundary by 2023. That cable will then provide internet to individual homes through direct connections, wireless connections, or a radio spectrum that the U.S. government recently released for civilian use with an eye to increase broadband availability.
"We're going to have more options than ever before to connect people in these rural areas to some type of high-speed internet connection," said Blankenship.
Another $16.5 million will go toward direct financial assistance to tribal members impacted by the pandemic. That includes $13.5 million for $1,200 individual payments for adult members, $2.8 million for $600 direct payments to minor members and $3 million for an energy assistance program that will provide 6,000 households with $500 apiece, regardless of whether they reside on the Qualla Boundary or not. The application process to receive the funding is "straightforward and simple," Blankenship said, and the tribe did not deny any member who applied.
The tribe also plans to spend $32 million on a slew of initiatives under the heading "building stronger neighborhoods and communities." This includes $10 million for water and sewer infrastructure; $9 million to further the tribe's goal of putting a recreation center in every community; $3 million apiece for language revitalization efforts as well as infrastructure and site preparation for 50 home sites; $2.5 million apiece to pave 100 home driveways and to expand HELP program services; and $2 million for solar energy at 400 homes.
Finally, the plan includes $5 million to help Cherokee Central Schools address education disparities and $8 million for small business assistance programs, including $3 million for the tribe's cultural partners and $2.5 million apiece for ecotourism projects and local business assistance programs.
"ARP is really focused on long-term investment," said Blankenship. "What improvements can we make in our community over the long-term that makes us stronger and more resilient?"