Archived Arts & Entertainment
Last of the better days ahead: A conversation with Charlie Parr
Tuesday, December 07, 2021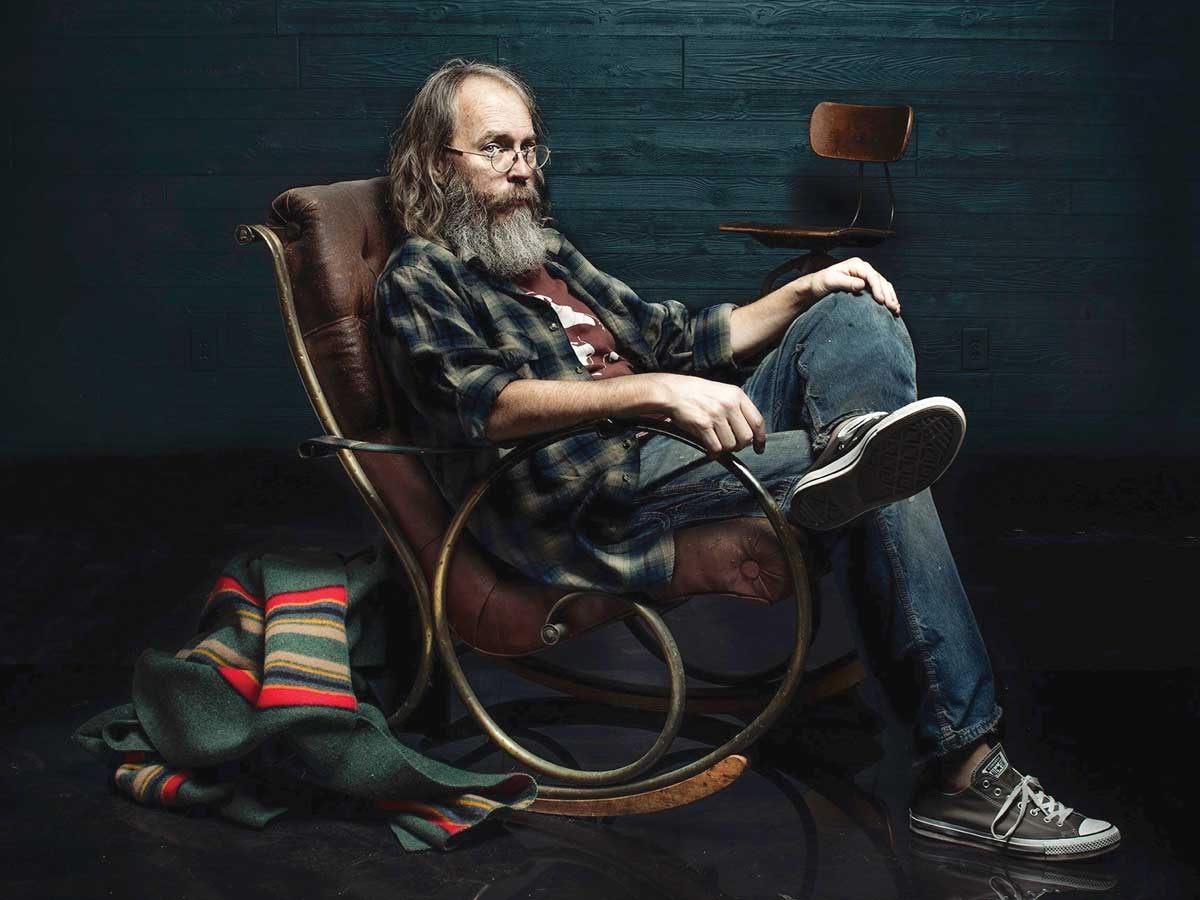 Charlie Parr. (photo: Shelly Mosman)
To be blunt? Charlie Parr is one of the finest singer-songwriters today.
Based out of Duluth, Minnesota, Parr is true poet/musician, one who embraces the ebb and flow, the changing landscape of his surroundings, whether it be geographical, seasonal, political or social.
Parr's attentive and observant, usually wandering and pondering, this human weathervane atop some universal backwoods barn. He's constantly shifting and moving to the winds of change with his unique, signature tone described as "North Country gothic," something deeply felt on his latest release, "Last of the Better Days Ahead."
And yet, Parr's an old soul and kindred spirit. He's a salt of the earth entity, one who gazes as much into the rearview mirror of the past as he does through the windshield onto the unknowns of what tomorrow may bring, for good or ill.
In recent years, Parr had aimed to more present, subscribing to the idea of "the now" and what wonders that can do for a restless and busy mind. Through it all, Parr keeps his head up, come hell or high water. He's a self-proclaimed work-in-progress in the face of a modern world that sometimes seems too scary and daunting to greet each morning.
It's all of the traits and characteristics listed above that make Parr so relatable to die-hard longtime fans or the curious onlooker who just happened to stumble into a small club and bear witness to one of the most captivating voices and stage acts in the current live music scene.
Simply put, Parr is as real and alive as his audience, this sacred bond forged in the ancient ways and means of what it means to be a songwriter and voice-of-reason amid confusing, uncertain times.
Smoky Mountain News: What is it about the landscape of Minnesota that inspires your words and music so much?
Charlie Parr: Duluth is a really unique place. Geographically, it's actually built in an area that was probably underwater when Lake Superior was first formed. So, it's a steep hillside that leads down to the lake.
When you're in Duluth, when you get up in the morning, one direction out of the four is nothing but nothing. Sometimes the lake and the horizon look the exact same, especially in the fall when they turn the same color. It's a weird feeling. It gives you this expansive, living on the edge of eternity kind of feeling.
SMN: You've spoken at-length about finding balance with your mental health. And that was a big thing during the shutdown, everyone trying to find balance within themselves and check in on others. I'm curious if the pandemic has either hampered or fueled your growth?
CP: It definitely fueled my growth. But, everything kind of does, in a weird way. I've had some pretty massive setbacks in the pretty recent past. And all of that stuff kind of goes into the book to help move forward with mental health.
Right now, most of what I do with my anxiety and depression is dialectical behavioral therapy, which is a practice. You have to practice it every day in order to get it right. Like with everything, it's a process every day. So, everything kind of goes into the book and fuels the fire, so to speak.
It's going to be with me forever. I'm not naïve about that. I understand what's happening. I'm always going to kind of have it with me, it's just learning how to live with it — gaining balance and get in phase.
SMN: It's the idea that to appreciate happiness, you have to embrace sadness, and be consciously aware that being sad is to be human. But, the difference is knowing how and when to pull yourself out of it.
CP: That's exactly right. It's easier said than done on some days. And some days, you feel like you get it, you know? I mean, you can't predict all the weird things that are going to come up and kind of get in your way and interrupt the process. But, then again, it's also hard to predict when those things are going to come up, which is why it's instrumental in getting ahead [of those interruptions].
SMN: So, how does that play into the title of the new album, "Last of the Better Days Ahead," when you apply it to these last couple of years?
CP: It comes out of conversations that I've been having. I've gotten to spend more time with my mother, too, which has been really good. She's 93 and has Parkinson's disease. But, her brain is actually fine, and I'm grateful for that. She's got her memory and she cognitively doing well.
Ever since I was young, she's always encouraged me to be kind of aware of the moment I'm in than living in the future or living in the past. She's a big advocate for trying to stay present in the moment.
She and my dad weren't philosophers or anything. They were meat packers. They worked in a plant all their lives and did labor work. But, they were both these [sort] of wise people that would throw these little bits of wisdom at you every once in a while.
And that's one she's come back to again and again — be here in the present moment. It's that idea that, you know, "you're going to get there tomorrow" and "free beer tomorrow," and that it's a lie. So, my idea about the "Last of the Better Days Ahead" is to try to put aside this idea that there are better days coming and to concentrate on the day that I have.
It's the idea that there's going to be something about this day that I can be grateful for. Even if this is a bad day, there's going to be something here that I can say, "Yeah, this is something I'm grateful for."
Want to go?
Beloved singer-songwriter Charlie Parr will perform at 8 p.m. Wednesday, Dec. 15, at The Grey Eagle in Asheville. Dead Horses will open the show.
The concert is all ages and seated. Tickets start at $15, with premium seating available for $22. For more information and/or to purchase tickets, go to thegreyeagle.com.