Archived Reading Room
In the shadows of the sun
Wednesday, December 01, 2021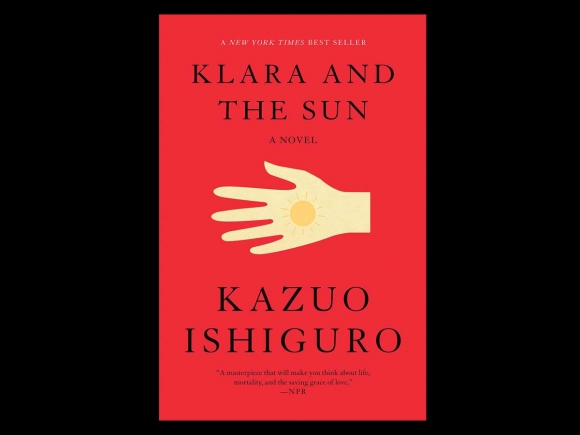 Kazuo Ishiguro, who was born in Nagasaki, Japan, is an award-winning author whose accolades include The Nobel Prize and the Booker Prize. His novels, such as "The Remains of the Day" have been made into major motion pictures.
In his latest,"Klara and the Sun," (Knopf, 2021) his central character is an android robot that is designed for a certain age of child as a companion and a caretaker. In this book the robot's name is Klara, who is bought by mother and her teenage daughter (Josie) in a humanized-robot store in a major city (possibly London or New York?) sometime in the not too distant future.
As the book's narrator, almost everything in this 300-page novel is seen and experienced through Klara's perspective. While we never get an actual description of her appearance, we come to assume that she has all the attributes, physically and mentally, of a normal human being. And so the saga begins, starting with her 'shelf life' at the AF Store, as it's called.
Klara soon becomes the property of Josie and her single mother and is moved to their living quarters just outside the city. Josie has some kind of potentially terminal physical disability or illness, and Klara is alongside to keep an eye on her and help her with things during stressful days and nights. But she is there, too, to be Josie's best friend — which is what happens and the relationship between the two builds and is orchestrated, with solos, amidst Ishiguro's symphonic prose.
Klara runs on solar power, hence her intimately spiritual relationship with the sun. Often taking forays into nature, Klara sees the natural world as a kind of church. This is Ishiguru's way of emphasizing contemporary human separation from the natural world and, as well, the invasion of the industrial machine age.
"Klara and the Sun" is primarily a book about love and relationships and therefore comes off as being very interior and anything but a load of conflict with the trappings of hostilities and violence, which is so prevalent these days in both fiction and film. Rather, Klara comes off as being quietly heroic while emanating a kind of ancient stoicism — gentle, compassionate, comforting, courageous and supportive, all of which she has been programed to portray. In doing this, she has gained the respect and admiration of both Josie and her mother, Helen, as well as the other major characters in the story.
Nick, who becomes Josie's boyfriend and adolescent soulmate, lives in the same rural neighborhood. Josie's father, Paul, who lives quite a distance away from his ex-wife and Josie, is all business and left-brain logic and rarely interacts with either of them. There are also peripheral characters such as the manager of the android robot store and Melania the housekeeper who is employed by Josie's mom to keep house and cook meals.
If a storyline of dialogue and interior monologues isn't your normal cup of tea, then I suspect that you haven't read anything by Kazuo Ishiguro. With his sparkling prose, he drew me right in to this family portrait and ramble. Ishiguro is a master at transforming understatement into enlightened prose. His subtle approach can even hide major themes (such as climate change) that are part of the story's environment or trajectory. Subtle innuendoes or prosaic narratives that hint to something greater than themselves are apparent throughout "Klara and the Sun." It wasn't until the end of the book that I realized that this book had been set in the middle of the covid pandemic and that Josie's "illness" was probably from this source. But Josie is tough and doesn't give in — to anyone or anything — and she is determined to survive and carry on with her "dream life" with Rick.
"Klara and the Sun" begins in the shop that sells robots and ends in an android junk yard where old robots go to "die" — an ironic but brilliant ending worthy of film. What happens in between is a revelation that includes magic and a major miracle.
Here, Klara becomes a kind of healer and the sun becomes a major character in and of itself as a kind of diety. This bit, then, from that scene:
"The Sun's patterns were falling over various sections of wall, floor and ceiling with unusual intensity .... The Sun's nourishment came into the room so abundantly Rick and I reeled back, almost losing balance .... It had broken through the dark clouds, and all at once — as if each of us in the room had received a secret message — we turned to look at Josie .... The Sun was illuminating her, with the entire bed in a ferocious half-disc of orange .... We watched and waited, when at one point the orange half-disc looked as if it might catch alight .... The Sun continued relentlessly to shine on her, and she shifted till she was on her back, propped up by the pillows and headboard. 'What's going on? Why's everyone here? What are you staring at,' Josie asked?"
After this scene occurring toward the end of the book, there is still more to come. So, no spoilers, here, from me. Suffice it to say that Ishiguro's genius shines forth once again in "Klara and the Sun."
(Thomas Crowe is a regular contributor to The Smoky Mountain News and author ofthe multi-award-winning non-fiction nature memoir "Zoro's Field: My Life in the Appalachian Woods.")