Archived News
Ten years ahead: WCU trustees mull master plan proposal
Wednesday, November 17, 2021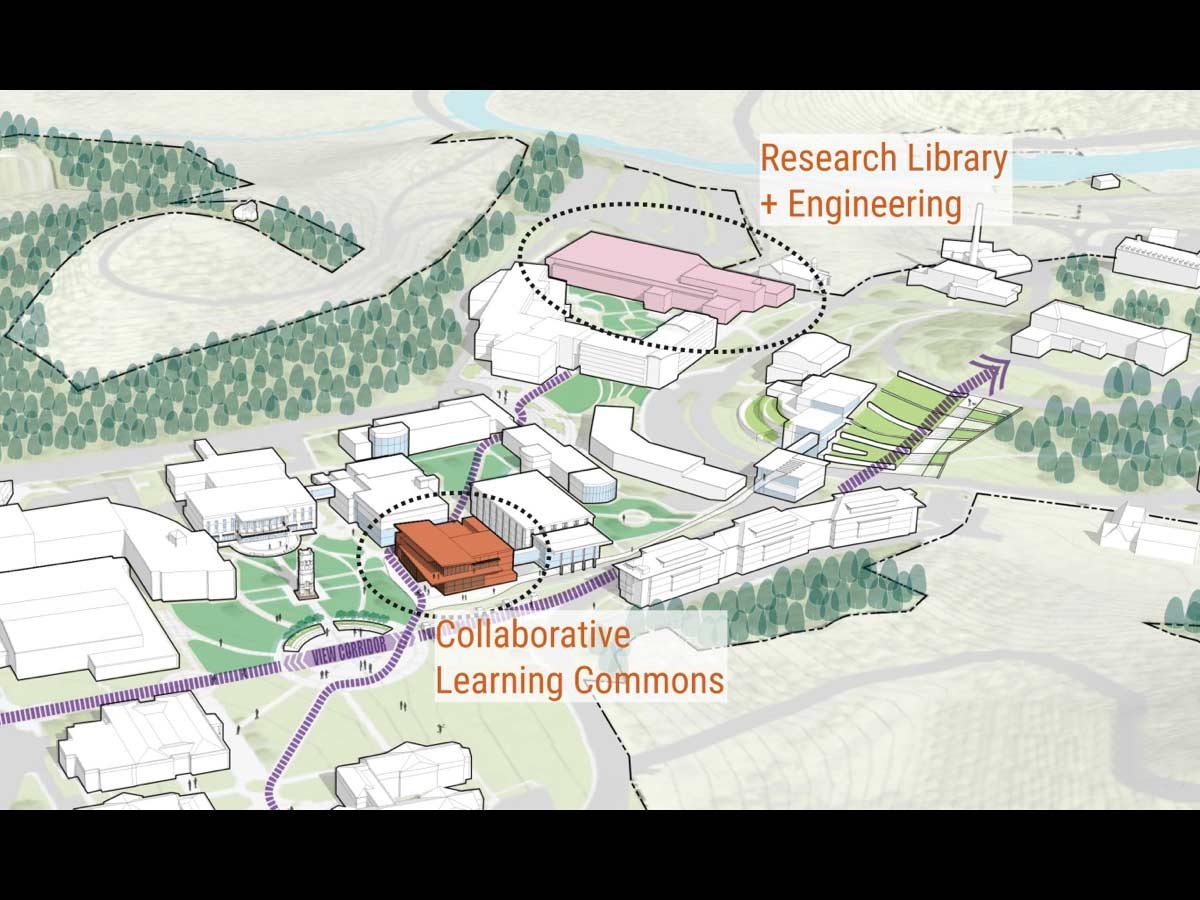 The draft master plan proposes a split library model with the research library remaining at Hunter Library, while the digital library and student collaboration space would move to a new collaborative learning commons building. Hanbury/WCU graphic
At a board retreat this month, Western Carolina University trustees got their first look at a draft proposed 10-year master plan update that calls for a reimagined library, beefed-up athletic facilities, and overall improvements to campus organization and aesthetics.
The university's current master plan is less than 10 years old, but so much has happened since its 2014 adoption that the university needed an update to carry it toward the future, Vice Chancellor for Administration and Finance Mike Byers told trustees Nov. 5. WCU engaged Hanbury , the same firm that did the 2014 plan, for the job. After hearing the presentation this month, trustees will be asked to officially adopt an updated master plan at their regular quarterly meeting Friday, Dec. 3.
"A lot of the key fundamental land use and broad-brush concepts from the previous plan are still relevant," said Keith Storms, president of Hanbury. "But at the same time the strategic plan has shifted a bit, so the master plan itself needs to pivot to support these strategic goals."
As part of the master planning process , the consultants completed a space needs analysis that showed a shortage of more than 300,000 square feet. The university's strategic plan calls for a "reshuffling the deck" strategy to meet those needs, maximizing use of existing infrastructure and campus space where possible.
That's what makes the draft plan a "very good" one, said Associate Vice Chancellor for Facilities Management Joe Walker.
"We have a lot of renovation needs, and a lot of these shuffles will help us renovate those spaces and bring those up to date for the new component," he said.
Nearly half — 137,000 square feet — of the assessed space shortage is in athletics. The student center takes second with 52,000 square feet, and instructional space ranks third, with 34,000 square feet. The draft master plan sketches out four "zones" within campus — STEM district, arts district, student life core and Cullowhee connections — and calls for future moves that bring like programs together within those boundaries.
SEE ALSO: The focus areas
The campus calling card
The draft master plan focuses as much on enhancing the look and feel of campus as it does on expanding program space. WCU's outstanding natural beauty is its "calling card," Storms said, a "distinct advantage" compared to many other schools.
Now that Scott and Walker residence halls are gone, that advantage is even stronger, with a line of sight open through the spine of campus to the mountains ringing it.
"The first thought is how do we reinforce that, build on what we already have here in the unique heart of campus and make those views more part of the day-to-day experience," Storms said. "Why is this important? Those visual connections help the campus feel smaller."
Emphasizing that smaller feel will affirm WCU's existing identity as a tight-knit, relationship-focused community and make people more willing to ditch their cars when moving around campus.
Improved traffic circulation is an important driver for the plan, which calls for trading the many small lots now scattered through the middle of campus for more easily accessible parking areas closer to its edge. "Lot shopping" causes about 40% of the traffic on some campuses, Hanbury designer Elizabeth Morgan said — pleasant pedestrian experiences and easy outskirts parking will encourage people to park their cars and become pedestrians en route to their final destination.
Making campus a more comfortable place for students to hang out will also reduce traffic, she said, because it will encourage students to find a study nook to kill between-class hours rather than traveling home.
Planning for athletics upgrades
The plan won't include a mechanism to pay for the desired improvements — master plans typically don't — but Byers said the university does hope to budget $60 million to get started on suggested improvements to WCU's athletics facilities. The university is seeking a design firm to help determine how far $60 million will go, but the highest priorities are a field sports building to replace the to-be-demolished Camp Lab Gym, a field house building replacement and Whitmire Stadium repairs, renovations and upgrades.
"We think we need a lot more, but we think we can afford $60 million," he told trustees.
Of the $60 million, half would come from philanthropy and half from debt to be paid down with student fees. To achieve that goal, said Byers, each student would need to contribute $249 per year to the mortgage payment. Overall university fee increases are capped at 3% per year, so WCU is planning a multi-year process to get student fee revenue to the desired level. This year, Byers will ask trustees to approve an $86 increase to the current athletic fee of $400 per two-semester year. Two years from now, when debt equivalent to $104 per student on the existing fee retires, Byers' office will seek to keep that capacity in the fee and add $59 to the total.
The proposal drew pushback from Student Government Association President Rebecca Hart, a member of the Board of Trustees.
"I understand the facilities do need a lot of help, but we also have to understand we have a very significantly high athletic fee, and the students who are paying for this will never see this," she said.
Byers said that six institutions in the University of North Carolina system have an athletics fee higher than WCU's, though acknowledging that the plan would put WCU in the top three for two years — assuming no other institution raises their fee in that time.
While the master plan outlines a general direction for the university's future as well as some specific, large projects, its core purpose is to serve as a "flexible, living document" to guide university leaders in the decade to come, said Storms.
"Based on new information things change," he said. "We want to make sure we have principles that guide you for the future, key moves that are visionary, but also flexible to accommodate funding and different impacts over time."
A previous version of this story stated that SGA President Rebecca Hart is a nonvoting member of the Board of Trustees. Hart is in fact a voting member of the board.