Archived Arts & Entertainment
Rolling down that lost highway: A conversation with J.D. Pinkus
Friday, November 12, 2021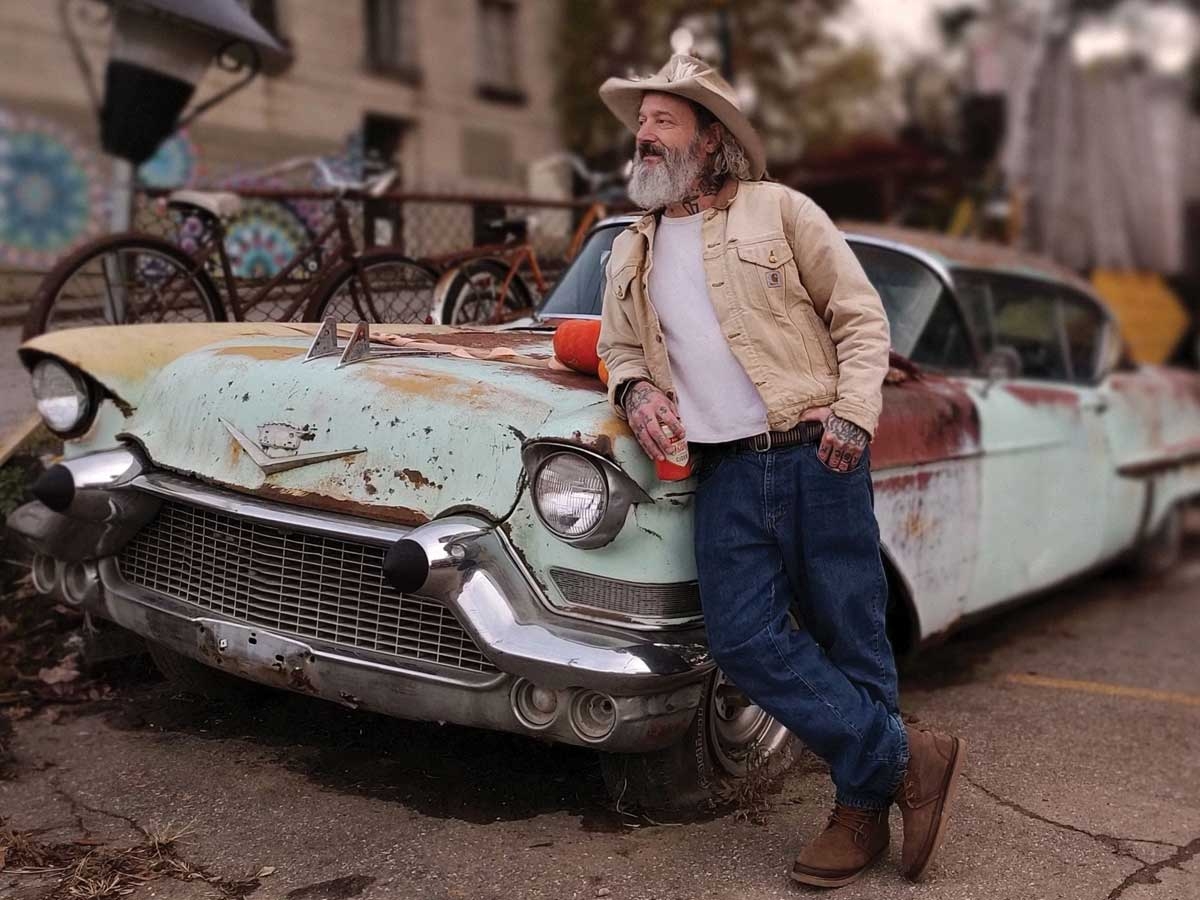 J.D. Pinkus. (photo: Garret K. Woodward)
Hunkered down at a table in the depths of the cavernous DeSoto Lounge in West Asheville, J.D Pinkus takes a sip from his vodka soda. He adjusts his cowboy hat, leans back into the vinyl bench seat and grins — in awe of the road to the here and now.
Hailing from Georgia, Pinkus left home at 15 and found himself in the seminal 1980s Athens music scene. A well-regarded bass player by age 17, he was soon scooped up by groundbreaking psychedelic hard rock act Butthole Surfers, only to be whisked off on a European tour with the notoriously raucous band and its legions of die-hard, frenzied fans.
From there, he followed the Surfers back to its native Texas, a place Pinkus called home for the better part of the next four decades. Leaving the Surfers in 1994 (only to return in 2009), Pinkus has found himself immersed in several other groups and projects, ranging from Honky to Daddy Longhead to Pure Luck.
Of late, he's also been the bassist for The Melvins, arguably one of the most influential and innovative hard rock/metal bands of all-time.
Eventually, Pinkus circled back to his Southern Appalachian roots, trading in the high-desert landscape of Texas for the Blue Ridge Mountains of Western North Carolina. These days, his work is a hearty blend of Appalachian folk and psychedelic music, as heard on the latest release, "Fungus Shui."
It's a whirlwind of sonic textures and a sincere, pure intent to shift one's perspective through Pinkus' trusty banjo, gravelly voice and constant pursuit of life's mysteries — onstage and off.
Smoky Mountain News: You call your music nowadays "space grass." What does that term mean to you?
J.D. Pinkus: Well, to me, there are no boundaries. I don't play traditional style. There are plenty of people who do that already.
SMN: Why the banjo?
JDP: The guitar bores me. With the banjo, I'm just a songwriter, man. I get the textures and all of the layers that I want. And I can keep a percussive thing going on, while still being able to add effects to it to get what I want out of it. The loops that I make are with just what I have. I don't use outside things like synthesizers, I use the organic sounds that I'm making.
SMN: You've had this rollercoaster life. And here you are in 2021, this balanced person. Is that how you've always been or did you end up that way?
JDP: No, I ended up that way. And I think a lot of it had to do with the ayahuasca experiences that I've had — it humbled me.
It also made me realize one of the reasons why I do solo [music/performing] now. Because I used to have an issue with getting upset with people that did not have the same goals as I had. They'd say they did, but they really didn't and nobody really wanted to make the leap.
I put a lot of faith into working with people that weren't "lifers," that weren't [ride-or-die] musicians. Don't half-ass it — if you do, be honest about it. [That's why] I left Austin. I thought that I needed to stay around because of the bands that I was in. But, then I realized that the bands weren't really going to do what I wanted to do.
So, I left Austin and luckily landed here in Asheville.
SMN: There's always been this psychedelic thread running through you and your music. Whether it's a distorted reality, alternate reality or just reality as you see it. Why is that thread such a part of you?
JDP: Because to me there's a window. And I've been lucky enough to see a glimpse of things that I don't think are normally seen.
If you look at how a bat interprets the world, how an eagle interprets the world, how a jaguar interprets the world, there's different spectrums that we all see and what our reality is.
Think about radio frequencies, there's a spectrum. And we're all limited in certain ways, in what we see and experience in our different realities.
To me, when you go off and you go up [in your psychedelic experiences], you kind of end up in a little place that might be uncomfortable to some people, but to me [it's a happy medium]. And I'm lucky to have people in my life that are psychonauts.
There was one ayahuasca trip where I had a "death experience." It was extremely intense. The DMT (aka: ayahuasca) gave me confusion. I heard happy songs and sad songs. All of these different emotions were going on and all of these different entities were coming at me.
I couldn't tell if they were happy songs because I was coming back or because I was going somewhere. It was this sense of confusion, but it was a really [pleasant] time — my fear of death went away.
Want to go?
Singer-songwriter J.D. Pinkus will hit the stage at 9 p.m. Saturday, Nov. 13, at the Water'n Hole Bar & Grill in Waynesville.
Fort Worth, Texas, acoustic duo Whiskey Dick will also perform. The show is free and open to the public. Ages 21 and over.
For more information, click on facebook.com/waternhole.bar or call 828.456.4750.