Archived News
No pun not intended: Dave Waldrop, small-town sage
Friday, November 12, 2021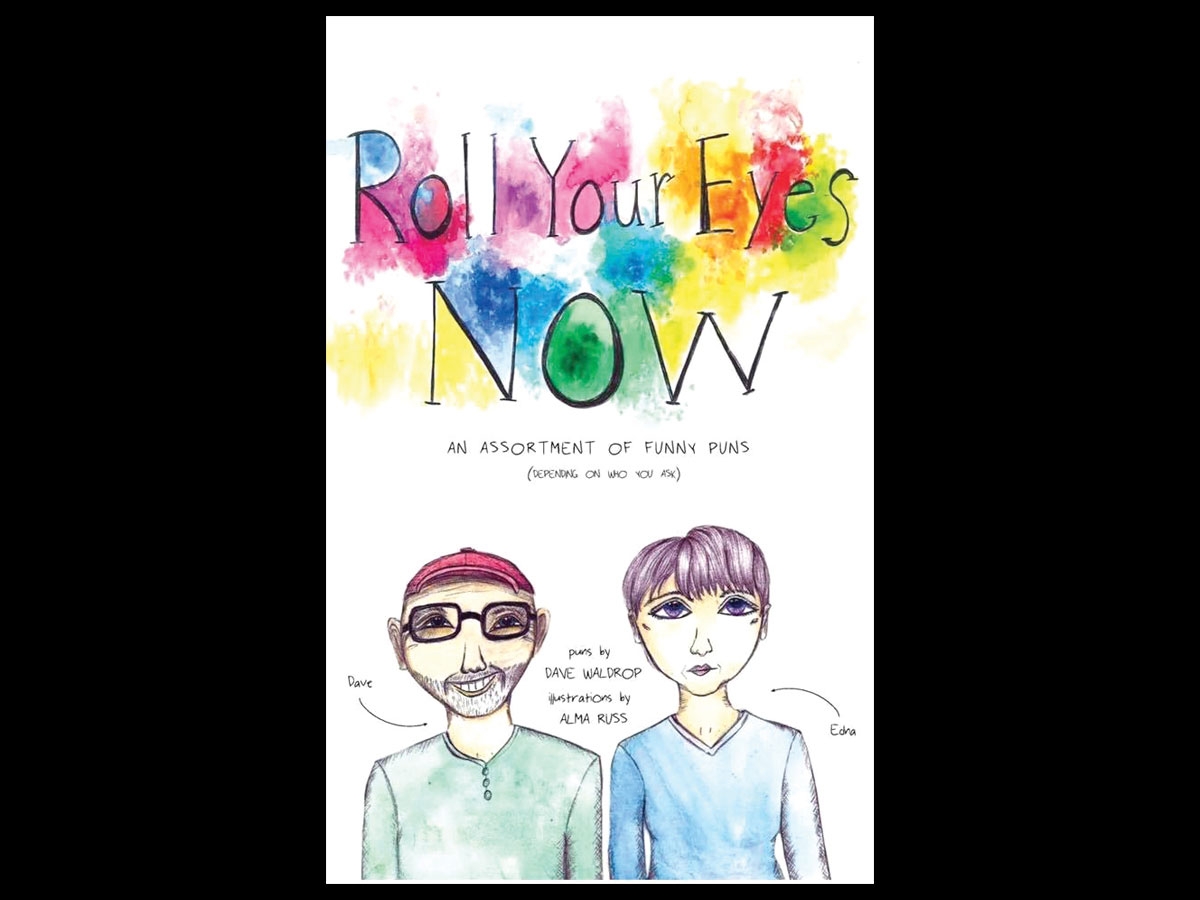 It's said that the pun is the lowest form of humor — unless it's yours.
Begrudgingly, word nerds respect this nuanced interplay of one intentional idiom or expression with the next whether they're harmonic, dissonant or otherwise. When executed precisely, the result is a glassy I-see-what-you-did-there moment half-full (due to the simplicity of the damn thing) and half-empty (due to the simplicity of the damn thing).
All that in mind, Sylva fixture Dave Waldrop just dropped what he calls a "mildly acclaimed" collection of whimsical word play, "Roll Your Eyes Now" (Lanier Press, 2021, 31 pages).
Illustrated lavishly by warbly songbird Alma Russ, the work is in itself a minor rebellion against the laws of grammar and logic that lovingly nudges the reader into a brief, welcoming suspension of disbelief.
Let's pretend, for a moment, that we live in a world absent from the absurdity of humor that relies on outrage to assuage or derisiveness to divide.
Let's pretend that instead we live in a world filled only with the absurdity of linguistic shenanigans.
Let's pretend homophones are synonyms. Let's pretend homographs are literal. Let's pretend homonymics are indisputable analogies.
This pretend world is simple and peaceful and generally innocent, as are her infant moons made of milky metaphors and cheesy similes. Perhaps this is why the entire cosmos of so-called "dad jokes" still resonates universally, like the Big Bang – they're relatively fit to be told by a father to a daughter, or a mother to a sun … errr, son.
You can set your kids into bed at night with puns. You can tell them that you used to be a Wilde thang. You can tell them that your pet chicken wrote mysteries under the pen name of Mont Blanc but her real name was Eggatha Christie and you can tell them that her blood was Type-O. You might even tell them that your favorite first-person account of a tiger attack was a saucy one written by Claude Balls just before you go outside for a breath of fresh Eyre and then sneak off to pour yourself a tall, cold Tequila Mockingbird because you're still forever Jung.
Waldrop's prolific punditry, and his dad-esque demeanor, helped him connect with students during his career as an elementary school counselor but also bemused and befuddled family and friends. One of his greatest delights, says son Brad in the foreword to the book, is an undetected pun cast into casual conversation.
There's little secrecy here; Waldrop's work is lain bare in an honest, handwritten scrawl backdropped by the fantastical imagery of Russ, who paints the world behind the words. That world is strange, colorful and casually familiar. It's also indispensable to the piece.
Some puns, homographics especially, are essentially verbal sight gags. They benefit from a physical or mental image. Waldrop tells us the eels that make the best students are "more A's" but it's Russ' rendering of a one sitting in a little desk filling out forms that's amore . While midwestern pilots speak mostly of plains, Russ' carouse about the sky, in search of plane fun.
If you have any cents, you'll immediately buy the book at City Lights in Sylva. If you decide to buy the book later, you might as well roll your eyes now – Waldrop's threatening to release 60 more of his family-friendly puns, and the small-town sage probably came up with a new one while you were reading this sentence.
"I can't think of anyone I would rather read, talk to, and just be with," writes Benjamin Woody, on the back cover. "Except for maybe Bob Dylan; but Bob Dylan doesn't live in Sylva and Dave Waldrop does."
Leave a comment
1

comment
Love a good pun. Reminds me of my dad.

Monday, 11/15/2021