Archived News
Movement to memorialize lynching victim in Franklin gains momentum
Friday, November 12, 2021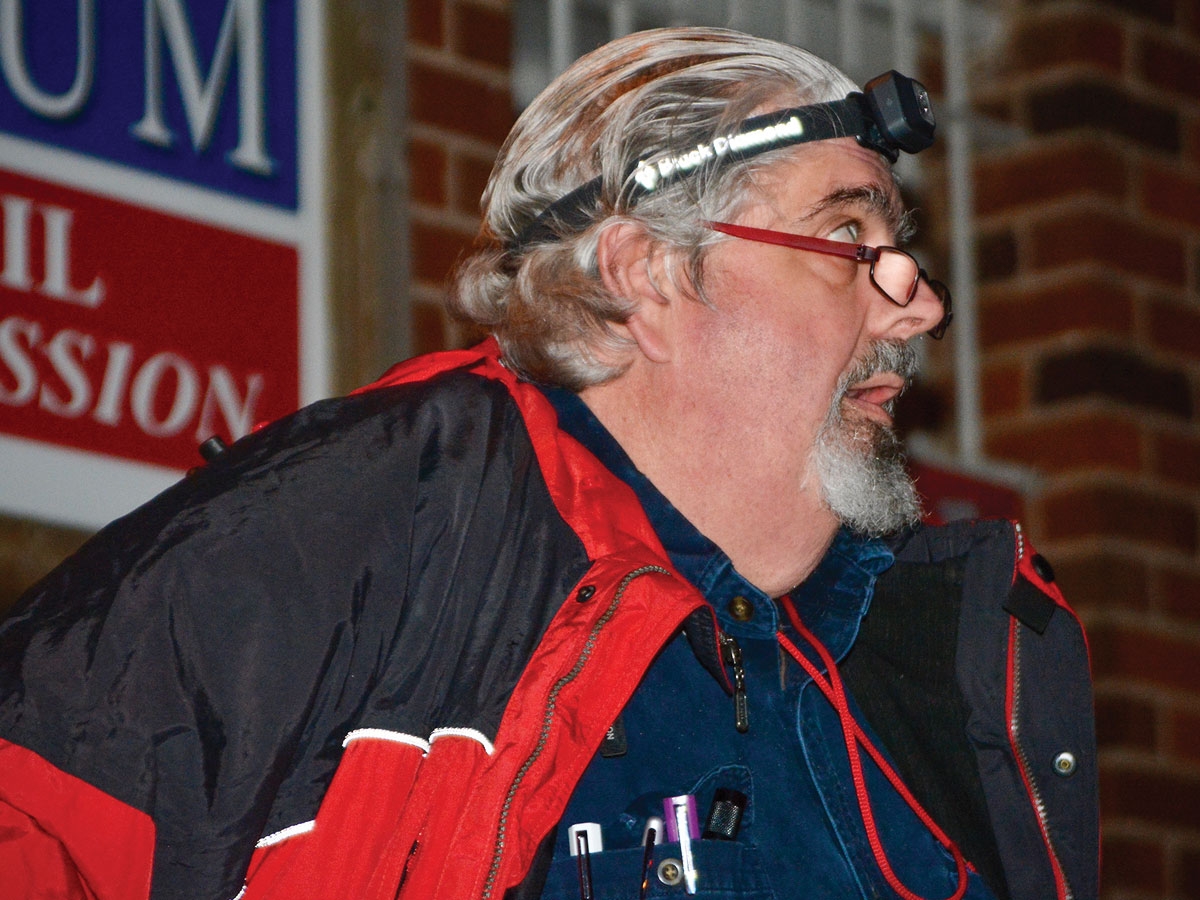 John deVille speaks outside Franklin's old jailhouse. Cory Vaillancourt photo
Exactly 123 years to the day after a Black man was dragged from his cell in Franklin and hung from a bridge at the edge of town, a group of activists took the first step in attempting to reckon with Macon County's most infamous lynching.
"We are here to remember his life, we are here to remember his death, we are here to remember the manner of his death and I think we are here to make his death mean something," said John deVille, one of the event organizers.
On Nov. 6, deVille and local historian Claudia Aguilar led about 25 people through Franklin, retracing the route taken by a mob of between 150 and 300 citizens on Nov. 6, 1898.
Starting at the courthouse while literally leaning on the Charters of Freedom displayed prominently outside, deVille and Aguilar recounted the story of Mitchell Mozeley, a Black man who'd been arrested for a series of alleged burglaries and assaults.
Walking down Phillips Street, past the Confederate monument that still lords over downtown Franklin, deVille and Aguilar paused at the town's historic jail, from whence Mozeley was abducted.
Then, back up on East Main Street, the group marched down the big hill in the cold, dark November air — much like Mozeley must've.
"It makes me think about what he must've been feeling," Aguilar said. "Did he have a wife? Was he thinking about her? Was he thinking about how she was going to carry on after this, without her husband? With her husband remembered as a criminal? It just makes me think about his family."
During the walk, deVille tried to imagine what it would have been like to have been in the same place, at the same time, 123 years ago.
"I think it was jubilant for everybody, except for Mitch Mozeley," he said. "There's mob jubilation, because that's what you just see at every lynching. It's a celebration. It is a victory for white body supremacy, not white supremacy, but white body supremacy. It becomes a message, a cautionary tale to African-Americans not to cross paths with whites."
Almost nothing is known about Mozeley, except for the gruesome details of his death. Mozeley wasn't so much murdered as he was erased from history; census records don't definitively point to his origin, details on any surviving family are sketchy and his final resting place remains unknown.
There is, however, a story that deVille calls "a deeply woven piece of Macon County lore" that says that after Mozeley was cut down from the iron bridge, his body was boiled in a cauldron.
While that practice was somewhat common in the days before widespread electricity and modern refrigeration, what supposedly happened next is not.
"When the flesh was boiled from the bone," deVille said, "the skeleton was hung in a prominent Franklin doctor's office."
Attempts to document the display have thus far come up empty, but deVille says the story has meaning as long as it lives in the minds of Maconians.
"It sends a message of terror that's material, that lives long past the actual night," he said. "And so the terror lives on 123 years later."
The march culminated in a small covered pavilion on the banks of the Little Tennessee River, not far from the bridge where Mozeley's murder took place. Although marchers left flowers on the bridge in memory of Mozeley, they plan to do much more to ensure the incident is not forgotten.
"Macon County is proud of its history, proud of what their grandfathers did," said Aguilar, who was born and raised in Macon County. "Their grandfathers did this."
Claudia Aguilar, who helped organize the march, is calling for action to commemorate Mitchell Mozeley's death. Cory Vaillancourt photo
Aguilar and deVille went on to issue a call to action, saying they'd advocate for the passage of an anti-lynching bill like the one introduced into Congress in 2020.
Called the Emmett Till Antilynching Act, the bill was stymied singlehandedly by Sen. Rand Paul (R-KY), who prevented it from being passed by unanimous consent.
Aguilar and deVille are also calling for "something" to be placed in Rankin Square, home to the 112-year old Confederate monument at the center of protests last summer.
Neither DeVille nor Aguilar are in favor of removing the monument, but both want context.
Aguilar said she thought the so-called "Cornerstone speech" would be ideal.
In 1861, then-Confederate Vice President Alexander Stevens told an audience in Savannah that the new Confederate government's "cornerstone rests upon the great truth that the negro is not equal to the white man; that slavery, subordination to the superior race, is his natural and normal condition."
Finally, Aguilar and deVille reemphasized their desire that the lynching monument created by the Equal Justice Initiative in Montgomery, Alabama, be brought home to Macon County.
Although they hadn't yet spoken to county or city elected officials about the monument, deVille said he'd hoped to do so privately, before presenting them with the idea in an open meeting.
deVille also said that he hadn't yet spoken to Macon County's small Black community about the idea, saying that the events of last summer had left many of them shaken and cautious about speaking out on racial issues.
Leave a comment
1

comment
Nothing like reliving again and again the same divisive story to keep people from having unity. What was done was a horrible tragedy. Why do people want to pour gas on the fire?

Friday, 11/12/2021