Archived Outdoors
Waterrock Knob gets new interactive exhibits
Wednesday, November 03, 2021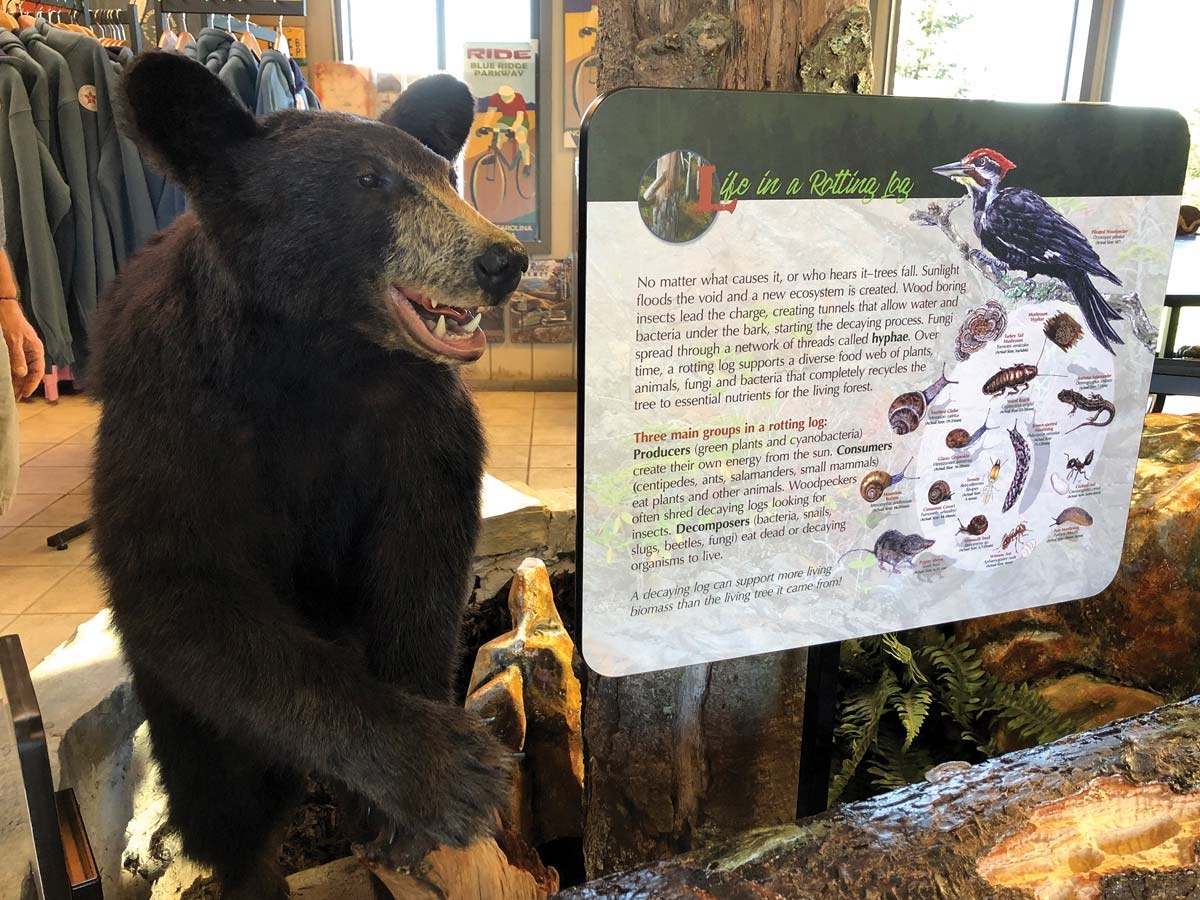 Featuring a stuffed black bear, a new exhibit tells visitors about the vast array of life that can exist inside a fallen log. BRP Foundation photo
New interactive exhibits are now up at Waterrock Knob Visitor Center on the Blue Ridge Parkway, highlighting elements of the high-elevation ecosystem ranging from bears to bugs.
The attractive panels and displays are replacements for timeworn and outdated exhibits. Makeshift posterboard displays have been replaced with new permanent panels that tell how elk have returned to the Parkway, and a 12-foot mural illustrates a multi-seasonal peek at the plants and wildlife found at the 6,293-foot Waterrock Knob, along with the striking geological features of the brightly colored rock formations found on nearby cliffs. Another panel tells the Cherokee story of "How the World was Made," describing a buzzard creating peaks and valleys with its wings, in both Cherokee syllabary and English. An interactive element encourages visitors to turn a handle to see a magnified version of the balsam wooly adelgid, the insect responsible for the death of many trees seen outside the visitor center.
"We are so excited that visitors who come to hike and enjoy the beautiful views from Waterrock Knob will be able to engage in new and meaningful ways with the rich natural and cultural heritage of this site," said Blue Ridge Parkway Superintendent Tracy Swartout. "We are grateful to Blue Ridge Parkway Foundation and their Community of Stewards for supporting this project, and to the Eastern Band of Cherokee Indians who ensured the new exhibit accurately tells these important stories."
The panels were funded by donations to the Parkway's nonprofit fundraising partner, the Blue Ridge Parkway Foundation, and the design was a collaboration between the National Park Service interpretive staff and David Williams of Wingin' It Works, which specializes in exhibits, murals and scientific illustration. Joe Bistany of BistanyWorks provided fabrication and technical assistance.
The visitor center is open daily from 10 a.m. to 5 p.m. but closes for the season Nov. 14.