Archived Reading Room
Those who served: a review of 'The Twenty Year War'
Wednesday, November 03, 2021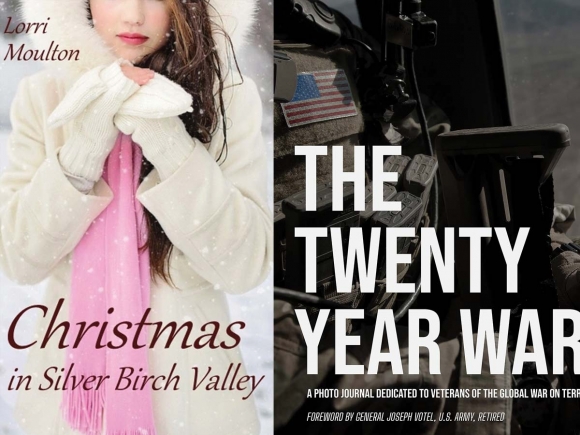 As of this year, around 19 million Americans are veterans, which is less than 10% of our population. Currently, 1.4 million Americans are serving in the military.
Many of us may have a relative in some branch of our armed services, but some people, I suspect, may not even know someone in service, relative or not. We may read articles about those soldiers, sailors, Marines, and air personnel who have seen action in the fighting in the Middle East or watch them on the evening news. We may receive some dramatized impressions of their lives from movies like "American Sniper" or "The Hurt Locker." Yet many Americans have never heard about from a veteran's lips what prompted them to enlist, where they served, what it's like to reenter civilian life, or what lessons they learned during their stint in uniform.
"The Twenty Year War: A Photo Journal Dedicated to Veterans of the Global War on Terror and Their Stories" (Ballast Books, 2021, 223 pages) attempts to rectify that unfamiliarity. Here Dan Blakely, Tom Amenta, and photographer Beau Simmons introduce us to more than 70 young men and women who served in uniform in countries like Iraq and Afghanistan.
We learn why these people chose to serve, what they faced in battle — mmany of them were wounded — and the difficulties of transitioning back into the civilian world. At the end of each of these mini-biographies, the subjects also offer words of advice and encouragement to other veterans and readers in general on living and on facing and overcoming obstacles.
Here are just a few of stories.
Alex Gruber served in the Navy as a cyrptologic warfare officer. Like several others in "The Twenty Year War," the terrorist attacks of 9/11 led him to enlist "to serve my country and to do my part to protect this great nation." Retired now, he enjoys "Brazilian Jiu Jitsu, working on my Mustang, travelling, and spending as much time with my family as possible." His piece of advice: "Don't sweat the small stuff."
Like some of the others in the book, Andy Hillstorm, an Army airborne infantryman, was wounded by an IED (improvised explosive device). After undergoing some 25 surgeries, he left the military, returned to college and graduate studies, became a construction manager for a time, and today works in the Foreign Service.
During his transition from soldier to civilian, Hillstorm needed some time to regain that sense of purpose he'd found in the military. To those following in his footsteps, he advises, "Leverage the experience you gained in management during your time in service but understand you're in a new place and you need to re-prove yourself."
SEAL Richard Graham joined the NAVY just before 9/11, and though he deployed overseas, he developed a major blood clot and had to be sent home to the Portsmouth Naval Hospital. Eventually, his medical condition brought a discharge. "Readjustment was difficult," he said, "because it came before I was ready for it to be there. It wasn't my choice. It was this hidden thing I couldn't see in my body that stopped me."
After working for a short time as a personal trainer, Graham found his calling as a firearms instructor for police and civilians.
His advice: "Do what you know is right. In the SEALS they say: earn your trident every day. Just because you got it once doesn't mean you deserve to keep it."
Nikki Selby enlisted in the Navy, eventually became a critical care nurse, and deployed to both Afghanistan and Iraq. Since then, she was worked for several organizations concerned with combat medical systems. "My mantra in life is: live hard, and enjoy what you're doing!"
The hundreds of photographs in "The Twenty Year War" add much to these stories, allowing us to see these men and women in their military garb and as they are today along with pictures from the battlefields themselves.
With the holidays fast approaching, this fine book might make someone, veteran or civilian, a fine gift.
•••
Speaking of the holidays, I was recently reading Lorri Moulton's novella, "Christmas in Silver Birch Valley" (Lavender Lass Books, 2018, 126 pages) at the recommendation of a reader when the title reminded me of some information I intended to pass along to readers.
Some of you may remember the delays in deliveries during last year's Christmas season, the packages that took days and even weeks longer than normal to arrive at their destinations.
This year promises an even worse backlog of goods. Right now, American harbors are jammed with freighters trying to unload goods. These cargo ships are bigger than ever, meaning they have the capacity to carry more goods. There is a shortage of warehouses in some ports to store those commodities, and many facilities have failed to keep pace with the technology that might speed the process of unloading. In addition, vaccine mandates in some areas have caused a shortage of longshoremen and truck drivers.
To make sure those books — and other presents — arrive on time, order them now. Santa Claus and the elves will be grateful for your assistance.
(Jeff Minick reviews books and has written four of his own: two novels, Amanda Bell and Dust On Their Wings, and two works of nonfiction, Learning As I Go and Movies Make the Man. This email address is being protected from spambots. You need JavaScript enabled to view it..)