Archived Arts & Entertainment
This must be the place: Ode to Billy Strings, ode to breaking down musical barriers
Wednesday, November 03, 2021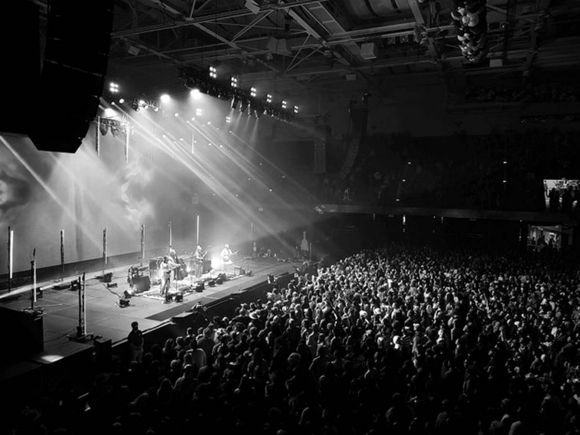 Billy Strings at the Asheville Civic Center. (photo: Garret K. Woodward)
Standing in a sea of thousands of music freaks at the Asheville Civic Center (aka: Harrah's Cherokee Center) on Sunday evening, it was surreal — more so poignant — to absorb the sights and sounds of Billy Strings on Halloween night.
It's wild to see such a musical talent and staggering stage spectacle such as Billy & Co. sell tens of thousands of tickets in our backyard (with "sold out" now commonplace wherever he may roam these days). It's also pretty great that he continues to circle back to Asheville for Halloween weekend.
His meteoric rise is something to behold: from a music freak perspective and from the angle of an in-the-trenches music journalist. But, it's no surprise to understand and appreciate his massive appeal and intricate passion for performance, collaboration and artistic/creative vision, either.
Billy and I initially crossed paths back in March 2017. I randomly did an interview with him backstage at the Anastasia Music Festival in St. Augustine, Florida — a one-off bluegrass gathering of some of the biggest names in the genre. I had heard his name mentioned in a few bluegrass circles at that point, but had yet to cross paths with him.
Everyone who was anyone in the bluegrass and string music world was performing at this festival. Del McCoury Band. Sam Bush Band. David Grisman Bluegrass Experience. The Travelin' McCourys. Mandolin Orange. Jon Stickley Trio. Jeff Austin Band. Sierra Hull. Fruition. Cabinet. Amanda Anne Platt & The Honeycutters. Elephant Revival. And so on.
Anyhow, I was running around backstage interviewing Del, Sam, David and Jeff for my bluegrass book (that came out later that spring). Well, I remember standing side-stage during Grisman's show and was mesmerized by his young guitar player's picking. Come to find out from Grisman himself after the gig that his name was Billy Strings.
After the set, I ran into Billy backstage in the hallway. I introduced myself and asked if we could do a quick interview. Sure, he replied. No problem. I turned on my handheld recorder and we chatted for several minutes.
And I'll never forget what he said to me in that hallway: "As I grow musically, I can't stick to one thing, man. I've got to go outside the fence and eat the fresh grass that's on the other side out there in the pasture, you know?" Truth, my brother.
Just a few months later, I ran into him again, as I was the stage emcee for the Cold Mountain Music Festival, right here in our backyard of Haywood County, North Carolina. I remembered how great he was onstage in Florida and told anyone within earshot to not miss his early afternoon set on Saturday.
And there we were, less than 100 of us, all watching Billy & Co. shred the Lake Logan stage, all present immediately becoming fans by the end of the set. The band then wandered over to our group in the crowd and we all hung out for a while, passing around a couple of heady joints and sharing a container of fresh strawberries that someone had thoughtfully brought along.
Crazy to think back to those days with the whirlwind of sound, purpose and presence he's recently created (and we're all so proud, too). From there, I've interviewed Billy several times: over the phone to preview an Asheville gig, sitting on his van tailgate at RailBird in Kentucky, on his tour bus in Maryland at DelFest.
And I've covered him in numerous states and settings, many of which for Rolling Stone magazine, too. His star continues to burn brightly and stoically, all while he represents the future of the "high, lonesome sound." Hell, he represents the current state of live music — where it blossomed from in the digital age, where it stands, and where it's headed.
Thus, this past weekend, Billy Strings destroyed so many musical barriers with this sold out three-night Asheville run. The rollicking performances. The overwhelming stage production. The wild-n-out audience. The musical circles of bluegrass, rock and jam will never, ever be the same after this weekend. This is truth. Calling it now.
Sunday night? It's the end of the beginning chapter that is Billy & Co. Monday morning? It's whole new and different world of possibility for this ensemble — sonically, socially, musically, culturally.
As a longtime bluegrass freak, I've always been fascinated as to how folks find the "high, lonesome sound." For me? It was my lifelong love of the Grateful Dead, which led to tracking down anything singer/guitarist Jerry Garcia was involved in, only to parlay that into his groundbreaking multi-platinum "Old & In The Way" bluegrass album — onward to discovering Bill Monroe, Jimmy Martin, Flatt & Scruggs, The Osborne Brothers and The Stanley Brothers.
Now that I'm in my mid-30s, I've wondered when and where the modern-day access point (or rabbit hole) would emerge from? Where would the youth of today enter into the realm of bluegrass from, let alone the trajectory of this new generation of music consumers and concertgoers?
Low and behold, it was a shaggy-haired flatpicking virtuoso from Michigan with one foot in neo-traditional bluegrass and one foot in the progressive camp — one who perpetually radiates his deep love and sonic influences from the metal, punk, rock, country and hip-hop communities.
Yes, at the core of Billy Strings resides bluegrass and acoustic music. But, his creative heart and soul is a massive melodic sponge for whatever he can pick up and put to use in his act. He's constantly listening, and always in search of the next musical horizon — something at the foundation of any timeless and immortal music/art. Again, we're all so damn proud of you, Billy.
Life is beautiful, grasp for it, y'all.
(Garret K. Woodward is the arts and entertainment editor for The Smoky Mountain News. He's also the music editor for Smoky Mountain Living magazine and a contributing writer for Rolling Stone. You can reach him at This email address is being protected from spambots. You need JavaScript enabled to view it..)
Leave a comment
1

comment
Our first time to see and hear Billy Strings on Friday night. He is an amazing artist and we will continue listen and enjoy his music!

Friday, 11/05/2021