Archived News
Sylva, Jackson to discuss opportunities for housing
Wednesday, October 27, 2021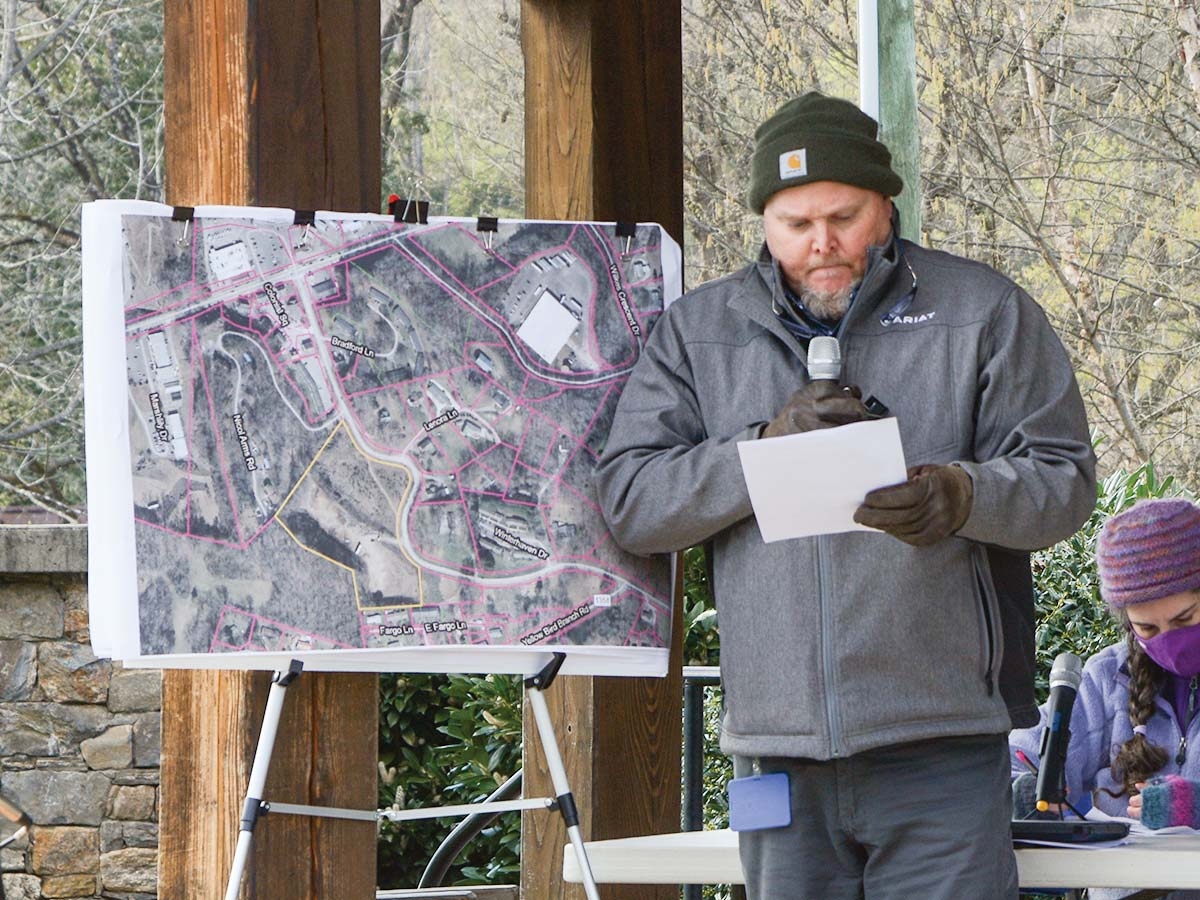 Jackson County Senior Planner John Jeleniewski presents his staff report on The Bluffs development proposed by Southern Properties and Development LLC. Holly Kays photo
The housing crisis gripping the entire region hasn't spared Sylva, and the town board hopes to partner with Jackson County to alleviate it.
"We know that there is such a housing shortage here, and we want to be looking at everything we can be doing to encourage housing," said Town Manager Paige Dowling.
The conversation began during the July 8 meeting, when Commissioner David Nestler told the board he'd reached out to the county about potentially using property they own within city limits to develop additional housing opportunities.
"I gave them four PIN numbers of potential spots and proposed that we partner with them on abating and getting these into the hands of someone who could do something good for alleviating our housing crisis," Nestler said at that meeting.
During the Sept. 26 meeting, the town board voted unanimously to designate Nestler, Dowling and Mayor Lynda Sossamon as liaisons to discuss the issue with the county, and representatives from the two governments plan to have their first meeting this week. There's no specific proposal at this point, said Dowling — the idea is just to get the conversation started and brainstorm ideas about what the county and town can do together to encourage more housing.
The conversation comes at an opportune time. The town is working on zoning ordinance updates, some of which could be written so as to better encourage housing development. Meanwhile, both governments received significant allotments from the federal American Rescue Plan, and Dowling is hopeful that some of that money could be used for housing projects. However, final guidance on how those funds may be spent has not yet been issued.
A September 2019 housing report from the Jackson County Economic Development Department revealed an acute need for additional housing in the county, especially in the Sylva area. According to the report, between 2020 and 2025 the Sylva area could accommodate a 91-unit subsidized apartment complex for low and very low-income seniors, a 54-lot single-family development, a 44-unit tax credit rental property for seniors, up to 500 units of low-income family rental housing, 140-200 units of affordable rental housing, 92 units for market rate rentals and about 33 new homes for sale per year.
However, nothing close to that level of development has materialized. As of Oct. 25, a Zillow search for a house in Sylva town limits under $400,000 with at least two bedrooms and one bathroom turned up zero results.
Earlier this year, the town board approved a Conditional Use Permit application for a 72-unit complex to be built on Savannah Drive. The development will be built with tax credits, and proposed rents will range between $345 and $750 per month, depending on the unit and the applicant's income. However, in the same meeting the board denied — in a razor-thin decision — an application for a 76-unit senior living complex on Skyland Drive. All board members said they recognized the need for additional housing, but the three who voted no said the proposal was wrong for the location. That decision has spurred the need to identify places that would be right for new housing developments.
"We just know it's a need," said Dowling.
Leave a comment
1

comment
This area also needs "permanent supportive housing" for the people who have the most difficult time keeping housing. Too often housing managers reject people they don't understand, refuse accommodations and even go to extra efforts to find excuses to give citations which lead to eviction. With "permanent, safe, affordable housing", linked to the appropriate services and understanding management, people who struggle with chronic homelessness can work on recovery and become contributing members of the community.

Connie J. Conklin, MEd
founder SEASCAT.org,
where we advocate for survivors of child abuse & trauma

Thursday, 11/04/2021