Archived News
Ghost Town developers make major hire
Tuesday, October 26, 2021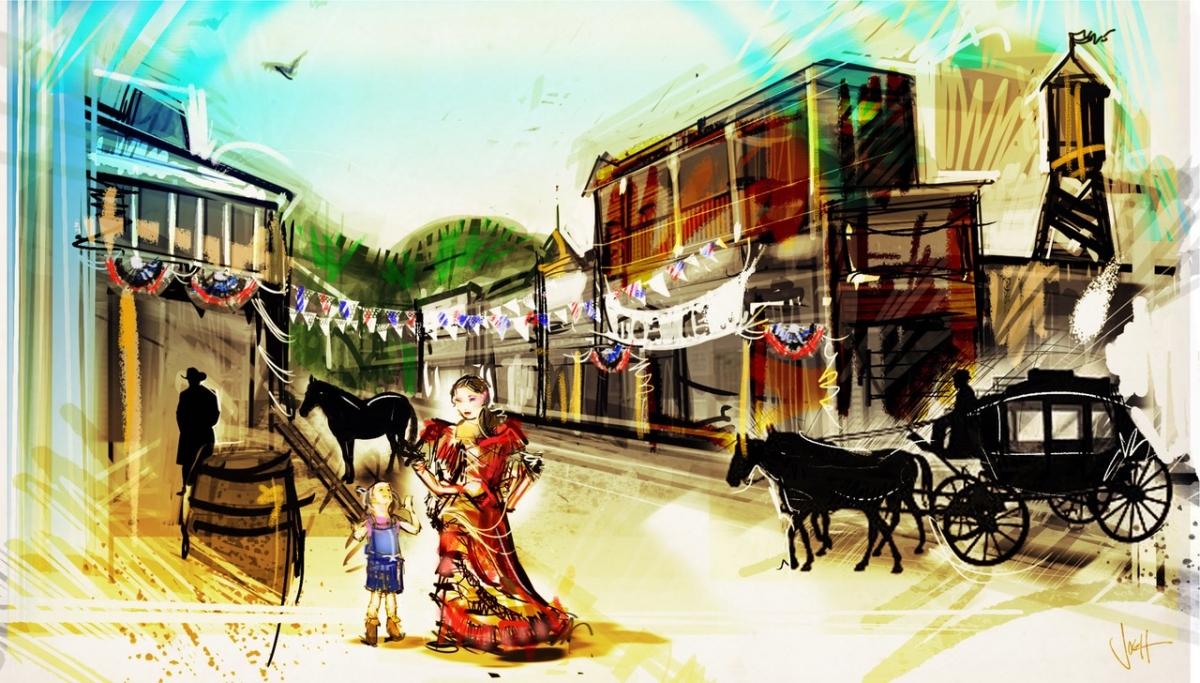 This rendering shows a rejuvenated Ghost Town.
Storyland Studios photo.
Developers associated with the rejuvenation of Maggie Valley's Ghost Town in the Sky are moving forward with plans to resurrect the iconic mountaintop attraction and have enlisted some high-level talent to help redesign and prepare the park for reopening.
"Our team is thrilled to be a part of bringing this special park back to life," said Matt Ferguson. Ferguson is the chief innovation officer at Storyland Studios.
Storyland's involvement in the Ghost Town project was first reported exclusively by The Smoky Mountain News back in March , but an Oct. 26 press release from Storyland revealed that the relationship is now official.
"We selected Storyland because of their experience on so many theme parks around the world. They have a team that can help us get our brand story right, redesign the park and help us bring it to life and make it successful," said Ghost Town Managing Member Frankie Wood.
Storyland Studios was co-founded and is currently run by veteran Disney Imagineers and creative professionals with a long, successful history in the themed entertainment industry. The firm specializes in theme park master planning, strategy and feasibility studies, concept design, architecture and integrated marketing.
Previous work by Storyland includes attractions such as LEGOLAND® Water Park, Universal Orlando's Hogwarts Express and the new FAO Schwarz.
Wood and Ferguson have maintained throughout the past year that detailed 3-D renderings of the existing structures on the town's main street will be utilized to ensure that rehabilitation of the buildings is as faithful to the originals as possible.
The buildings will, however, have one major upgrade the park currently doesn't have — compliance with the Americans with Disabilities Act, making the park more accessible.
Preliminary plans call for on-property lodging, including a mountain lodge, boutique hotel and spa, as well as cabins and cottages.
For more information on Storyland Studios, visit storylandstudios.com.
Leave a comment
7

comments
So looking forward to Ghost Town's reopening. I went there as a child on vacation with my parents. I have such fond memories of it. I think by it's reopening will make many people very happy bc not only can they relive their childhood while attending Ghost Town but their kids and grandkids can see it, as well. I would suggest that the old west town remain the same and the gun fights and Indian dances remain part of the renovated Ghost Town. But, yes, please…….reopen!

Tuesday, 03/15/2022

Progress is better than stagnation!

Tuesday, 11/02/2021

Yay! And Maggie needs a new dress. Shes looking pretty ragged and dull. I love the town, churches, my home but that green and yellow color dress is sickening! With a beautiful name like Maggie and the beautiful mountain flowers, can't y'all dress her up a little prettier?

Saturday, 10/30/2021

So excited to read the news. Have kept up with the articles about Ghost Town. Can't wait for OPENING DAY. We are 65 & 69 and are ready for some travel and fun. Thank you for making our day in South Carolina. 10/29/21

Friday, 10/29/2021

I loved ghost town. So glad it will be reopening

Wednesday, 10/27/2021

For a city that is supposed to be planning for the future why does the developer want to go backwards with old Western theme and mock gunfights? Maggie Valley doesn't even have a grocery store! Every tourist has to go to Waynesville for a chain restaurant and grocery store!

Tuesday, 10/26/2021

Too bad for this sweet little town. Progress isn't always good.

Tuesday, 10/26/2021