Archived Arts & Entertainment
In the shadow of the pines: Ty Gilpin of Unspoken Tradition
Wednesday, October 20, 2021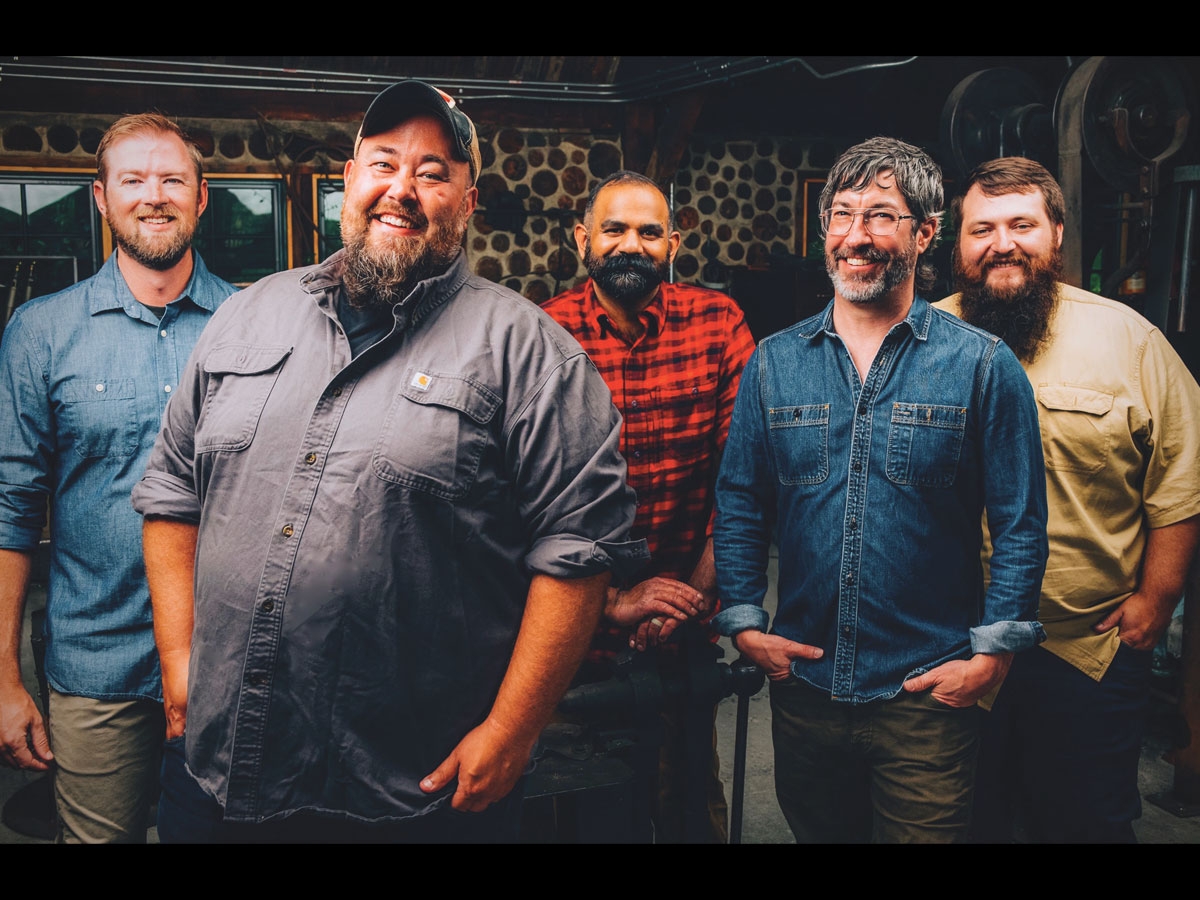 Unspoken Tradition.
With a slew of chart-topping bluegrass hits, including the No. 1 "Dark Side of the Mountain," Cherryville-based string quintet Unspoken Tradition represents the latest chapter of the "high, lonesome sound" in Western North Carolina and greater Southern Appalachia.
Like many bluegrass acts, the ensemble came to fruition as a group of longtime friends, sitting and picking together in their free time. Each bandmate has a day job in a variety of different industries and occupations, each encompassing a deep, vibrant appreciation for the sacred ways and means of traditional music and artistic collaboration.
And yet, even with its core of traditional traits and techniques, Unspoken Tradition remains a sponge for its surroundings — this ever-evolving musical flow meandering across the sonic landscape in whatever direction the sound may take.
Smoky Mountain News: With the idea of an "unspoken tradition," regarding bluegrass, no matter what decade or place you were raised, the musical traditions are the bridge.
Ty Gilpin (mandolin): Unspoken tradition is traditional music. It's unspoken in the sense that you don't have to sit there and explain it to everybody. And even within bluegrass, there are various nuances, right?
So, if someone plays a song by a particular group — a Blue Highway song or a Stanley Brothers song — we're going to say, "Let's put it in the ditch." That's sort of a pocket groove. Keep the tempo. Not fast. Not sped up. Not hyper-speed. More of a smooth, laidback style. Pocket style.
You use terms like that within this canon of music that you're playing. It's a cultural thing. It's an unspoken tradition. If it's a Ralph Stanley groove or Lester Flatt and Earl Scruggs groove, people know what that means — it's a common ground.
SMN: Your band rides the line between the neo-traditional and progressive camps of bluegrass. What do you think about rapidly rising progressive acts like Billy Strings, who just won the IBMA for "Entertainer of the Year"?
TG: First of all, I think Billy is worth that recognition, especially in the last year where he continued to play and put on performances. Although some of those shows were virtual throughout 2020, those appearances have given even more people access to see what he could do.
And there was no question that what he can do is steadfast in the tradition of [bluegrass] music and the Doc Watson tradition, even in the Tony Rice tradition — he's playing genuine, great bluegrass.
SMN: But, it's on his terms. It's uniquely his. At the core he's bluegrass, but he was also raised with rock-n-roll and metal music, too.
TG: Well, hopefully everybody that's playing bluegrass has their unique [approach]. I think when you look at a lot of the modern bluegrass artists, even those that are labeled as more traditional, you're going to see those same influences.
Bluegrass has evolved. I mean, if you look at groups like Sideline, Balsam Range, Lonesome River Band, all those groups that are probably more firmly attributed to a different camp than Billy's are still drawn to the same things.
And I don't see a whole lot of difference stylistically, musically with what they're doing. I think the difference is Billy, attributing to his aesthetic, has been able to be more accessible to a younger audience.
And what I think what he's doing — more than anything — is paving the way for people to discover bluegrass much in the same way that Jerry Garcia and Old & In The Way did.
There are so many more [bluegrass] festivals and so many more quality bands [nowadays]. It's like everything else. Every generation sets a new standard, a new bar. It's true in sports, academia, and science.
Everybody is building on top of the prior and it's progressing towards a higher and higher standard — there's just no way that a music [like bluegrass], with that kind of higher standard progression, is not going to be carried on.
Want to go?
Featuring Balsam Range, Unspoken Tradition and The Kruger Brothers, the Smoky Mountain Bluegrass Festival will take place Saturday, Oct. 23, at the Maggie Valley Festival Grounds.
A fundraiser for the Haywood County Arts Council (HCAC), the all-day event is rooted in Appalachian craft traditions. Alongside live music, there will also be a variety of activities, including adult lawn games and a children's area for the young ones with music-themed art projects, puppet playing, and more.
Local food trucks, craft beer, and a specialty cocktail will also be onsite. Gates open at 11:30 a.m.

General admission tickets are $45 and will be lawn seats, which means you bring your own blanket or chair and find a spot to spend the day on. VIP tickets are $95 per person, which includes two free drinks, snacks, a custom designed American made t-shirt, and a guaranteed seat under the tent. Youth ages 12-20 are $35 each, with children under age 12 admitted free.

HCAC is also looking for volunteers to help on the day of the event. Volunteers get a free t-shirt and of course free entry. The festival would not be possible without strong partnerships and generous sponsors. The Haywood County Tourism Development Authority and WNC Social Media Buzz are title sponsors.
For more information and/or to purchase tickets, click on www.haywoodarts.org or call 828.452.0593.