Archived Reading Room
'Love is always stronger than fear'
Wednesday, October 06, 2021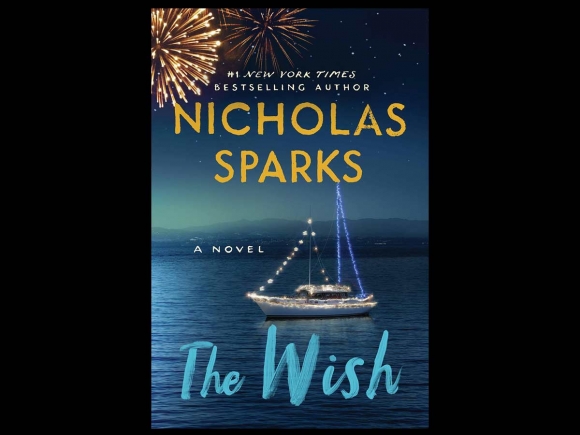 There are at least three reasons why Nicholas Sparks has sold over 100 million copies of his books and seen 11 of them made into movies.
First, Sparks knows his audience, mostly women, who want romance-dramas where the main characters overcome obstacles and find "true love" and a "soul-mate." Next, his novels can be easily turned into film scripts. And finally, he generally keeps the writing free of cursing, obscenities, and soft-core porn. My library offers novels that fit this last category, and after glancing through some of them, their hot and heavy descriptions of sexual encounters were at times laughable.
For lack of a better word, the novels I've read by Sparks might be described as "sweet." I don't mean to imply saccharine. Instead, the main characters are likeable, many of them are talented, and most of them remind me of people in my circle of friends and family. If they suddenly jumped off the page and assumed human form, they're the kind of men and women with whom I'd like to share a cup of coffee or a glass of wine.
Which brings me to the author's most recent novel, The Wish (Grand Central Publishing, 2021, 387 pages).
Here we meet Maggie Dawes, a well-known travel photographer who at age 36 is diagnosed with cancer and who after a three-and-a half year struggle with the disease is given just months to live. This death sentence sets her to contemplating her past, mistakes she'd made, relationships she'd damaged, and the pregnancy at age 15 that changed her life forever.
Meanwhile, she befriends a young man, Mark Price, whom she's hired to work in the art gallery she and another artist own. He's a recent college graduate, hopes someday to marry his college sweetheart and enter seminary, and is, Maggie discovers, a remarkable young man who is polite, kind, and sensitive. As the two of them become friends during this Christmas season in New York City, a deep trust grows between them, and Maggie is soon sharing with Mark the story of her long-ago crisis and her first love.
When her parents discovered she was pregnant, she tells Mark, they sent Maggie across the country to Ocracoke Island to live with her Aunt Linda, a former nun. There Maggie is looked after as well by her aunt's friend and co-worker, a midwife. Though she at first despises the quiet life on the island — it's the Christmas season with few tourists — Maggie eventually grows to love her aunt and the care and concern she exudes for her.
She also befriends Bryce Trickett, a homeschooler hired by Aunt Linda to act as a tutor for Maggie. Bryce is handsome, funny, and easy-going, and hopes to be off to West Point the next summer to enter the military academy. With Bryce's patient help, Maggie's academic performance improves. At the same time, Bryce and his mother begin teaching her photography, an interest that will become her lifelong passion. And despite her pregnancy, the two teens fall in love with each other.
To say more about the plot of The Wish might spoil the ending.
As we tour her past and her present, we find in Maggie much to admire, particularly her courage as a teenager beset by immense troubles and her fortitude as she nears the end of her life. Others who know her feel this same admiration. At one point in the story, for example, she returns as an adult to revisit Ocracoke and her Aunt Linda, whom she had grown to love over the years, and tells her aunt she hopes to be more and more like her.
"Why would you want to be more like me?" Aunt Linda had asked, taken aback.
"Because you're … wonderful."
"Oh, honey." Aunt Linda had reached over a hand so birdlike and frail that it nearly broke Maggie's heart. She gently squeezed Maggie's fingers. "Don't you realize that I could say exactly the same thing about you?"
"But never forget that love is always stronger than fear," Maggie says near the end of The Wish, a lesson which she has spent a lifetime learning and which she passes along to Mark as well as to the rest of us.
The Wish is set in 2019, and one unintended effect of the book comes with its portrait of New York City just before the COVID-19 virus slammed into the United States, closing down churches, restaurants, businesses, and schools. In case we've forgotten, life was different then. Maggie's other helper in the art gallery, Luanne, gives her two tickets to see "The Nutcracker" at Lincoln Center, and after that performance Maggie and Mark join "the festive crowds as they poured onto Broadway." On another day, they go ice-skating at the Rockefeller Center and at Mark's request, they then take a look at some of the department store window displays on Fifth Avenue before heading to St. Patrick's Cathedral to listen to a choir performing for Christmas.
The writer's accounts of these places and events — the throngs of people, the holiday spirit, the bustling sidewalks and busy streets — are a reminder of what we have lost in the last 21 months. Though probably unintended by Sparks — he makes no mention of the pandemic at the end of The Wish — the contrast between then and now, between who we were and what we have become, is glaring.
The Wish is a fine novel that left me with a wish of my own. Having read the above descriptions of life as it was lived less than two years ago, I wish we as a people would come together, repair our fractured culture, revive our dreams and our celebrations, and practice love rather than fear.
(Jeff Minick reviews books and has written four of his own: two novels, Amanda Bell and Dust On Their Wings, and two works of nonfiction, Learning As I Go and Movies Make the Man. This email address is being protected from spambots. You need JavaScript enabled to view it..)