Archived Arts & Entertainment
Givin' it the old college try: Daniel Womack of Futurebirds
Wednesday, October 06, 2021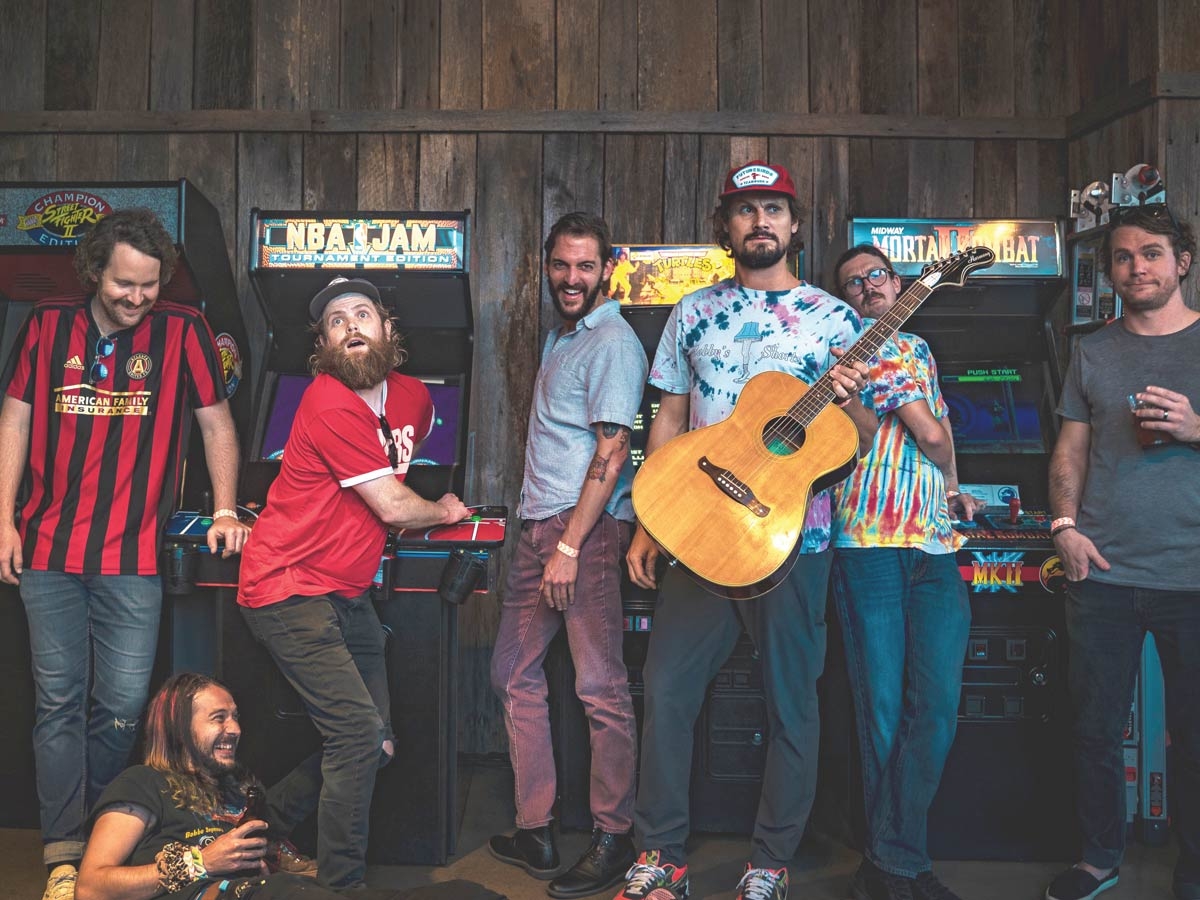 Futurebirds.
Charles Warren.
On its new four-song EP, "Bloomin'," Athens, Georgia-based rock outfit Futurebirds tapped Carl Broemel to not only produce the album, but also collaborate, as heard on the powerhouse track "Blue Eyed Girl."
Guitarist for rock juggernaut My Morning Jacket, Broemel is yet another step onward and upward for the 'Birds — arguably the wildest, most intriguing and invigorating ensemble in America right now. Some 12 years into its coast-to-coast musical odyssey, the 'Birds remain a steadfast, ever-evolving entity of sonic textures and lyrical aptitude.
And it's that "hell or high water" mentality the 'Birds have retained at its core since its inception that lies at the foundation of this current, bountiful chapter for the band — a raucous stage presence and intricate artistic purpose of unlimited possibility and potential.
Smoky Mountain News: Futurebirds were lining up for a breakthrough year in 2020. New album. National tour. Then, the shutdown. What's been your big takeaway with that, and with live music slowly coming back?
Daniel Womack (guitarist): Personally, I've just been reflecting a lot, honestly. On just what we've gone through these past 12 years as a band. We've been touring relentlessly pretty much the whole time until 2020.
And [during the shutdown], I've been going through pictures, going through memories. It was the first time in a long time that I've been like, "Wow, we've really been through a lot." We've been through all the clichés of van life and being a band on the road for the past decade.
And feeling successful for the first time also, in a way that we had never been. Everything was so crazy during the pandemic. But, for some reason, we stayed afloat, and even thrived at certain points.
I think if it weren't for putting in the groundwork and the road work that we did for the past decade — building relationships with our fans — then [our post-pandemic survival] wouldn't have even been possible.
SMN: And that's what I hear from a lot of longtime musicians and bands. They all say the key to being successful in the music industry is, "don't quit."
DW: Yeah. I mean, some people had told us that after that decade mark [things would start to happen]. You know, it's true, even for regular businesses. Things just started happening.
I remember people [would tell us to] "just keep going." And we were probably eight or nine [years together] at that point. That's just one of those things [where we thought] it wouldn't happen to us. But, as soon as we hit the decade mark, things started to fall into place a little bit.
Then, we released [the album] "Teamwork" two months before the pandemic actually hit. But I think we're now starting to see the result of all that [momentum], getting back on the road in a more consistent way these last few months. We're selling out pre-sale tickets everywhere, which hasn't ever really happened, to be honest with you.
And I think that's a result of "Teamwork" leading into "Bloomin'" with Carl, as well. Those two releases and everything else that we've done the past decade or more is the reason we're doing what we're doing today, which is staying afloat and staying busy.
SMN: After all the blood, sweat and tears, everything is now starting to come into focus.
DW: Absolutely. We've very grateful as to how it's going right now, that level of gratitude that we've got. For many years, it wasn't like that. I remember there'd be 50 people or whatever [at a show]. Now, it's consistent [sold out concerts] all over the Southeast and up into New York. It's motivating and energizing — we're always looking at the next level, which is part of our nature.
And yet, all of us did at some point — deep down — knew that this was where it was going, and that we were capable of this. You're never certain, but that's part of the reason we're here — we never quit.
It has taken a decade or so to get to this point as to what's actually happening. There have been so many ups and down, peaks and valleys, during that decade, too. But, if you can make it to the other side, I think you're good to go. Everything starts building on itself.
We have a long way to go. We have a lot of work to do. But we're stoked that this is the case. It's good now, but it's just the beginning — this next level is just the beginning.
Want to go?
Rising rockers Futurebirds and Moon Taxi will perform at 6:30 p.m. Saturday, Oct. 9, on the outdoor stage at the Salvage Station in Asheville.
Sparkle City Disco will kick off the show. Doors open at 5 p.m. Tickets are $25 in advance, $30 day of show (general admission).
For more information and/or to purchase, go to www.salvagestation.com and click on the "Events" tab.