Archived Opinion
So many good things in one place
Wednesday, October 06, 2021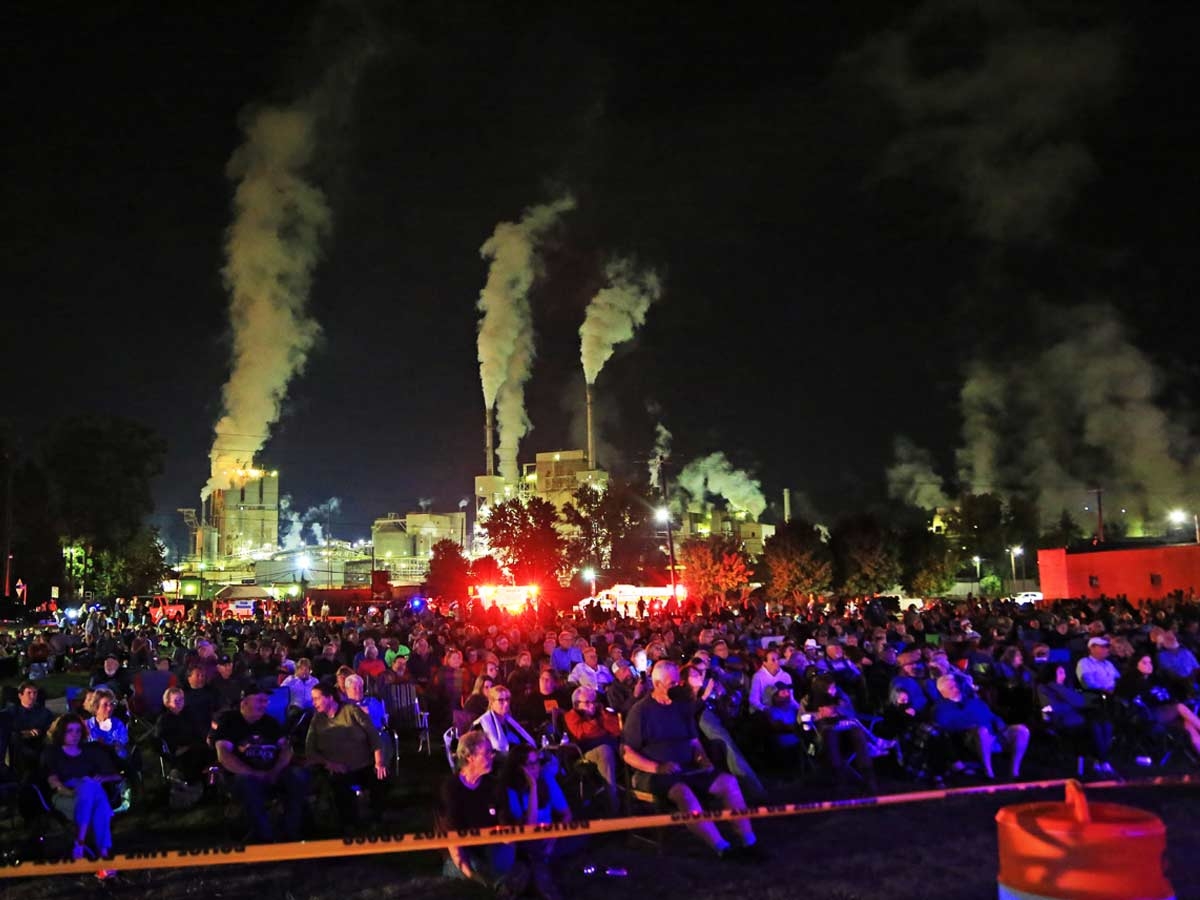 The crowd at the Grit and Grace benefit, with the Evergreen paper mill in the background. Jeff Delannoy photo
The socket wrench felt comfortable in my hands, which was a good thing: a quick look in a nearby box revealed dozens of large bolts with washers awaiting the attention of our crew. I've always enjoyed tools, working with my hands, building or putting things together.
It was around 10 a.m. last Saturday morning, the sun heating up on this early fall day as about a dozen people assembled the superstructure for the sound system in Sorrells Street Park in Canton. I had never done this before and so was fascinated and also enjoying doing something outside on such a gorgeous day. Members of Haywood County's own Balsam Range were also there lifting and building, as was Smoky Mountain News Writer Cory Vaillancourt.
The metal speaker stands, more like mini oil derricks, required bolting together successive pieces of fabricated metal that were then raised by a motor on the back of the structure. We've all seen them at concerts, but I had never helped assemble one. Cool process, and it took lots of hands to pull it off.
That Saturday morning group was just a sampling of the tremendous volunteer effort that came together to organize the Grit and Grace benefit concert by Balsam Range and Amanda Platt and the Honeycutters later that evening. The stage and the sound system were donated by Pisgah AVL with help from John Holder and Chad Stewart. They were hoping for help assembling it. Help came.
And that's really what this benefit concert was all about, people helping people. Our arts writer Garrett Woodward and Balsam Range's Buddy Melton hatched the idea of a show that would help flood victims but also to bring people together. Canton leaders, including Mayor Zeb Smathers and members of the town board, wanted to let people from around the region know that the mill town was still very much alive and well after the remnants of Tropical Storm Fred had wreaked havoc on it and the outlying communities of Cruso, Bethel and Clyde.
And so people got to work. Thanks goodness I had planned a visit to my dentist's office for a cleaning when this was just a kernel of an idea. Hygienist and Clyde Lions Club member Laura Inman said the club, and the Cantons Lions Club, would probably help. What an understatement.
Inman and Max Bumgardner of the Canton Lions Club embraced the idea and their club members jumped in. They were responsible for many of the tasks required for pulling off such a large event, from collecting and counting cash donations to toting trash cans and putting out water, getting porta-potties and dumpsters and masks donated, even working feverishly to get an alcohol permit into the Raleigh ABC office a hair's breath before the deadline. Law enforcement showed up, and Piney Grove Methodist fed all the volunteers barbecue, keeping spirits up and people energized.
It was one of those events that reinforces how much I love living in a small town and in this particular place. People needed help, they needed their spirits lifted, and people step up, no questions asked. As I watched the Lions Club members walking through the crowd with buckets, I saw people reaching into their pocketbooks and pockets and tossing money into the kitty.
Including the credit card donations collected by the Celesa Willett and the United Way, all told about $36,000 was raised that evening, all going to help people in Haywood County who suffered as a result of Tropical Storm Fred and its devastating floodwaters.
This was indeed a rare event: people were generous, they shared music with friends and strangers, and they helped individuals and a community heal. Not much more to say except a heartfelt thanks to all who volunteered and all who attended and were a part of a memorable celebration.
(Scott McLeod can be reached at This email address is being protected from spambots. You need JavaScript enabled to view it..)
Leave a comment
1

comment
So many good people in this county have given so much. A study commissioned in the late 1970s by President Carter revealed that people of middle and low incomes gave a higher percentage of their income to help others than did the wealthy. Certainly true, now and historically, in western North Carolina.

Wednesday, 10/06/2021