Archived News
Etched in stone: Cemetery tour regs rub some the wrong way
Wednesday, October 06, 2021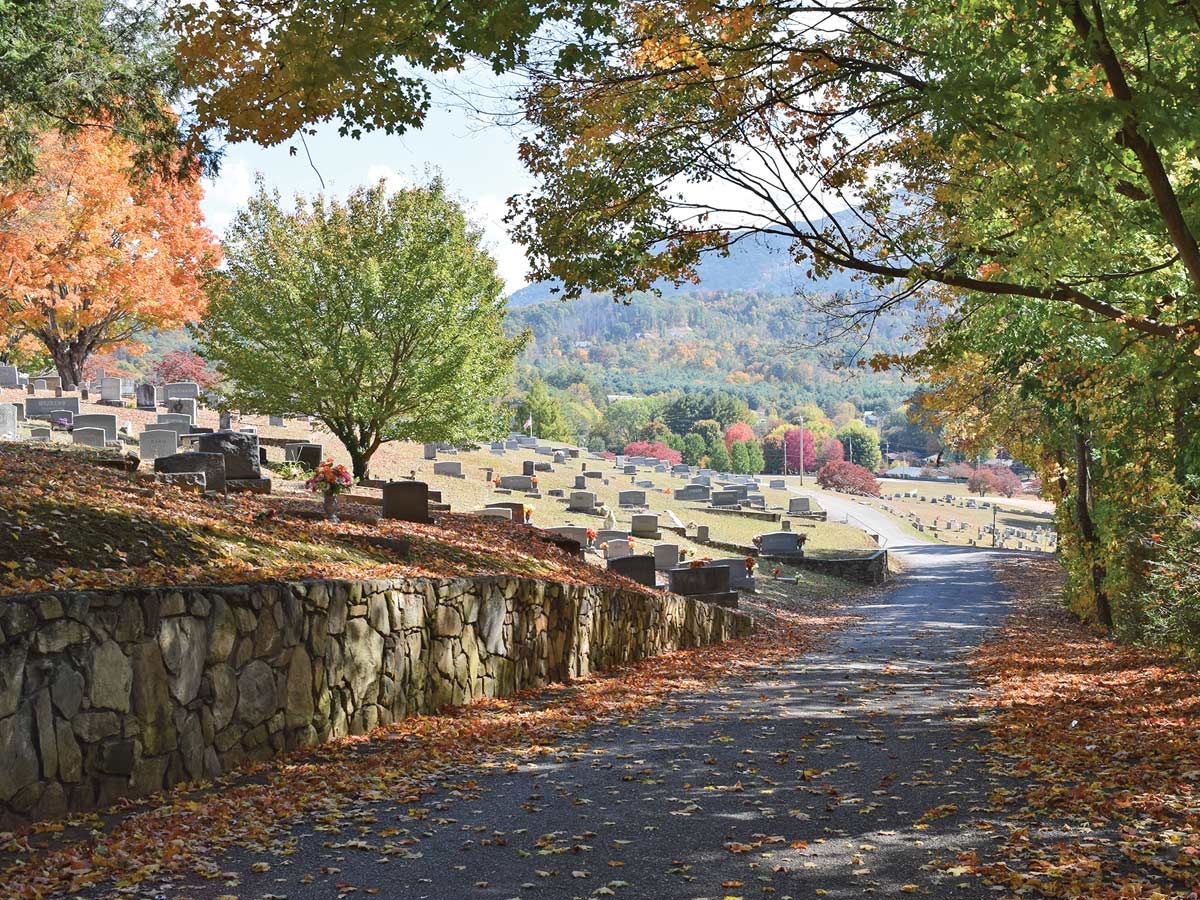 Green Hill Cemetery.
Waynesville's historic Green Hill Cemetery has long been a centerpiece of the community, but of late it's been at the center of controversy. After a botched cleanup prompted a closer look at management of town-owned cemeteries, restrictions on tours were implemented due to complaints of disrespectful behavior.
Now that the town has resumed hosting its annual cemetery tour, public response has been generally positive, but due to Green Hill's role as an active cemetery where burials still take place, the event will be an important test of how the community should utilize the cemetery.
The first known reference to Green Hill Cemetery appears in a Haywood County deed dating to 1826, when Thomas Love, brother of Waynesville founder Robert Love, sold a section of land to a man named Ezekiel Brown.
Excluded from the sale were 8 acres that would be conveyed to the trustees of the county's first school, Green Hill Academy. Included in the acreage was a pre-existing graveyard.
At the time, less than 100 people lived in Waynesville and growth remained minimal though the Civil War. In 1871, when the town formally incorporated, population had doubled. The next decade, population doubled again. By 1900, there were more than 1,300 residents and through World War II, Green Hill remained the primary cemetery for Waynesville's white population.
According to Green Hill's National Register of Historic Places registration form , the cemetery "developed within the artistic tradition of Appalachian graveyards" influenced not only by race, ethnicity and social status, but also by the melancholy allegory of a people focused intently on both the misery of life in this world and the reward of eternal life in the next.
Some of the more distinctive monuments can be traced to Asheville stonecutter William Oliver Wolfe, from whom his son Thomas drew inspiration for his debut coming-of-age novel "Look Homeward, Angel."
In 1949, a specific section of Green Hill Cemetery was dedicated for veterans. For the past four years, local ROTC units have partnered with the Knights of Columbus and the American Legion to decorate more than 500 of those gravesites as part of the national " Wreaths Across America " in December.
Today, the cemetery sits on almost 26 acres of land and contains thousands of gravesites including some of the most prominent people ever to call Haywood County home over centuries, people like actor Gig Young, U.S. Senator William Howell Smathers (1937-43), congressmen James Moody (1901-03) and Edward Robeson, Jr. (1950-59) and perhaps most famously, United States Marine Corps Commandant Gen. Carl Mundy (1991-1995).
Between its historic pedigree, its commanding views of the surrounding countryside, its oft-haunting memorials and its prominent residents, Green Hill Cemetery draws plenty of attention from tourists and locals alike. But not everyone appreciates that attention.
Back near the end of 2018, the cemetery was the focus of intense controversy when a regularly scheduled cleanup of Green Hill quickly turned into a nightmare, both for the town and for people who have relatives interred there.
Despite abundant signage and an ordinance in place since 2009 prohibiting all "trinkets, toys, shells, glass vases, jars, tin cans, sand, or other artificial material" except for cut or artificial flowers, visitors were shocked to see prohibited mementoes removed from the grounds and haphazardly piled in heaps.
Two-dozen speakers at a Dec. 13, 2018, town meeting called the whole thing "disrespectful" and "despicable," but the cleanup wasn't the only thing to draw ire from the public.
Commercial entities had been holding cemetery tours that many complained were also disrespectful, with some leveling claims that people were traipsing over gravesites or sitting on funerary art. Perhaps most shocking was the allegation that some "new-age" tour groups were attempting to communicate with the dead and sprinkling various substances on gravesites.
A few concerned citizens quickly organized an ad-hoc group called the Green Hill Cemetery Committee, and were instrumental in pushing the town to establish its own Cemetery Committee.
With the help of aldermen, the newly established town Cemetery Committee then revised the existing cemetery ordinance, which in addition to addressing the cleanup/memento issue, also addresses the issue of tours.
Now, an entire chapter of Waynesville's Code of Ordinances is devoted to cemetery regulation. Section 18-26 of the ordinance regulates tours, and lays out three stipulations.
History tours and other events "designed to promote the appreciation of our culture or history" are expressly permitted, however commercial tours or tours after dark are not. Permission for such activities must be given by the town more than 30 days prior to the event.
The ordinance doesn't specify how, or by whom, permission is to be granted, but on June 2 of this year, the town's Historic Preservation Commission discussed the feasibility of holding a tour in the cemetery on Oct. 9.
According to town ordinances , the Historic Preservation Commission is charged with conducting educational programming "with respect to historic districts and landmarks within its jurisdiction."
On July 14, Byron Hickox, a town land use administrator who also serves as the town's staff representative on the Historic Preservation Committee, sent a letter to the town's Cemetery Committee as an "official request from the Historic Preservation Commission to the Cemetery Committee to approve this event for the dates mentioned above."
Draft minutes from a July 20 Cemetery Committee meeting show a motion to accept the request passed unanimously, with the stipulation that everyone stay on the paved road or walkways.
"I think it's to highlight the importance of Green Hill Cemetery, its age and the prominent Waynesvillians buried there," Hickox said of the HPC's decision to continue the tours.
The Oct. 9 tour will be the sixth in seven years, but since COVID-19 forced the cancellation of the 2020 tour, this will be the first to take place under the revised cemetery ordinance.
"In some places, cemeteries are completely private. Maybe they're privately owned, whereas this is a public cemetery. I think you'd have a hard time justifying it being gated and locked and closed to the public when it is a public property," said Hickox, who is not a voting member of the HPC. "Maybe in bigger cities where you've got thousands upon thousands upon thousands of people interred there, they almost have a park-like setting and I can see how [tours at smaller graveyards] might be distasteful to some people. I totally understand that. I think Green Hill is somewhere firmly in the middle, where it is used by the public. Some people go and walk up there. I's a place to go and reflect place to go be meditative and solemn."
For Randy Mathis, who was active during the 2018 controversy as a member of the Green Hill Cemetery Committee and as the first chairman of the town's Cemetery Committee, the issue is much more of an emotional one; his 4-year-old son rests permanently in Green Hill.
"They raped his grave," Mathis said, noting that he'd built a small sandbox and filled it with sand from his travels across the world to places like Israel and Jordan. The sandbox was removed by town staff, according to Mathis .
Mathis disagrees with Hickox and thinks the Cemetery Committee should be a bit more restrictive in the types of activities allowed at Green Hill.
"I'm even against you know when the Boy Scouts, they used to go over and do the rubbings, even though you're doing it with charcoal you're still rubbing on a tombstone," Mathis said. "That, you know, that can damage them."
He also said that he didn't think the process by which approval for the tour was given, and cited Cemetery Committee member Sharon Franks as saying she'd heard absolutely nothing about the tour.
Franks, however, was not a member of the Cemetery Committee when the request was made, voted on and passed, per draft minutes from the July 20 meeting.
When the town posted a flyer on its Facebook page announcing the forthcoming tour, most responses were positive and expressed an eagerness to participate in the tour, which will feature several locals serving as reenactors to tell the stories of those buried there.
The Green Hill Cemetery Committee's Facebook page, run by Mathis, had a predictably different response: protest the tour.
"I'll do it until the day I'm dead," Mathis said.
Tour historic Green Hill Cemetery
The Town of Waynesville will host its annual Green Hill Cemetery tour at 4 p.m. Saturday, Oct. 9. The tour will feature local re-enactors in period costume telling tales of some of Waynesville's most prominent citizens, including Stephen Shelton, a Civil War veteran and Haywood sheriff who built the Shelton House (portrayed by Mike McLean) and D.M. Killian, an early proponent of industrialization and electrification (portrayed by Chip Killian). Ann Melton will discuss the art of Asheville monument dealer W.O. Wolfe, and Lorna Sterling will present the history of Green Hill Cemetery itself. In the event of rain, the tour will automatically be rescheduled to 4 p.m. Saturday, Oct. 16. A free shuttle from the American Legion will begin at 3:15 p.m. For more information, call the town's Historic Preservation Commission at 828.452.0401.
Leave a comment
3

comments
What Saturday in 2022 is the cemetery tour

Thursday, 10/06/2022

Wreaths Across America does not decorate graves, we honor interred veterans with remembrance wreaths.

Thursday, 10/07/2021

Great article Cory. I think a respectful event celebrating some great lives and contributors to what makes Haywood and Waynesville such a desirable place to live is a great thing. Perhaps a great opportunity for parents to pull the little ones away from the electronics and "honor the dead" as we are called to do.

Wednesday, 10/06/2021