Archived News
PAC seeks Cawthorn indictment over knife incident
Wednesday, October 06, 2021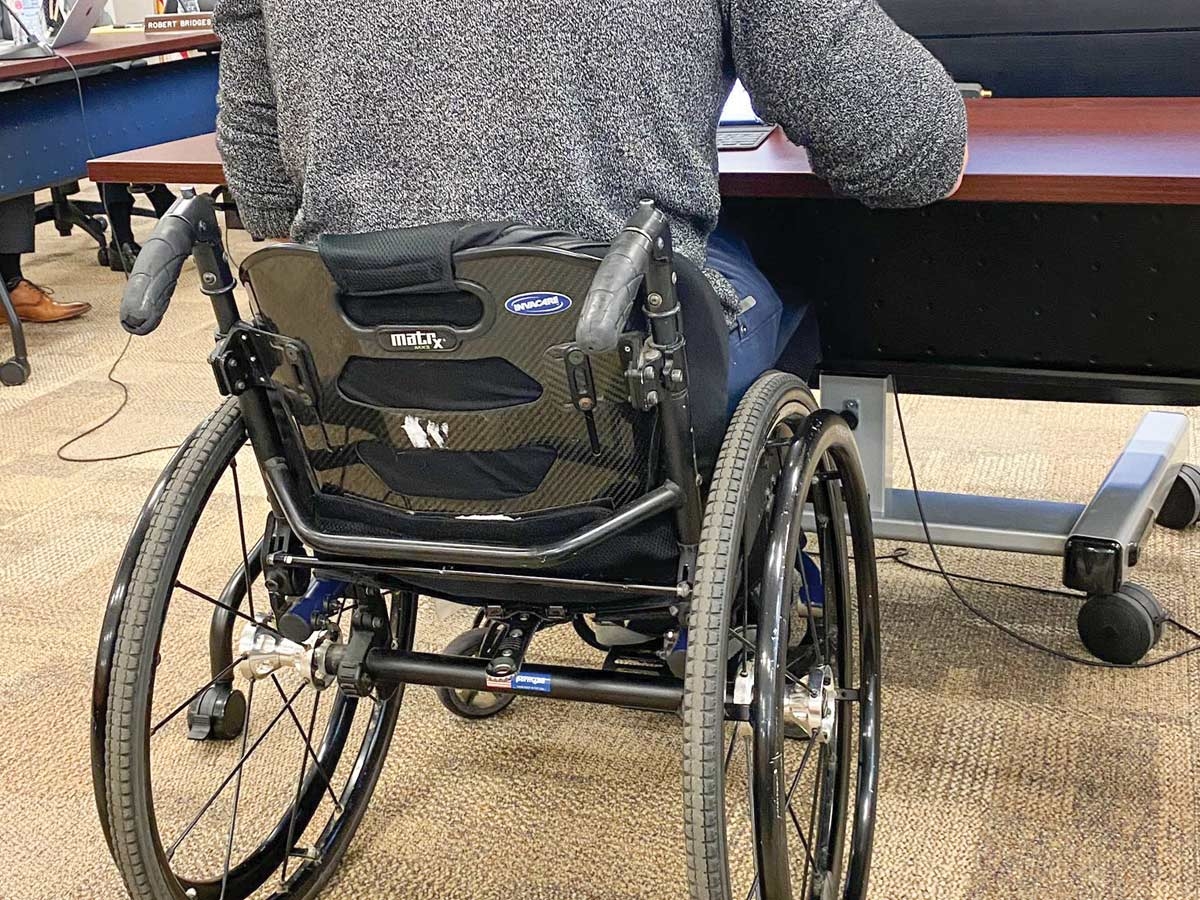 Rep. Madison Cawthorn speaks to the Henderson County Board of Public Education, with a knife stowed beneath his chair. Jay Carey photo
Another incident involving Rep. Madison Cawthorn, R-Hendersonville, possessing a weapon where it's prohibited drew renewed outrage from many on the left, but the failure of the Henderson County Sheriff's Office to charge Cawthorn for the offense hasn't stopped one group from seeking alternative means by which to discipline him.
"We believe Madison Cawthorn thinks he's above the law and he needs to be held accountable," said David Wheeler, president of FireMadison.com , a PAC dedicated solely to the ouster of Cawthorn from Congress. "It doesn't appear that any elected law enforcement official in Western North Carolina wants to enforce the law against him."
In February, Cawthorn was caught attempting to board a flight at Asheville Regional Airport with a firearm in his carry-on bag. Cawthorn's office said the Glock was "erroneously" stowed in the bag, and TSA officials said it was likely Cawthorn would face some sort of sanction over the incident.
Last month, Cawthorn continued his tour of local boards of education meetings, speaking out against mask mandates in schools. Jay Carey , one of several Democratic candidates running against Cawthorn, was also at the meeting and noticed something unusual — a 4.4-inch tactical dagger stowed behind and beneath the seat of Cawthorn's wheelchair.
Carey photographed the holstered blade at the Sept. 13 meeting because possession of concealed weapons is explicitly prohibited by North Carolina General Statute 14-269, which states, "It shall be unlawful for any person willfully and intentionally to carry concealed about his or her person any bowie knife, dirk, dagger, slung shot, loaded cane, metallic knuckles, razor, shuriken, stun gun, or other deadly weapon of like kind, except when the person is on the person's own premises."
A subsequent statute, 14-269.2, says it's a Class 1 misdemeanor "… for any person to possess or carry, whether openly or concealed, any BB gun, stun gun, air rifle, air pistol, bowie knife, dirk, dagger, slungshot, leaded cane, switchblade knife, blackjack, metallic knuckles, razors and razor blades (except solely for personal shaving), firework, or any sharp-pointed or edged instrument … on educational property."
Wheeler subsequently sent a letter to Henderson County Sheriff Lowell Griffin asking for an investigation, but Cawthorn has yet to be charged with any crime.
Griffin didn't address a request for an interview with The Smoky Mountain News, and instead forwarded a statement saying his office was aware of the allegations, but also that statutes "allow for officer discretion concerning most misdemeanor offenses" that consider "the totality of the circumstances to include the intent of a person."
The statement went on to compare Cawthorn's actions to those of a person who inadvertently brings a knife to a high school football game. Such instances, the statement says, are usually addressed with a verbal warning and the removal of the person or weapon from school district property.
"The Sheriff is a good man but I think he's playing politics again. Did Sheriff Griffin even interview Cawthorn about this crime or ask him whether he was carrying a loaded gun, which I believe he was? If anyone else brought a 4.4-inch dagger to a football game or a meeting that included a highly charged discussion of issues we would not be politely let go, we would be walked out in handcuffs and stuffed in the back of a squad car with zero chance of explaining away our actions," Wheeler said. "Cawthorn could walk down 7th Avenue in Hendersonville with guns blazing and he'd get off with a warning. The idea of a U.S. Congressman being allowed to wheel about the country with concealed weapons and trying to take a gun on a plane and not facing any consequences is pure politics at its worst, and exactly why Cawthorn must be fired by the voters."
Wheeler said that on Sept. 22 he hand-delivered documents to the Henderson County clerk of courts, addressed to the grand jury, requesting "a serious criminal matter."
NCGS 15A-628 states that a grand jury may "investigate any offense as to which no bill of indictment has been submitted to it by the prosecutor and issue a presentment accusing a named person or named persons with one or more criminal offenses if it has found probable cause for the charges made. An investigation may be initiated upon the concurrence of 12 members of the grand jury itself or upon the request of the presiding or convening judge or the prosecutor."
Wheeler also said that a parallel letter was delivered to the Polk County Clerk of Court because Cawthorn attended a similar meeting there, immediately after speaking in Henderson County. Buncombe County, Wheeler said, is next.
In a Sept. 19 interview with New York Magazine , Cawthorn said he's "always got a hunting knife" on his person.
Henderson County Clerk of Superior Court Jay Tyler Ray did not return multiple calls from The Smoky Mountain News seeking to confirm that the court had indeed received Wheeler's request and also seeking more information about the process for and the timeline of such requests.
When Cawthorn's campaign was reached for comment, Cawthorn said he wasn't overly concerned with Wheeler's actions.
"I'm focused on serving my constituents. I do not pay attention to the left's latest political witch hunts. They only exist to smear me, and they're attacking me because my message is a threat to their agenda," Cawthorn said. "The people of Western North Carolina know I'll keep fighting for them every day; they have my back and that's all that matters."
Leave a comment
5

comments
Democrats will be Democrats. They hate Madison because he beat their guy. They react like children when they don't get their way.

Sunday, 10/24/2021

So if you can see it and take a picture of it, to the extent you can identify it as having a 4.4 inch blade, by its very nature it is not concealed and shouldn't be charged under that specific statute. I lost a case very similar to this as a young officer when the judge simply asked if I could see it, and when I said yes, the case was dismissed. It's a matter of meeting elements of the law specifically described in statute. It's not concealed.

Friday, 10/08/2021

This is a local issue that has already been dealt with.Its over folks.

Thursday, 10/07/2021

Would Sheriff Griffin or other law enforcement officials be as cavalier if the knife-carrying gentleman had been black, with dreadlocks? How about a bearded Muslim with a turban? Especially in an emotionally-charged venue where strongly different opinions were being expressed.
The laws apply to everyone. Would we also allow Madison to drive through a school zone at 100 mph and waive it off as an "oversight" or assume he had no bad intentions?.
Madison Cawthorn is not entitled to flaunt the law.

Thursday, 10/07/2021

Madison is too busy looking for Christians in the Old Testament

Wednesday, 10/06/2021