Archived News
Cherokee kicks off new Council term
Wednesday, October 06, 2021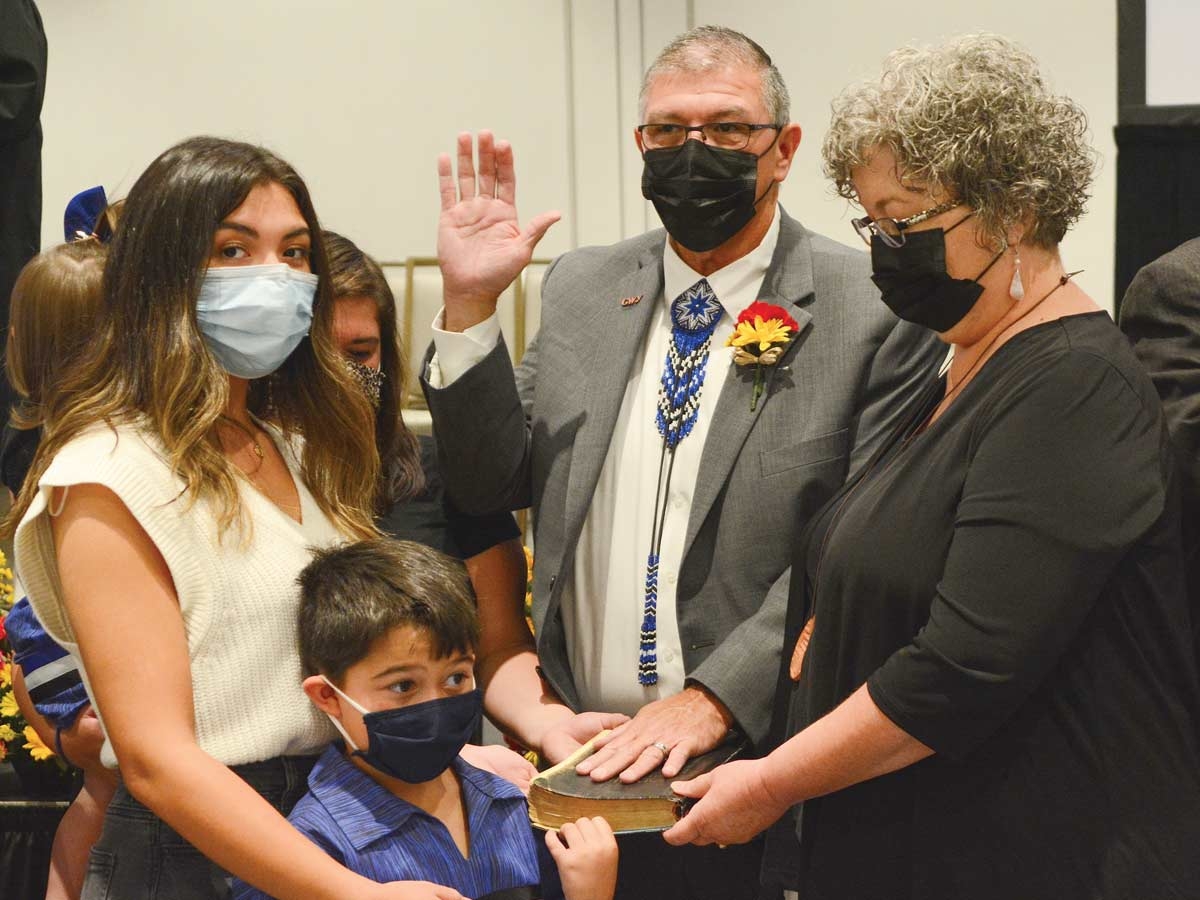 Surrounded by his family on Oct. 4, Richard French takes an oath of office for the new Council term. Later that morning, his fellow representatives elected him Council chairman. Holly Kays photo
The Eastern Band of Cherokee Indians marked the start of a new Tribal Council term this week, with 2021 election winners sworn in and new officers selected Monday, Oct. 4. Through 2023, Big Cove Representative Richard French will serve as chairman and Birdtown Representative Albert Rose will serve as vice chairman.
The brand new Harrah's Cherokee Convention Center hosted an inauguration ceremony for the newly elected Tribal Council and Cherokee School Board representatives, featuring performances of "Cherokee National Anthem" and "Morning Song" from the New Kituwah Academy Singers. Associate Justice Brenda Pipestem administered the oath of office for the three new school board members, and Chief Justice Kirk G. Saunooke administered the oath of office for all 12 Tribal Council members, three of whom represent a change in membership from the 2019-2021 Council.
Teresa McCoy has returned to her seat representing Big Cove after Perry Shell opted not to run for re-election. Former chairman Bill Taylor defeated Chelsea Saunooke to claim one of the Wolfetown seats, and T.W. Price Saunooke is beginning his first term on Tribal Council after overcoming Tom Wahnetah in the Yellowhill race.
After serving two terms as chairman, Snowbird/Cherokee County Representative Adam Wachacha will no longer lead the horseshoe after a move to reappoint him to the seat resulted in only three yes votes. French, who is now starting his fourth term on Tribal Council, secured the support of the remaining nine Council members.
Likewise, Yellowhill Representative David Wolfe was not reappointed to the vice chairman's seat after losing narrowly to fifth-term member Rose — each man received six votes in support, but due to Tribal Council's weighted voting system Rose prevailed 56-44.
"I just want to thank everyone for your faith and your confidence in me being your chairman. I want to thank Dave and Adam for the great job they've done to move this tribe forward over the last four years," said French.
Tribal Council kept Michelle Thompson as English clerk, Beloved Woman Myrtle Driver as Indian Clerk, Sally Arch as interpreter and Bobby Taylor as door marshal.
During a round-robin opportunity for comments that followed the votes, Tribal Council members offered a glimpse into the issues they hope to pursue over the next two years. Many of the members emphasized their desire for professionalism, cooperation and respect from their fellow representatives, as well as a focus on moving the tribe and its business interests forward.
"I just look forward to doing what I can for this tribe, and all the enrolled members of the Eastern Band of Cherokee Indians, and not only that, for Western North Carolina and for the Southeast," said T.W. Saunooke. "This tribe, as I see it, we are a conglomerate that is moving forward within this nation. I have talked a lot through campaigning about moving into a piece of Tsa-La-Gi worldwide. We are a national powerhouse."
Over the next two years, Rose said, tribal leaders will need to make an effort to be present in Washington, D.C., Raleigh and other parts of Indian Country, and to rebuild some of the relationships that lagged during the early part of the pandemic, when travel was difficult. Closer to home, he wants to ensure that tribal projects run on time and on budget.
"I think sometimes that we get ahead of ourselves, and we get taken advantage on these projects continuously overrunning by millions of dollars," he said. "We've got to stop that. That's one of the things I want to really work hard on."
Taylor added that his priority will be ensuring that Indian preference laws are followed, and McCoy said she will seek legislative changes to improve Council members' accountability to their communities.
"I am for term limits," she said. "If somebody doesn't bring that in, let me know. I'll be glad to bring that in. I support recall. In Ordinance 161-Elections, I want our tribe to be able to step up just like they did in that alcohol referendum and recall any one of us that gets out of line."
The new Tribal Council terms run through early October 2023, and the Council's first lawmaking session is scheduled for 8:30 a.m. Monday, Oct. 11. In Cherokee, the month of October is Annual Council, meaning that sessions will be scheduled throughout the month to handle any legislation submitted by representatives or walked in by tribal members.
"We've got to move this tribe forward," said French. "We'll keep going forward and not backwards, and that's what I'm looking forward to in this position is doing the best thing for the tribe and for the enrolled members of this tribe."