Archived Outdoors
Bear attack injures two on the Blue Ridge Parkway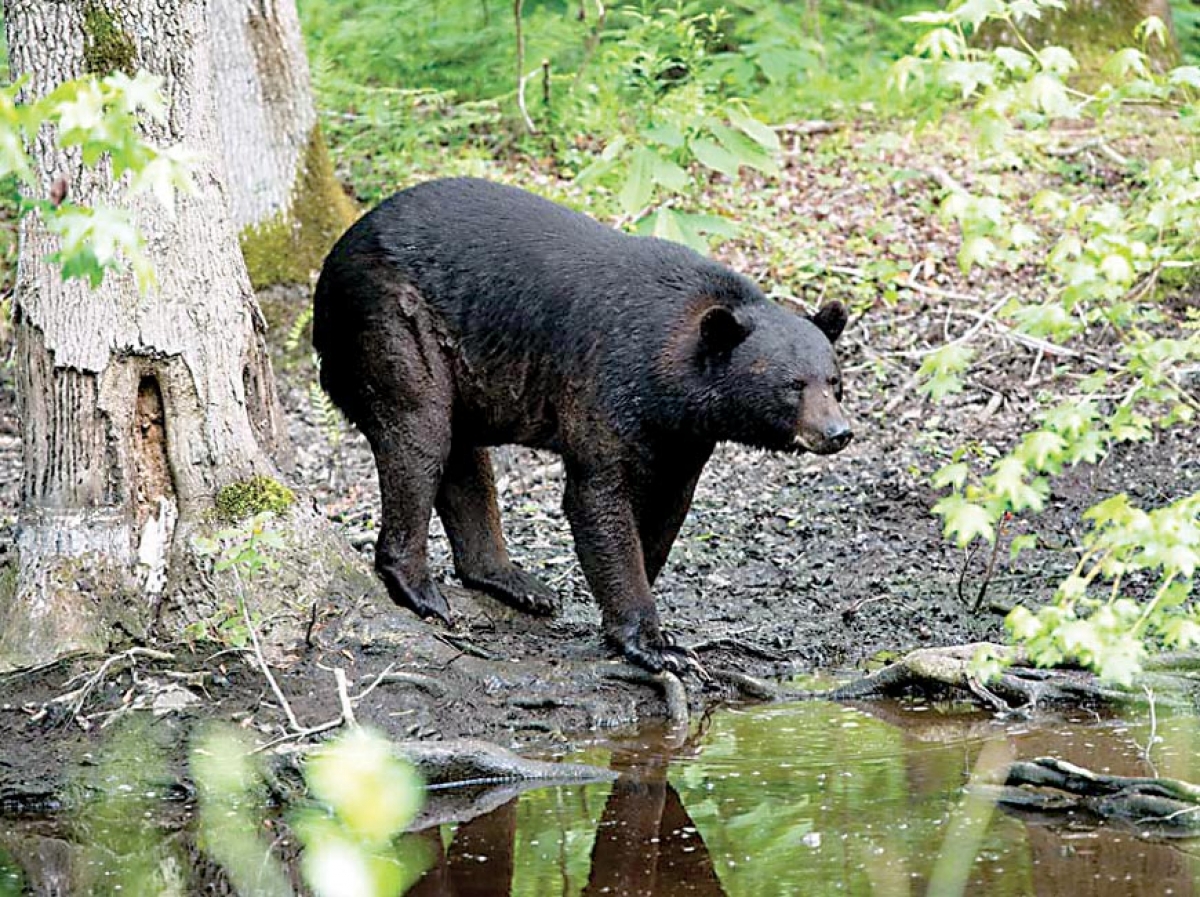 A black bear injured two people near the Folk Art Center on the Blue Ridge Parkway in Asheville when it attacked on Wednesday, Sept. 29.
A couple was having a picnic on a grassy hill near the center when their unleashed dog alerted them to the bear's presence. The dog ran towards the bear, barking loudly. Likely aggravated by the dog, the bear acted defensively toward the dog and the couple.
Over the next several minutes, the bear attacked repeatedly while the couple and their dog retreated to their vehicle. The couple then drove to Mission Hospital in Asheville, where they were both treated for their injuries and released.
Due to the bold and aggressive nature of the attack, all trails in the area are closed temporarily and outdoor food is prohibited. The Mountains-to-Sea Trail is closed from the intersection with the Visitor Center Loop Trail near Milepost 384 to Riceville Road Bridge at Milepost 382, and the Folk Art Center Nature Loop Trail is also closed, along with all trails accessed from Bull Mountain Road.
Picnicking is prohibited between the Asheville Visitor Center and adjacent parking lots near Milepost 384 to the Haw Creek Overlook near Milepost 380.
The Parkway is coordinating with the N.C. Wildlife Resources Commission to capture the bear and conduct foot patrols of the immediate area. Forensic evidence from the scene was collected for DNA analysis — if the offending bear is captured and positively identified, officers will euthanize the animal, per Parkway and Wildlife Commission protocol.
Fall is a busy time for Parkway visitation, but it's also a critical feeding period for bears before they enter winter hibernation. While in bear country, visitors should take precautions recommended at www.bearwise.org, including properly storing food, keeping pets leashed and remaining at a safe viewing distance from bears. If attacked, fight back with any object available and remember that bears may view people and pets as pretty. Though rare, attacks on humans do occur.
For more information about bear safety, visit www.bearwise.org. Report Parkway bear encounters by calling 828.298.2491 or stopping by the nearest Visitor Center.
Leave a comment
12

comments
The Arrogant Dog People Club strikes again!! "Oh, my dog is friendly and would never run away or cause any problems!!" Now we have a situation where a wild animal, walking in it's own territory was attacked and now may be killed. Leave the bear alone. Fine the two people to the max as an example for other Arrogant Dog People to remember. Leash your dog!!!

Wednesday, 10/06/2021

Initially we were told the dog was the aggressor and continued to go after the bear.
Of course the bear would defend himself.
It is a shame how we change stories to fit the narrative.

Monday, 10/04/2021

Initially we were told the dog was the aggressor and continued to go after the bear.
Of course the bear would defend himself.
It is a shame how we change stories to fit the narrative.

Monday, 10/04/2021

Run bear run ! Godspeed,.

Saturday, 10/02/2021

wow so the idiots who took their dog off leash to a park basically killed a bear. I go on trails all the time with my dog ON A LEASH! Stupid entitled idiots

Saturday, 10/02/2021

It isn't the bears fault but he will be punished. That is not right!!! People don't follow rules that would keep wildlife and humans from crossing each other's paths.

Saturday, 10/02/2021

It isn't the bears fault but he will be punished. That is not right!!! People don't follow rules that would keep wildlife and humans from crossing each other's paths.

Saturday, 10/02/2021

It isn't the bears fault but he will be punished. That is not right!!! People don't follow rules that would keep wildlife and humans from crossing each other's paths.

Saturday, 10/02/2021

So the people took a dog off leash into the bear's territory, the bear is provoked and responds according to his nature, the bear is killed for behaving like a bear and the people who caused the problem bear no responsibility?

Friday, 10/01/2021

They will not use DNA analysis to positively identify the bear. It takes too long. They will find a bear & kill it. People need to use common sense in bear country! Not doing so gets many of our bear killed!

Friday, 10/01/2021

They will not use DNA analysis to positively identify the bear. It takes too long. They will find a bear & kill it. People need to use common sense in bear country! Not doing so gets many of our bear killed!

Friday, 10/01/2021

The bear is just being a bear. In his own environment. For that he will be killed! Very wrong.

Friday, 10/01/2021