Archived Reading Room
Book explores past murders in the mountains
Wednesday, September 29, 2021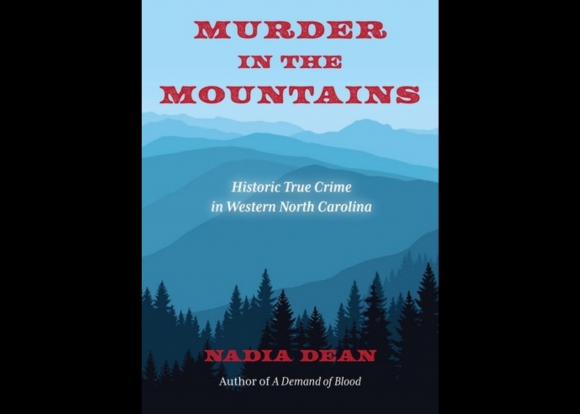 "The lips that touch liquor shall never touch mine."
That line comes from a temperance song written in the 1870s by Sam Booth. Given the horrific effects of liquor at that time on American society — violence, drunken husbands unable to keep their jobs or support their families, and early deaths through accident or disease — the temperance movement swelled in numbers.
And Murder In the Mountains: Historic True Crime in Western North Carolina (Valley River Press, 2021, 231 pages) reveals the enormous impact alcohol played in murder and mayhem all across these hills.
Author Nadia Dean mentions other factors as well as contributing to the brutal crimes that occurred in the mountains from 1850 into the twentieth century. The Civil War not only devastated the region, as it did most of the South, but it also brought its own civil war as many inhabitants remained strong supporters of the Union, thus turning neighbor against neighbor and brother against brother. In addition, mountaineers were less tame than their flatland counterparts, were more likely to resort to guns and knives in a quarrel, and practiced a code of honor based on "Noli me tangere," or "Touch me not." They wouldn't have known the Latin, but it was definitely a time when a man's bruised pride demanded a response, often a bloody one.
"Moonshine, guns, and hot tempers stole the lives of many young men," Dean writes in her "Author's Note," and we see two of these ingredients in the first story of her book, "Emotional Insanity." After feeling that he was insulted in a court of law by William Avery, a fellow attorney and member of the North Carolina House of Commons, Thomas Fleming purchased a cowhide whip, waited for Avery to emerge from the courthouse, and then beat him with both with the whip and a rock he was carrying.
Feeling his honor impugned, Avery waited his chance, and then shot Fleming to death in the Morganton courthouse. His trial became a statewide sensation, and though he was eventually acquitted on the grounds of temporary insanity, a newspaper of the time perhaps came closer to the truth of Avery's motives: "As a man of the world, situated though he was, outraged and insulted as he had been, and with precisely such a state of public opinion upon such subjects as exist in the community in which he lives, no other course was open or possible for him …."
Avery himself died violently almost 13 years later, killed in a skirmish with Colonel Kirk's raiders during the War.
This is one of 10 such incidents Dean offers to her readers.
In addition, she shares a great deal of other history and customs as well. She explores, for example, the terrorism wrought by the Ku Klux Klan, describing how their beatings and threats of violence against both blacks and whites undermined law and order.
And in describing the hanging of Jack Lambert for murder in Swain County, we see how our not-so-distant ancestors handled executions. Dean writes that Lambert gave this advice from the scaffold to the young men in the crowd, "Refrain from drinking whiskey and keeping bad company. I give you this warning from a dying man." After he died — it took a while, as the hanging was botched — we learn that "Sheriff Welch cut the noose into pieces and tossed them as souvenirs to the crowd. Local superstition held that they could ward off evil and cure sickness, and people scrambled to catch them."
Particularly fascinating to me was the story of Oma Hicks (1896-1974) of the Big Bend community in Haywood County. Her family thrived on moonshine, she was possibly involved in her first husband's disappearance and the murder of a second husband and a friend, took at least one lover, escaped charges of murder but was imprisoned in the Haywood County jail for 12 months on illegal liquor charges, and later married at age 35 and lived a quiet life until her death.
Of Oma, Dean writes, "By this time, the Roaring Twenties had seen women evolve. Perhaps enjoying this new freedom for women, Oma had bobbed her hair. Men found her desirable, and her husband, Scott, was probably painfully aware of this."
While it's debatable whether the evolution of women should countenance adultery, Oma had apparently taken on at least one lover. Once again Dean provides some bizarre reports. In 1930, Scott Brown, Oma's husband, and his friend Mims White, disappeared and were believed to be the victims of a foul play. When they were recovered from the grave that had hidden them for several months, their bodies, in an advanced state of decomposition, were taken to Waynesville, where "hundreds of townspeople came to the undertaker's parlor to view the remains."
Yikes!
Dean's "Appendices" and "Footnotes" attached at the end of Murder In The Mountains were helpful in explaining further the events and people involved in these crimes.
If we return to Dean's "Author's Note," we find a valid justification for studying the stories of these men and women: "The North Carolina mountain region was every bit as fraught with danger as any town in the American Wild West, and in some cases, perhaps more so.
"If there is one lesson to be learned from these stories, it is this: resentments allowed to grow out of control, in the end, control everything."
Agreed.
(Jeff Minick reviews books and has written four of his own: two novels, Amanda Bell and Dust On Their Wings, and two works of nonfiction, Learning As I Go and Movies Make the Man. This email address is being protected from spambots. You need JavaScript enabled to view it.)