Archived News
Mandy Allen named Haywood Teacher of the Year
Wednesday, September 29, 2021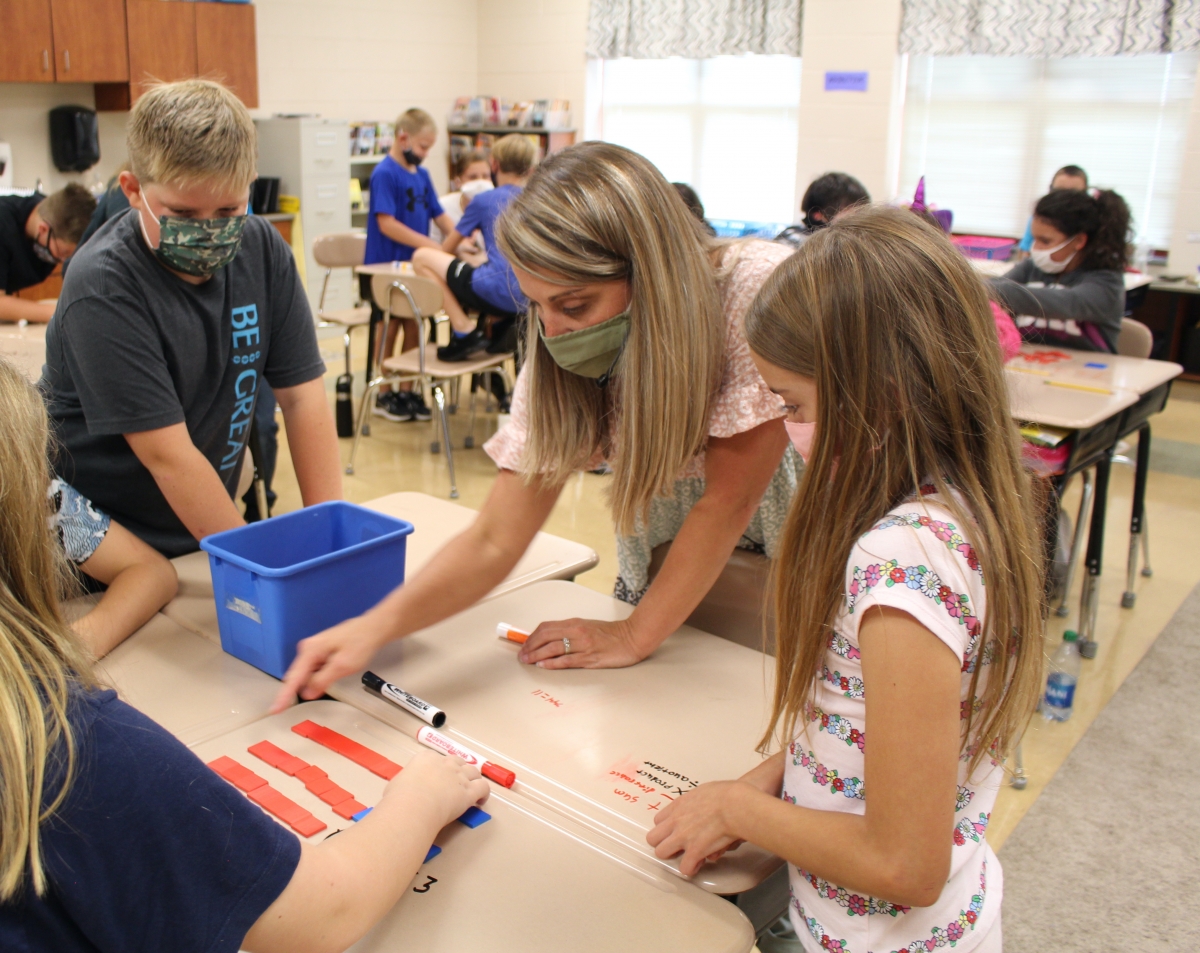 Bethel Elementary School fifth grade teacher Mandy Allen was named Haywood County Schools' 2022 Teacher of the Year at a banquet earlier this month.
Every year, each of the district's 15 schools selects a Teacher of the Year. A selection committee is then tasked with choosing the district-wide Teacher of the Year after reviewing applications and visiting each teacher's classroom.
Allen, who has worked in education for 13 years, was selected as the district-wide winner, and runner ups were Norma Warren from Canton Middle School and Heidi Morgan of Pisgah High School.
"Mrs. Allen's teaching philosophy and skills are evident and have a positive impact on her students, school, and the community," Dr. Bill Nolte, Haywood County Schools superintendent, said. "She is a great representation of the high caliber of teachers in Haywood County Schools and would represent the state very well as the Regional and State Teacher of the Year."
Allen's initial desire to work in education came from her own teachers when she was a student at Hazelwood Elementary School. She said teachers like Lee Messer, Sherri Arrington, and Retha Cabe influenced her early on in her education.
"They always encouraged me to give my best at school, but I also saw the best in them," Allen said with a smile. "I wanted to be like them."
Allen laughed as she talked about playing school with her toys and her younger sister in the afternoons as a child. She even asked for an overhead projector for Christmas when she was in 2nd grade and was devastated when Santa did not leave one under the tree.
During her final year of college at Western Carolina University, she completed her student internship with Alma Wells at Bethel Elementary, just two doors down from her current classroom.
Her first job after college graduation was at Bethel Elementary teaching fourth grade. During that time, she met her husband, Brandon. Allen joined her husband in Morganton, N.C. and commuted to Haywood County three days a week while working as a curriculum coach. The commute became too much, and Allen accepted a teaching position in Burke County.
Opportunities arose for Allen's family, and they moved back to Haywood County in 2017. By that time, Allen and her husband had two young children. She began working part time with the school system as an instructional coach, where she helped teachers apply theory and pedagogy in the classroom.
"After a while, I really began to miss the kids and wanted to be back in the classroom," Allen said. "I missed creating relationships with students and being a more interactive part of their education."
In 2019, Allen returned to Bethel Elementary as a fifth-grade teacher.
At Bethel Elementary, Allen is surrounded by supportive co-workers, who Allen credits with pushing her professionally. Allen and her fellow fifth-grade teachers work together during planning periods and after school to create lesson plans, pinpoint common goals, and share the days' successes and shortcomings.
Sharing ideas and working cooperatively is a necessity among teachers, since fifth grade curriculum covers everything from ecosystems to North American colonization to geometry.
"Mandy was born to be a teacher, and I cannot imagine her being anything else," Bethel Elementary Principal Heather Hollingsworth said. "The love for her students and the passion she puts forth in making sure they grow as learners and as human beings is unrivaled."
For nine months, Allen gets to know her students. She finds out their strengths, weaknesses, hobbies and interests while building relationships that last for years to come.
"I think Mrs. Allen is a good teacher because she's really nice," fifth-grader Riley Holland said. "She makes everything fair, and we all get a chance to talk."
Allen takes an interest in her students out of the classroom as well. She can often be found on the weekends watching soccer games, attending dance recitals or going to the rodeo to show her support for her students. She believes these small gestures of showing care and interest in her students' lives result in better relationships and success in the classroom.
"Living in the community where I teach and seeing students and their families in the store, at restaurants and at weekly ballgames is more powerful than I would have ever imagined," Allen said. "Bethel is a family, and I am so thankful to be part of their lives in all these little moments."
The effects of Allen's caring smile, positive attitude, and creative lessons are still felt by former students.
Allen said a pivotal moment in her career came after a mother of a former student reached out to her and thanked her for making a difference in her child. Allen explained that the mother told her about the many hardships her son had faced when he was Allen's student. She said that through love and support he found at school, he blossomed into the child she thought she had lost forever.
"Up until that moment, I had no idea what this precious child had dealt with when he was my student," Allen explained. "Teachers change lives, and every word spoken has the power to build up or tear down children."
Allen admits that teaching has its difficult moments, but that she is committed to continually bettering herself by attending professional development training, creating engaging lesson plans and looking for innovative resources for her classroom.
"Although I am only a very small piece of their lives, I will love, encourage and build them up while being so thankful to be called their teacher," Allen said. "Loving them first for who they are is the most important thing. Then I can teach them."
As Teacher of the Year, Allen received a monetary award from Haywood County Schools and will be recognized again in the spring with a Pactiv Evergreen award from the Haywood County Schools Foundation. She will also now be considered for the WNC Regional Teacher of the Year award.
Over the next year, Allen will act as an ambassador for teachers throughout the county and will serve on several district-wide committees.
2022 Teachers of the Year from each Haywood school
Mandy Allen, Bethel Elementary
Daniel Trivette, Bethel Middle
Norma Warren, Canton Middle
Christy Lawrence, Central Haywood High
Angela Ledford, Clyde Elementary
Ryan Brumfield, Haywood Early College
Lorri Reece, Hazelwood Elementary
Laura Abbe, Jonathan Valley Elementary
Michelle Ford, Junaluska Elementary
Emily Worley, Meadowbrook Elementary
Samantha Burleson, North Canton Elementary
Heidi Morgan, Pisgah High
Ashley Clifton, Riverbend Elementary
Bill Covin, Tuscola High
Rachel Yates, Waynesville Middle