Archived Arts & Entertainment
This must be the place: Ode to 'Grit & Grace,' ode to coming together
Wednesday, September 29, 2021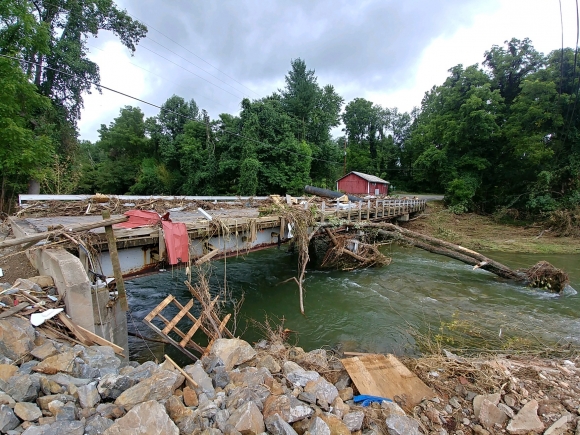 The aftermath of the floodwaters in Bethel last month.
Garret K. Woodward.
Putting the truck into park, I hopped out of the Tacoma in front of the legendary WNCW studios on the campus of Isothermal Community College in Spindale. Last Wednesday. Late morning. The long haul down there from Waynesville.
Finishing up the remaining drops of my second cup of coffee, I knocked on the front door and wandered into the depths of WNCW. Hallways lined with thousands of CDs from seemingly every artist who has traversed this earth. Soundproof rooms for in-studio live shows and broadcasts.
Shaking hands with WNCW senior producer Paul Foster, I sat down for another episode of the "Friday Feature of the Week." Normally, Foster would have me to chat about the regional music scene or a recap of festival season, and so on.
But, last week, I found myself speaking at-length about the upcoming Balsam Range and Amanda Anne Platt & The Honeycutters gig, "Grit & Grace: A Flood Relief Benefit for Haywood County," taking place Saturday, Oct. 2, at Sorrells Street Park in downtown Canton.
By the time The Honeycutters take the stage that night, it will have been just about a month and a half since the devastating flood waters from Tropical Storm Fred overtook several of our mountain communities on Aug. 17 — a wall of water forever scarring the physical and emotional landscape of Haywood County.
Taking to the microphone at WNCW, I spoke to Paul about what it was like to be on the ground in Cruso and Bethel in those first few days following the flood. The rivers and creeks had receded, but there was horrific damage in every direction.
Vehicles tossed around like Matchbox cars, now stuck in trees. Mobile homes pushed into the middle of U.S. 276. Massive boulders shifted down river or displaced into front yards and roads. Six perished in the floodwaters. Hundreds of families displaced. Countless lives destroyed.
And though it's been several weeks with the flood in the rearview mirror of our thoughts, this story — the damage, the recovery effort, the people affected — isn't going away for years to come, perhaps decades. U.S. 276 is up and running again. But, the cars are still in the trees, mobile homes on the side of the road, boulders in front yards, all as a thick layer of displaced mud is now caked and hardened across the once pristine farmland.
If anything, we're only at the "end of the beginning," in terms of "what now?" and "where to from here?" as questions many of us don't have answers to at this juncture. Many families aren't getting the help they need. Disaster relief, whether in manpower or in monetary aid, seems to only to be trickling in, with the unknown horizon still ahead of us moving forward.
And the first-hand stories. Endless personal accounts of what happened. I found myself constantly interviewing solemn faces and hopeful faces trying to make sense of "why bad things happen to good people," each one thankful to have survived the night when the falling rain simply wouldn't stop.
Thus, here I sit at my desk in the back of The Smoky Mountain News office. It's Tuesday morning and we're putting out this week's paper. The benefit show is just four days away. And we're nailing down the final details in ensuring a successful and safe event for our community — taking a moment to reflect on the past month and a half, and about our place in the grand scheme of things, come hell or high water.
I'm not going to lie, putting on this event has been quite the rabbit hole of who, what, where, when, why, and how. What started as a collaboration and pooling of resources between Balsam Range and this publication has spiraled into dozens of moving parts and numerous people involved in getting this Saturday's festivities off the ground smoothly.
As of now, the bands are booked. The proper permits were filed weeks ago. Production stage is good to go. Food trucks and craft beer vendors have committed. First aid personnel secured. Dumpster and port-o-potties donated. What's left? Volunteers needed for trash pickup, but we should be just fine come Oct. 2.
It's been a whirlwind experience figuring out the pieces of the puzzle for "Grit & Grace," as it has been for a journalist covering the flood, not to mention just being a Haywood County resident as we all continue to help our neighbors in need (as they would surely do that same for us if the tables were turned).
So, what's the hope for Saturday? Well, to not only raise funds for those in need, but to also celebrate why it is we call Haywood County home. Yes, we have an abundance of clean air, fresh water and lush vegetation. But, to me, our greatest resource is our people, who time and time again come together — as a guiding light and voice of reason in our darkest of hours.
I hope to see you (and you, too) out there at Sorrells Street Park this weekend. It'll be one heck of a barnburner performance by some of the finest musicians in Southern Appalachia. It's been a long month and a half, an even longer year and a half, truth be told. Let's uplift one another in the presence of live music for a good cause.
Life is beautiful, grasp for it, y'all.
Hot picks
1.) Featuring Balsam Range and Amanda Anne Platt & The Honeycutters, "Grit & Grace: A Flood Relief Benefit for Haywood County" will take place from 6 to 9 p.m. Saturday, Oct. 2, at Sorrells Street Park in downtown Canton.
2.) A production of "The Diary of Anne Frank" will be presented at 7:30 p.m. Sept. 30, Oct. 1-2, 7-9 and at 2 p.m. Oct. 3 and 10 at the Haywood Arts Regional Theatre in Waynesville.
3.) The annual ColorFest will be held from 10 a.m. to 5 p.m. Saturday, Oct. 2, in downtown Dillsboro.
4.) Smoky Mountain Center for the Performing Arts (Franklin) will host Crowder (Christian/indie) at 7:30 p.m. Thursday, Sept. 30.
5.) There will be a flood benefit for Haywood County residents from 10 a.m. to 11 p.m. Saturday, Oct. 2, at the Valley Tavern in Maggie Valley.