Archived News
Common themes emerge in redistricting hearing
Wednesday, September 29, 2021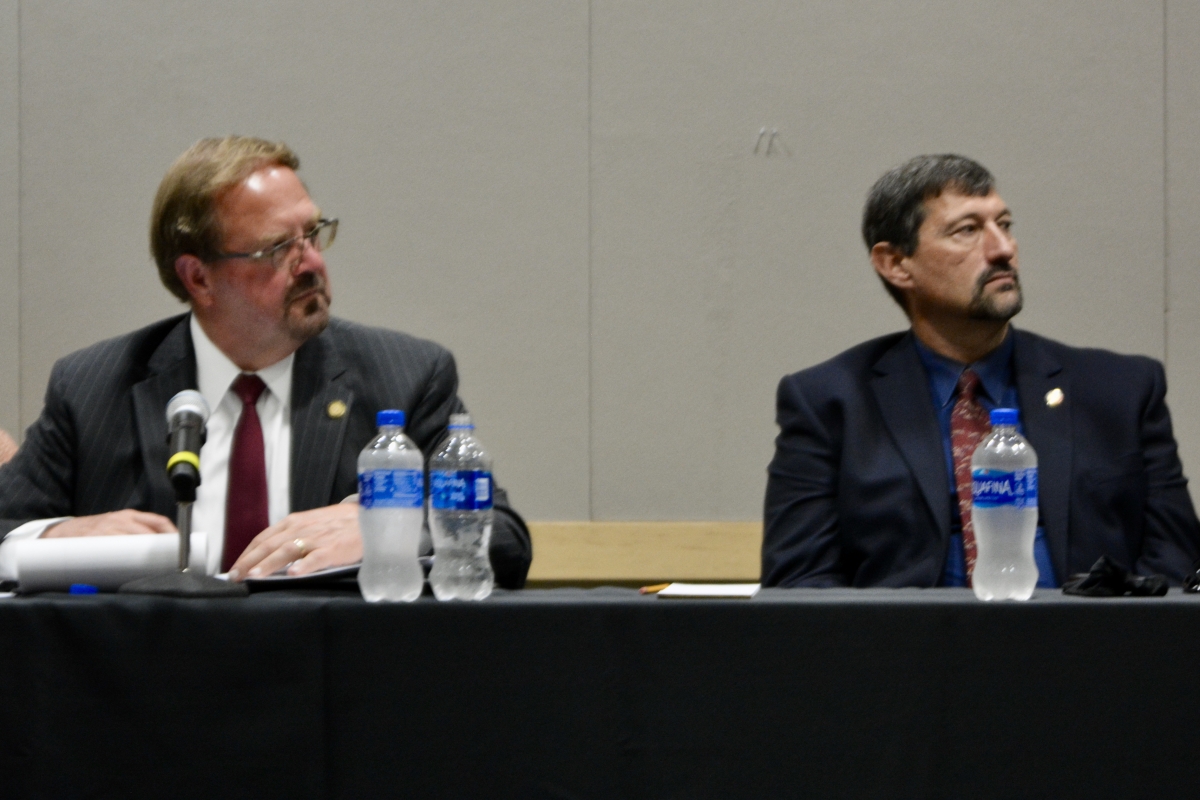 Sen. Chuck Edwards (left) and Rep. Mark Pless entertain public comment at a Sept. 21 redistricting hearing.
Cory Vaillancourt photo
Although a majority of speakers at a Sept. 21 public hearing designed to gather input on the constitutionally-mandated redistricting process put forth generic opinions about how gerrymandering is harmful to representative democracies, drilling down into specific complaints from the five-dozen speakers reveals some very real concerns about House, Senate and congressional districts in Western North Carolina.
"Well, folks often use the words, 'fair' and 'transparent.' Those are the most common words that we hear," said Henderson Republican Sen. Chuck Edwards, who chaired the meeting. "Sometimes they get into a bit more detail on what they're looking for."
More than 120 people packed a room at Western Carolina University's Health and Human Sciences building, with almost half taking advantage of the two-minute public comment opportunities available to them. Online enrollment for the public comment session began a week before the event and ended four hours before the meeting, although those who decided during the meeting that they wanted to speak were also allowed to do so.
Edwards was joined on the panel by Sen. Julie Mayfield, D-Buncombe, Rep. Mike Clampitt, R-Bryson City, Rep. Karl Gillespie, R-Franklin, and Rep. Mark Pless, R-Haywood, as well as 10-term reps Becky Carney, D-Mecklenburg, and Susan Fisher, D-Buncombe — the only elected officials present who'd been through the redistricting process before.
Throughout the two-hour hearing, speakers overwhelmingly asserted that gerrymandering was wrong whether it's done by Democrats or by Republicans.
Graeme McGufficke, former campaign manager for NC11 Democrat Moe Davis who now serves as a senior advisor to the FireMadison.com PAC, said that gerrymandering leads to more extreme candidates on both sides of the aisle.
But by far the most frequent comments heard during the meeting were about the meeting itself.
Kathleen Barnes, secretary of the Transylvania NAACP, lamented the disregard for public health. Despite the (continuing) ability for people to comment on the process through the North Carolina General Assembly's website, there was no livestream option, meaning the meeting wasn't televised and those wishing to speak directly to legislators had to show up in person during an ongoing pandemic.
Barnes also called attention to the fact the meeting — the only one scheduled in NC11 — had been called for 5 p.m. on a Tuesday in a distant location far from the district's largest population centers of Buncombe and Henderson counties.
"This is an unpromising start from a committee that promises to draw fair maps," she said, before calling the meeting a "sham" and the process "flawed beyond redemption."
There is some legitimacy to Barnes' complaints; previous and subsequent public hearings on redistricting held across the state were all scheduled to start between 3 p.m. and 6 p.m., all on Tuesdays, Wednesdays or Thursdays.
One attendee from Transylvania County said she'd driven more than 90 minutes to attend. Indeed, the majority of speakers who identified their county of residency came from Jackson County, which is home to WCU.
Perhaps the second-most frequent request of the panel was to allow for public comment after the draft maps are finally released. Otto resident Jennifer Knoepp said such a move would increase faith in the process.
"We're all making comments about maps we haven't seen," she said.
Other concerns centered around the controversial practice of splitting counties in congressional and state legislative districts. Right now, half of Rutherford County lies in NC11, and Haywood County's General Assembly representation in the House is split between Pless and Clampitt.
Specific requests were made to keep Jackson County from being split, and to put all of Haywood into District 118. Another request, to place Watauga County into NC11, was justified by pointing out that UNC-Asheville and Western Carolina University are already in NC11, so Appalachian State should be as well.
Many who spoke weren't simply private citizens, but rather WNC candidates, politicians or political operatives.
In addition to McGufficke, the list of players included NC11 Democratic Party Chair Matt Balance, NC11 Dem Vice Chair Karen Smith, NC11 GOP Chair Michelle Woodhouse, Jackson County Dem Chair Cody Lewis, Jackson NAACP PAC Chair Avram Friedman, Haywood GOP Precinct Chair Ted Carr, Jackson County Commissioner Gayle Woody, NC11 Dem candidates Bo Hess (see HESS, p. 10) and Katie Dean and Amanda Huber, campaign manager for fellow NC11 Dem candidate Eric Gash.
"I turned 18 in 2006 and have never voted in an election where the outcome wasn't predetermined," Huber said.
Several speakers also decried the cost to taxpayers of defending lawsuits that could be filed if maps aren't drawn within the strict confines of the law.
Sen. Edwards told The Smoky Mountain News that he didn't have a timeframe for when the new maps would be presented, but that he was more concerned with getting the new maps right rather than getting them right now.
"We want to do it in a way that will be totally transparent and will withstand inevitable court scrutiny," Edwards said.
Redistricting hearing, by the numbers
More than 50 people spoke at a public hearing on redistricting on Sept. 21 at Western Carolina University. Who were they, where did they come from, and what were their biggest complaints?
Gender
Men: 28
Women: 24
Residence
Jackson County 17
Buncombe County 14
Haywood County 12
Transylvania County 4
Macon County 3
Swain County 1
Chapel Hill 1
Complaints
No streaming option
available/inconvenient location/time 12
Gerrymandering harms democracy 10
Accept input after draft maps released 8
Keep counties/cities whole 5
Keep Jackson County whole 3
Remove NCGA from process altogether 3
Add/remove counties from NC11 3
No Spanish translation offered 2
Redistricting lawsuits waste
taxpayer money 2
Keep Haywood County whole 1
Stop splitting Asheville Senate Districts 1
No Cherokee translation offered 1
Add Boone to NC11 1
Be heard
Submit your comments about redistricting to the N.C. House Redistricting Committee and Senate Redistricting and Elections Committee by visiting www.ncleg.gov/requestforcomments38.