Archived Outdoors
Fishing after the flood: Flood took two-thirds of state hatchery's trout
Wednesday, September 22, 2021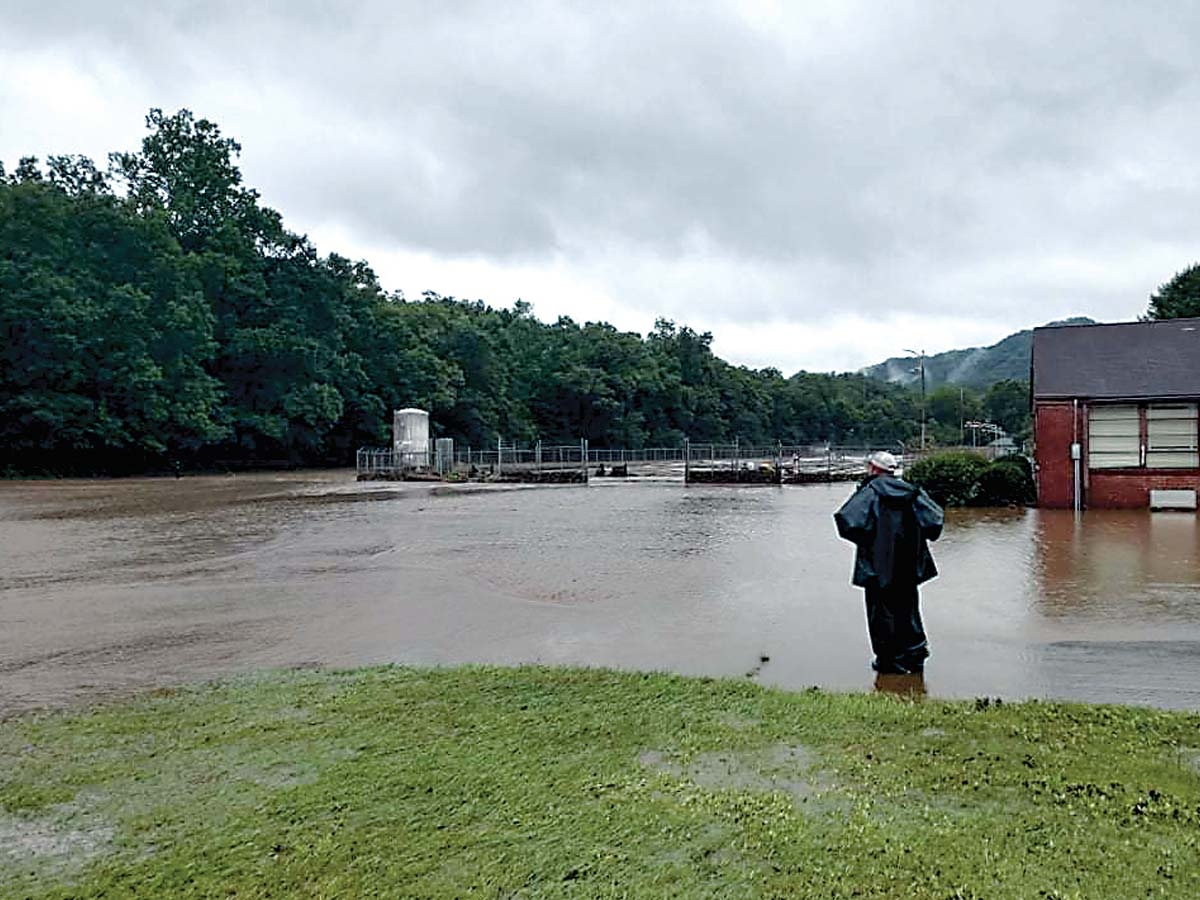 Floodwaters cover the N.C. Wildlife Commission campus near Brevard Aug. 17. Donated photo
When the Davidson River first hit flood stage on at 3:30 p.m. Tuesday, Aug. 17, it was a normal — albeit rainy — workday for employees at the Bobby N. Setzer Fish Hatchery and the Pisgah Center for Wildlife Education in Brevard. But by 5:45 p.m. a river that had mere days ago flowed less than a foot deep peaked at 14.19 feet, plunging the fish hatchery raceways under feet of water and leaving employees — as well as a volunteer and member of the public who had been at the education center — to scramble for higher ground.
When the water receded, two-thirds of the 1 million fish that had been swimming in the hatchery hours before were gone — and there were just six weeks to go until the Oct. 1 kickoff of stocking season for North Carolina's Delayed Harvest Trout Waters. The flood took 67% of the fish by numbers and 80% by weight, meaning a disproportionate impact to larger trout.
'Massive loss'
Many of the fish likely survived the flood, escaping with the water that overtook their enclosure, but of those that remained in the raceway, a large number died. They suffocated due to low oxygen levels once the water receded and debris-clogged intake valves prevented new water from flowing through.
As District Fisheries Biologist for the N.C. Wildlife Resources Commission, Powell Wheeler managers fisheries for the 12 western counties. Holly Kays photo
"That's a pretty massive loss," said Powell Wheeler, district fishery biologist for the N.C. Wildlife Resources Commission.
In the days following the flood , Wheeler worried what that loss could mean for fall fishing, which in Western North Carolina is more than just an entertaining hobby.
"Trout fishing's a big deal around here," he said. "It's even a small industry. There's a lot of guides that make a living on trout fishing."
A 2015 report from the Wildlife Commission estimated the economic impact of trout fishing in the mountain region at $334.4 million, supporting 3,200 jobs.
Luckily, though, it appears that the flood's impact on fall fishing will be far less than feared. Despite damage, the hatchery is still operational, and the Wildlife Commission is having enough success obtaining replacement trout and eggs — from U.S. Fish and Wildlife Service hatcheries, neighboring state hatcheries and some private hatcheries in North Carolina — that it expects fall stocking to mostly continue as planned. Spring stocking will proceed normally.
However, the mix of trout stocked this year will look somewhat different than usual. The Wildlife Commission typically stocks a ratio of 40% brook trout, 40% rainbow trout and 20% brown trout, but this year those ratios will vary "substantially" by location, according to information posted on the Commission website . Because the flooding disproportionately impacted the biggest trout, fewer large trout will be stocked this year.
Additionally, Hatchery Supported Reservoirs will not be stocked this fall as previously scheduled. This includes Bear Lake, Wolf Creek Lake, Tanassee Lake and Cedar Cliff Lake.
Dale Collins, co-owner of the tri-location Tuckaseegee Fly Shop, said the decision not to stock the lakes is a "pretty wise play," as those areas don't see the same traffic as typical Delayed Harvest sections. Overall, he said, he doesn't anticipate the flood's fallout will much impact angler interest in mountain fishing this fall.
"A part of our guides' jobs is to manage expectations, so when those conversations are had ahead of time, it will still be OK," he said. "North Carolina has probably one of the better delayed harvest programs out of all the states bordering us. It still seems like they're doing a better job even in a reduced capacity this fall than some of the neighboring states are. I don't think that's going to deter, because it's still a great program."
That said, people familiar with local waters — especially the flood-impacted ones in Haywood County — have probably noticed some changes to their favorite holes, he said. The storm moved fish around, sweeping them downstream or driving them into hideouts to wait out the flood. In some places, it even changed the shape of the river itself.
"There's folks catching trout where they don't normally catch trout, and I said, 'Well, enjoy that while it lasts,' because those fish will quickly move and find cooler water," said Collins.
The balance of bug life this fall may prove to be a more important part of the equation than the state's stocking schedule, said Collins.
"I think that's where we're going to see an immediate impact," he said. "A lot of those were washed away. It's going to take a few seasons and cycles for those to come back. This fall there's going to be a lot of hungry trout out there."
What about water quality?
French Broad Riverkeeper Hartwell Carson said he was pleasantly surprised when initial post-flood water quality testing returned positive results. Carson works for the regional nonprofit MountainTrue, which routinely tests area waters for E. coli levels so as to inform the public about swimming safety .
In tests conducted the week after the flood — in the Pigeon River at Canton, Clyde and Jukebox Junction as well as Hartford and Newport, Tennessee — levels came back in normal range.
"I was actually pretty surprised that they were so low," said Carson. "We'll find high levels sometimes even not after a giant flood."
Given that the Aug. 17 flood overtook Canton's wastewater treatment plant and likely disturbed private septic systems too, Carson had been expecting different results. The data is encouraging, but it's not the final word on the flood's overall impact to water quality.
"The way water quality testing's done is, you really have to know what you're looking for to do a test," said Carson. "There aren't many tests you can do to just say, 'Is there any problem here?' The problem with floods is you don't really know what you're looking for."
The flood unarguably caused some measure of contamination, with the waterways now filled with all manner of waste carried away by the rushing water. Kerosene tanks, propane tanks and junk cars flowed downriver, as did RVs, mobile homes and a thousand other objects, each of which contains a different set of chemicals or fluids capable of causing different types of issues.
"Short-term, swimming in the river looks pretty good from water quality. Our Pigeon River sites are actually cleaner than our French Broad sites. So that's good news for folks on the Pigeon," said Carson. "Now, long-term there's a legacy of pollutants in the Pigeon, and I honestly don't know that anybody really knows the answer to what's buried in the sediments of, say, Waterville Lake, and does a storm that size stir those up and release those downstream?"
Those are important questions, he said, and could be a subject of future research.
Tropical Storm Fred left dead fish and a swirl of debris behind at the Bobby N. Setzer Fish Hatchery near Brevard. Donated photo
The reset button
When it comes to trout, the water quality issue turns into a question about meat quality — mainly, is the water clean enough to house dinner-worthy trout?
Wheeler said he's been fielding questions to that effect, and while there hasn't been any post-flood fish testing to find the answer, he doesn't believe flood-related contamination should be a cause for worry.
"I have never heard of a case where anyone has said you shouldn't eat fish after a flood because it might be poisonous or detrimental," he said.
When it comes to fish, parasites and bioaccumulated contaminants like mercury are the main worries, and he doesn't have reason to believe the flood has caused those types of issues.
"People eat fish all the time from water that they wouldn't drink," he said. "That's perfectly normal."
The flood could even turn out to be good for trout in the long run, he said. Much like fire in a forest, floods serve as a reset button for aquatic environments, flushing away the silt and fine sediment that impedes trout spawning and insect habitat. In their newly cleaned home, said Powell, the fish will reproduce better than ever.
"Fish are sort of like oak trees," he said. "They can produce a whole lot more offspring than they actually need to keep the population going, so you've got all these fish ready to take off in this depopulated habitat."
In the end, said Collins, the flood of 2021 will be just another chapter in the long story of an ancient river.
"The fact that that creek exists was a pretty substantial geological happening, so it has seen water like this before, and it comes back," he said. "I think that's always the story of a river, is that hope that it's always going to right itself."
Delayed Harvest regs to start soon
Delayed Harvest Trout Waters restrictions will begin on 36 trout waters Oct. 1.
Under these rules, anglers can't harvest or possess trout from these waters until the regulations end a half hour after sunset June 3, 2022. Anglers may not possess any natural bait and may fish only with artificial lures with a single hook. Lures may not contain or be treated with a substance that attracts fish using taste or smell.
The N.C. Wildlife Resources Commission stocks Delayed Harvest Trout Waters from fall through spring with high densities of trout to increase anglers' chances of catching fish. These waters are posted with diamond-shaped, black-and-white signs.
Despite a significant loss of hatchery fish during the Aug. 17 flood, most stockings will continue as planned this October. Any changes will be posted at www.ncwildlife.org/troutupdate.