Archived Reading Room
A walking tour of Paris and the arts
Wednesday, September 22, 2021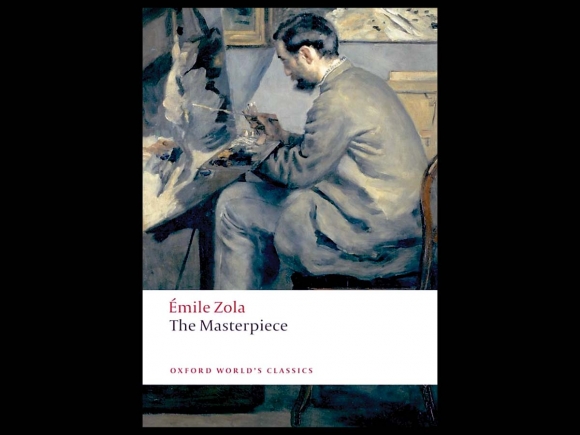 Every once in a while I like to go back and read the classics, especially those that have managed to bypass my attention and my gaze.
And so during a busy summer reading mostly new and contemporary fiction and non-fiction, I've taken notice again of some of my favorite French writers. One of these is Emile Zola and his novel The Masterpiece (Oxford University Press, 1993/2008).
Zola was born in Paris in 1840 and spent most of his life there amidst a surging artistic community. The Masterpiece is the most autobiographical of all of Zola's novels and describes in vivid detail the wild Bohemian world of the Impressionist painters, poets, novelists and others. This is the story of an ambitious and talented young artist from the provinces, Claude Lantier, who has come to conquer Paris only to be conquered by the flaws in his own genius and personality.
Anyone with any interest in France, the French language and the Parisian arts scene in both the 19th and 20th centuries will enjoy how Zola has immersed his readers in the personalities and the day-to-day activities of the many characters in young Claude Lantier's artistic circle. Immediately, in a great beginning, we're introduced to a woman named Christine, who is huddled and drenched in rain on the front steps to Claude's apartment as he is returning home from a walk along the River Seine on a summer evening. Christine will play an important role related to Claude throughout the book, including being the subject of one or more of his most important paintings.
Zola quickly takes us out into the streets of Paris in Chapter 2 — to the cafes and favorite gathering places of Claude's artist and writer friends. We meet Sandoz, a novelist, Fagerolles, a young painter, Mahoudeau, a sculptor, and the elder painters Bongrand and Gagniere and are with them as they wander the streets of Paris like a drunken wave railing against academia, L'Ecole des Beaux-Arts and the Establishment.
"The ideal would be," said Claude, "to see everything and paint everything. To have acres of walls to cover, to decorate the railway stations, the market-halls, the town-halls, whatever they put up when architects have at last learnt some common sense!"
This kind of bantering, bally-hoo and wine-fed carousing goes on for a few chapters and a couple of months amongst the friends until Christine appears again, unannounced at Claude's door. From there, we get another whole chapter on the development of their relationship as Claude escorts Christine and takes us on a grande tour of Paris.
Claude's relationship with Christine continues throughout the book until they are eventually married. But the bulk of the second half of the novel is devoted to Claude and his Open-Air group of young painters' obsessions with becoming a well-known avant garde group if not famous artists themselves. "
What he wanted was the Prix de Rome. Banding together with his mates to conquer the earth, each making his own contribution, each supporting the other, the whole band in a firm and serried rank to the very end."
Or as one of Claude's friends explains and describes their contributions: "... a new century, a freshly sown field, the breeding ground of a new people."
Spring finally arrives and with it the famed Salon des Refuses show of anti-establishment painters in opposition to those at the well-known and established Salon show in Paris, and we get a guided tour of the paintings in the show as well as the large boistrous crowds that are in attendance and personally judging the activist painters' works.
The Masterpiece is more than the story of the creation of a single painting. What follows reads something like a playscript complete with sets and scenes and conversations amongst Claude's inner circle with his self-effacing obsession becoming a character itself. Amidst lots of dalliance, gossip and good cheer there is also a good deal of angst and frustration as the years quickly clip by and things begin to change for all of the players in our story.
Claude has gone off with Christine to live in a secluded setting outside of Paris for four years and then comes back to try and reconnect with his old mates. The original Open-Air Group's vision has changed to one of individually-focused ambition and success including hostilities and jealousies between some members of the group. "The battle was on, with each man fighting greedily for himself, cracking apart the old sworn friendships and which would shatter them in a thousand pieces."
Or as the elder, established artist Bongrand warns his younger proteges: "The greatest satisfaction was not in being at the top, but in getting there. The heights are scaled, the summits reached, and you've got to stay there. That's when the torture begins."
But I'm not going to leave you on a bad note. As someone who has lived in Paris and France in my youth as a wannabe French poet and been back again a couple of times for short but extended visits, this gallavanting and carousing through Zola's lens was a lot of fun — this trip down memory lane — as I am reminded of the streets and cafes and museums, etc., the author cites and describes. I'm going to have to read more of the classics!
(Thomas Crowe is a regular contributor to The Smoky Mountain News and author of an historical novel The Watcher (Like Sweet Bells Jangled.)