Archived News
Haywood activist shakes up NC11 Dem Primary
Wednesday, September 22, 2021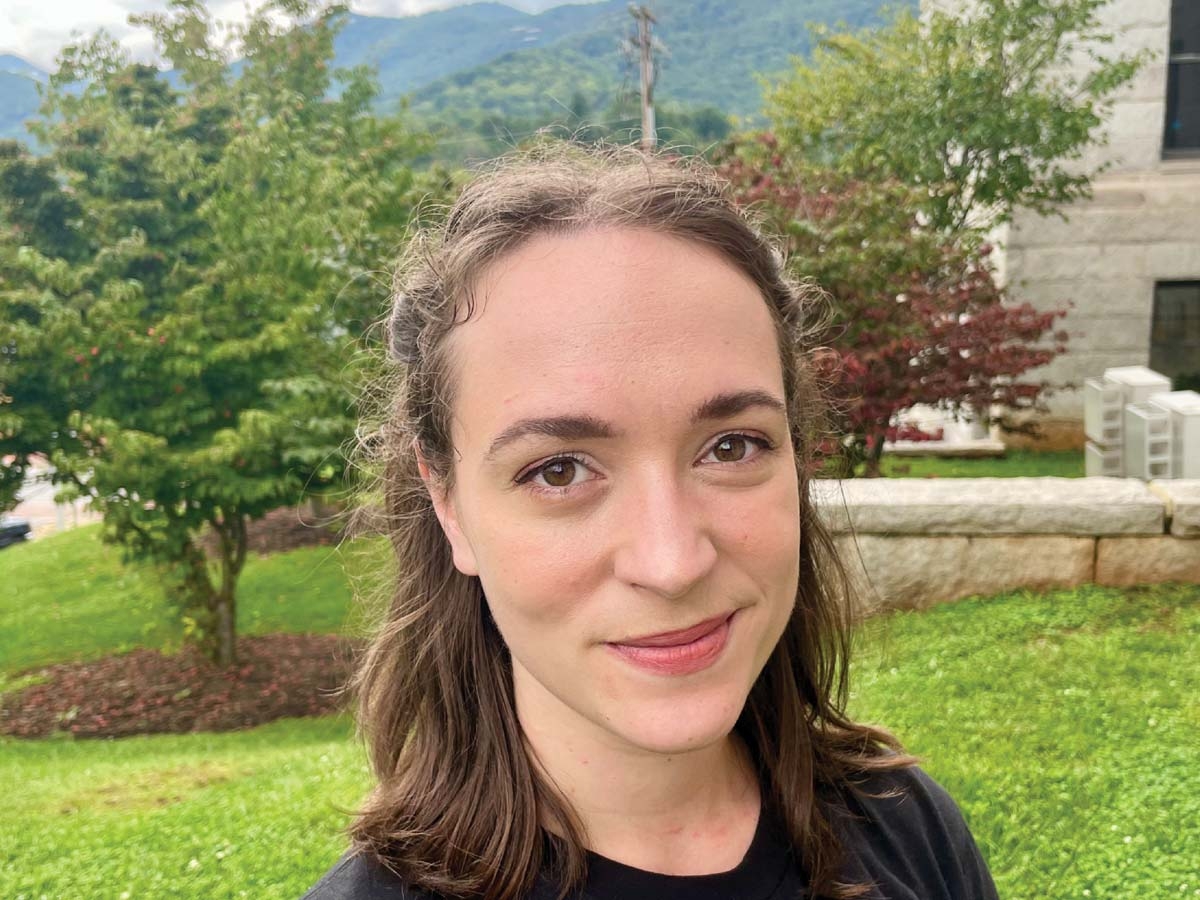 Chelsea White becomes the eighth Democrat to run in NC11. Cory Vaillancourt photo
Progressive Haywood County organizer Chelsea White made it official during a Sept. 19 rally at the Haywood County Courthouse — she's running for Congress.
"I'm sick of for-profit politicians using the mountain folks of Western North Carolina to take their photo ops, to build their personal ego-driven agenda and to not actually fight for any changes that lift up the people here in the community," said White, referring to incumbent freshman Rep. Madison Cawthorn.
White, who was raised in Jackson County, earned her bachelor's degree from Western Carolina University in 2016 and in 2018 her master's in social work with a focus on rural community advocacy. Although she's probably best known as a former Down Home North Carolina organizer, she said she's spent much of her life working as a waitress and cashier.
"This campaign is actually about building a movement of mountain folks who aren't having their voices heard," White said. "I have firsthand experience being in the service industry and retail industry since the age of 15. I know what it's like to work for over a decade and to still struggle to afford the rent on a single-wide trailer. I know what it's like to have a college degree and to not find a job that pays you a living wage or provides any healthcare benefits. It's not just about the issues, but it's about also building a movement where my people, our people, out here in Western North Carolina, feel their own power and their own stake in this and they feel strong enough to step up and confront the people who want to keep using us for their agenda."
The top issues for White include bringing better paying union jobs with benefits to the district, along with affordable healthcare access and sustainable infrastructure.
Until just days ago, White had been registered as an unaffiliated voter, despite previously voting in Democratic Primary Elections and advocating for liberal causes. She's since switched her registration back to Democrat.
That registration switch is notable — North Carolina General Statute 163-106.1 requires a candidate to be affiliated with a party "for at least 90 days as of the date of that person filing such notice of candidacy."
The last day to file for the March 2022 primary will be Dec. 17. Depending on the date White changed her registration, she could be cutting it close, but White said she thought she was in the clear. Running as an unaffiliated candidate would require a petition drive and roughly 8,000 valid signatures — a substantial undertaking.
Including Cawthorn himself, there are now 14 Primary Election candidates in NC11.
White becomes the eighth Democrat to join the Primary Election field, which currently includes Jasmine Beach-Ferrara, Jay Carey, Katie Dean, Eric Gash, Bo Hess, Josh Remillard and Brooker Smith. Republicans Eric Batchelor, Rod Honeycutt, Wendy Nevarez and Bruce O'Connell have likewise entered the Republican Primary Election contest. A Libertarian, David Coatney, has also announced his candidacy.
Defeating all of them will be a challenge for White — a challenge she says she's ready to meet.
"I've been in the process of building a movement in Western North Carolina for almost a decade. Now my relationships span from Murphy on one side of the district all the way through McDowell County on the other side of the district," she said. "I've got personal relationships, my expertise, and my passion is in deep canvassing in relational organizing. And that's what it's going to take to win in a district like this."
Filing for the 2022 General Election doesn't begin until early December.
Leave a comment
7

comments
Cawthorn's a millionaire off a lawsuit. Chelsea worked for what shes got. This seems like an easy choice.

Thursday, 09/23/2021

An ordinary person would be so refreshing. Tired of money running this country.

Thursday, 09/23/2021

Thanks for being the spelling Nazi Mr. William. I'm sure you have made similar mistakes when typing furiously about subject matter close to your heart. It doesn't excuse the fact that this girl has no qualification or any background in government, even with those useless college degrees. She's just another AOC wannabe. And Leslie, I don't hate anybody but with you I will make an exception. Have a nice day.

Thursday, 09/23/2021

I believe in you Chelsea.

PS. Lucille, the figure of speech is "hole" in the head, not "whole" in the head. I for one think we clearly DO need to be more "whole" in the head. Happy someone who worked their ass off for a living--who consistently and tirelessly has given her time and energy to her community--is running for elected office. We need leadership that is rooted in our district, and cares deeply about us.

Thursday, 09/23/2021

Don't waste your time Chelsea. You don't have a chance.

Thursday, 09/23/2021

Heart full of hate, as usual Lucille.

Wednesday, 09/22/2021

Another former waitress running for office. We need another AOC like a whole in the head. How many tips did you steal from your fellow restaurant workers Chelsea?

Wednesday, 09/22/2021