Archived News
Dueling rallies in Haywood highlight persistent divisiveness
Wednesday, September 22, 2021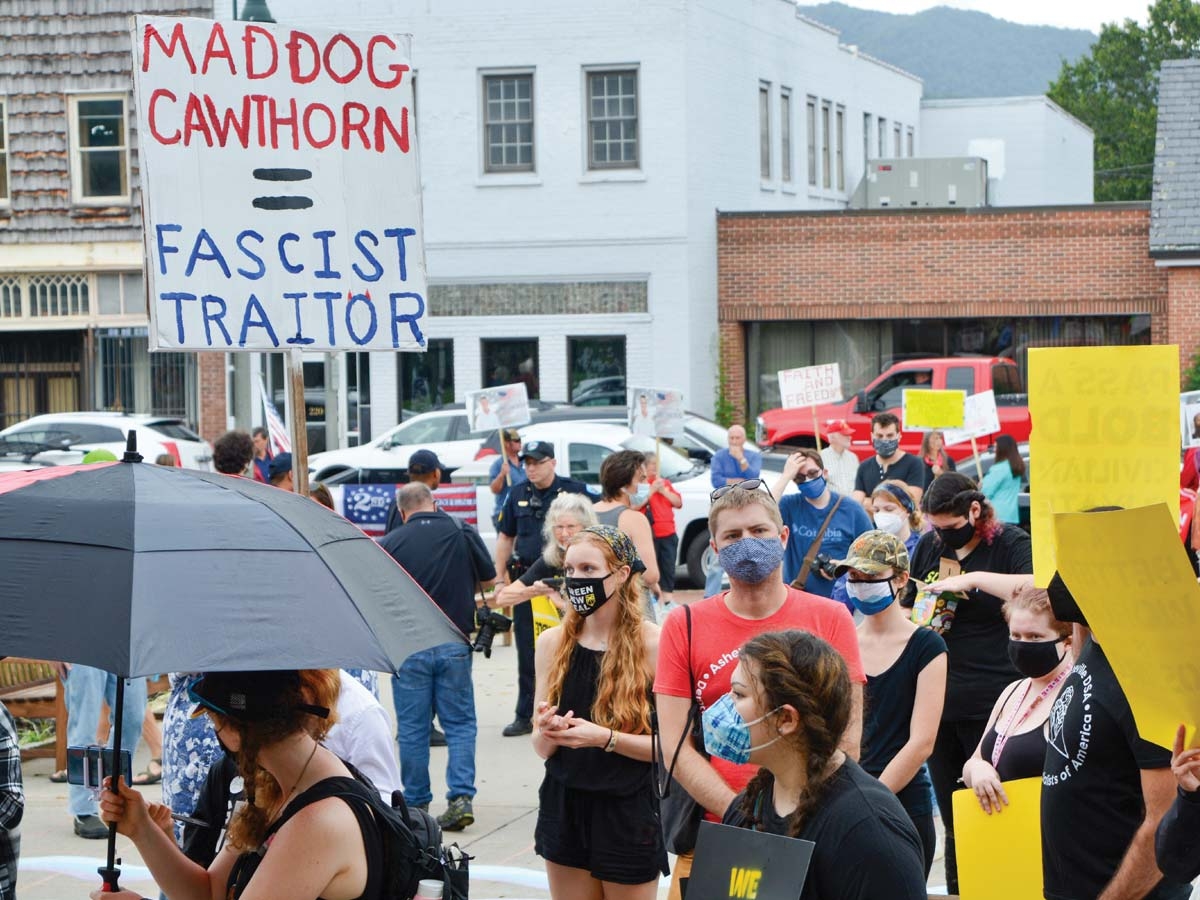 A group of Cawthorn supporters from the Haywood County GOP (background) watches as anti-Cawthorn demonstrators hold a rally Sept. 19. Cory Vaillancourt photo
If anyone thought that the political polarization of 2020 died with President Donald Trump's election loss that year, they'd need only look to a noisy pair of competing actions in Haywood County last Sunday.
It all started with an anti-Cawthorn rally hosted by the Asheville-based Sunrise Movement, a progressive climate-focused advocacy group that's dogged Rep. Madison Cawthorn since before he was first elected.
About 60 people took to the historic courthouse lawn, for which the group had a permit, to demand Cawthorn support a Civilian Climate Corps and make further investments in education, public housing, renewable energy and transportation.
A group of about 60 Republicans, responding to a call by Haywood County GOP Chair Kay Miller, showed up an hour earlier to occupy the sidewalk setting up a confrontational scene eerily reminiscent of last summer's Black Lives Matter/Back the Blue events. No permit is required to demonstrate on the sidewalk.
"We wanted to show support for our Representative Madison Cawthorn," Miller said. "He's taken a lot of heat since he was elected. And you know, we're just out here and we've got another group over here, kind of an opposing group. And the nice thing about today is that we have liberty, and they have their First Amendment and we have our First Amendment."
As members of the Sunrise Movement gave speeches on a PA from the courthouse steps, counterdemonstrators shouted, chanted, played music through bullhorns and revved their engines, attempting to drown out Sunrise Movement speakers. One man parked his car and leaned on his horn for several minutes until a Waynesville Police officer had words with him. Some patrons of area businesses like Sauced left the area due to the noise.
Miller said her counterdemonstration came about when they learned of the Sunrise Movement's permit.
"We're here for liberty and that covers a lot of things," Miller said. "I think we'll probably be doing more of this. It just depends on what's going on and our folks that we can get out."
Rep. Mark Pless, R-Canton, was among the counterdemonstrators.
"These folks came out and they decided that they wanted to set up a protest in Haywood County and the protest is against climate change, but it's also against Madison Cawthorn," Pless said. "I'm here as a Republican and as an elected official to counter their thoughts of what global warming is really all about."
But, Pless said he was aware of the divisiveness, and that he supported the right of both sides to exercise their First Amendment rights.
"I think it's kind of interesting if you sit and you look at the number of people on both sides of the aisle that are out here, you have a lot of people that are upset and you have a lot of people that are just here to have their wishes known," he said. "And this is what America's about. Whether I agree with them or whether I disagree with them, it's about being able to express your opinions peacefully and everything has been peaceful so far."