Archived Arts & Entertainment
This must be the place: Ode to Jorma Kaukonen, ode to the spirit of rock
Tuesday, September 21, 2021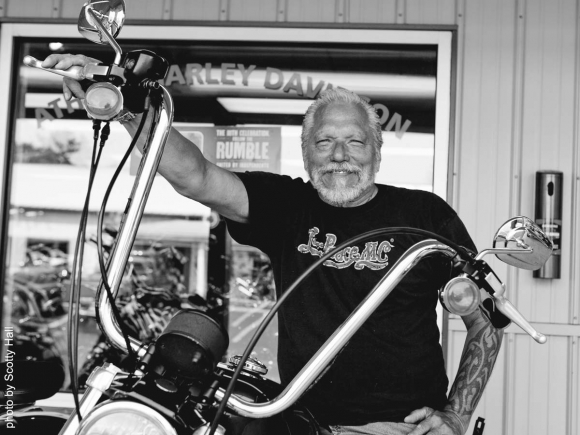 Jorma Kaukonen.
At the core of iconic rock guitarists, Jorma Kaukonen resides in the same company of his 1960s peers, which includes Jimi Hendrix, Terry Kath and Jerry Garcia. And though that trio of his contemporaries are long gone from this earth, Kaukonen remains — this cosmic soul of sonic power and melodic passion.
A founding member of Jefferson Airplane and Hot Tuna, two pillars of American rock and blues music, Kaukonen, now 80, is regarded as one of the finest to ever pick up the six-string, whether electric or acoustic.
In conversation, Kaukonen is affable and introspective, the kind of person who will sit down with any and all kindred spirits for an in-depth look and laugh at the absurdity of the grand scheme of things amid one's place in the universe.
For Kaukonen and those he continually crosses paths with, it's about seeing humor in everyday life. It's about chasing long-held dreams and always pushing forward towards the unknown horizon. And never losing sight of the beauty and sacred act of live music, of human interaction from both sides of the microphone.
Smoky Mountain News: With these upcoming shows, it's just you, solo onstage. What's the intent behind that setup, of being up there by yourself and the vulnerability aspect of it?
Jorma Kaukonen: Right? [Laughs]. Of course, there is that. I started out playing solo and then I wound up playing with buddies in the Airplane. And I get to dance between a lot of different worlds in that. I enjoy playing with other people, but when I'm playing solo, I really see myself as a storyteller.
And, you know, the environment of the room, that's always part of everybody's gig. However, I usually do a set list before each. I don't necessarily stick to it, but at least I have a departure point. Once you jump into the pool, then I'll start to read the audience and see where I need to go with this.
SMN: In all the times we've crossed paths, you've always been in good health. You've turned 80, and I'm curious about your perspective at this age, personally and professionally.
JK: I'm really lucky because I'm still in good health. And I take good care of myself, but you never know what's going to happen. One of things I find now is that I have to pace myself better.
In the old days, you'd never have to warm up. You'd just pick up your instrument, you're screwing around backstage playing, you go onstage. Now, I need to carefully warm up. I don't want my hands to cramp. I want to make sure everything's working right. These are things that I'm aware of today I might not have been aware of 10 years ago.
SMN: Since the shutdown, Hot Tuna crossed over the 50-year mark. And it's still going strong. You and [bassist] Jack Casady. It's outlasted most rock institutions that started at that time, if not all of them.
JK: Yeah. That's definitely a "who knew?" for me and Jack. When you're younger, when you start out, you don't even think of being 50, much less 50 years having a laugh and still being buddies and playing music together.
I was just talking to Jack earlier today because we're getting ready to do a tour in a month or so. And we're like kids again. We're both really excited to get back to work. One of the things that's happened to me with the music, and I'm so grateful for this, is that I still love the music and the guitar as much as I ever did.
SMN: What's it like when you're onstage and look over and Jack's still there?
JK: I mean, he's my oldest friend. Think about it, I've known him since 1955 and we started playing together in 1958 — that's a long time ago.
SMN: Your music has always been so steeped in the blues. And it's one of those things you appreciate when you're younger, the intricate nature and simplicity of the blues. But, what's so interesting is that it's a genre you grow older with, you discover more about the blues as you get older.
JK: I totally agree. People that don't dig the blues or don't get it or think it's boring. Well, you're not listening to the right blues. Blues is a constantly evolving art form. Even some of the early guys, it's always been multi-dimensional. There's a complexity in a sort of deceptive simple-ness that can take a lifetime to really get on top of.
The blues talks about real stuff. It could happiness. It could misery. I could be relationships, good and bad. They talked about the world. And the pop music that I grew up with before rock-n-roll, the blues was just so much more inviting than the pop music.
Plus, the sounds. As a guy that's always loved the guitar, the sonic textures [of the blues] were always so exciting compared to heavy instrumentation.
Editor's Note: Jorma Kaukonen will hit the stage for an intimate solo concert at 7:30 p.m. Wednesday, Sept. 29, at the Diana Wortham Theatre in Asheville. Renowned instrumental duo Rob Ickes & Trey Hensley will open the performance. Tickets start at $35.50 per person. To purchase tickets, go to www.worthamarts.org and click on the "Events & Tickets" tab.
Leave a comment
3

comments
Coolest……….

Sunday, 11/07/2021

Hatrack

Ode to The Captain

One flaming flag is The Captain for us all
once and forever we sail the wings of our rolling soul
Independent through the mists flows flashing one love beam -
so blessed the present gigs breathe with us in direct stream -
wireless deepest golden smile heals us all safe ashore
His words da muzak 'n rockin' extra voice we just can't call out for more

Rock Them All Tight Tonight Jorma!

Saturday, 10/02/2021

Loved this interview.

Friday, 10/01/2021