Archived News
Cherokee upholds same-sex marriage ban
Thursday, September 09, 2021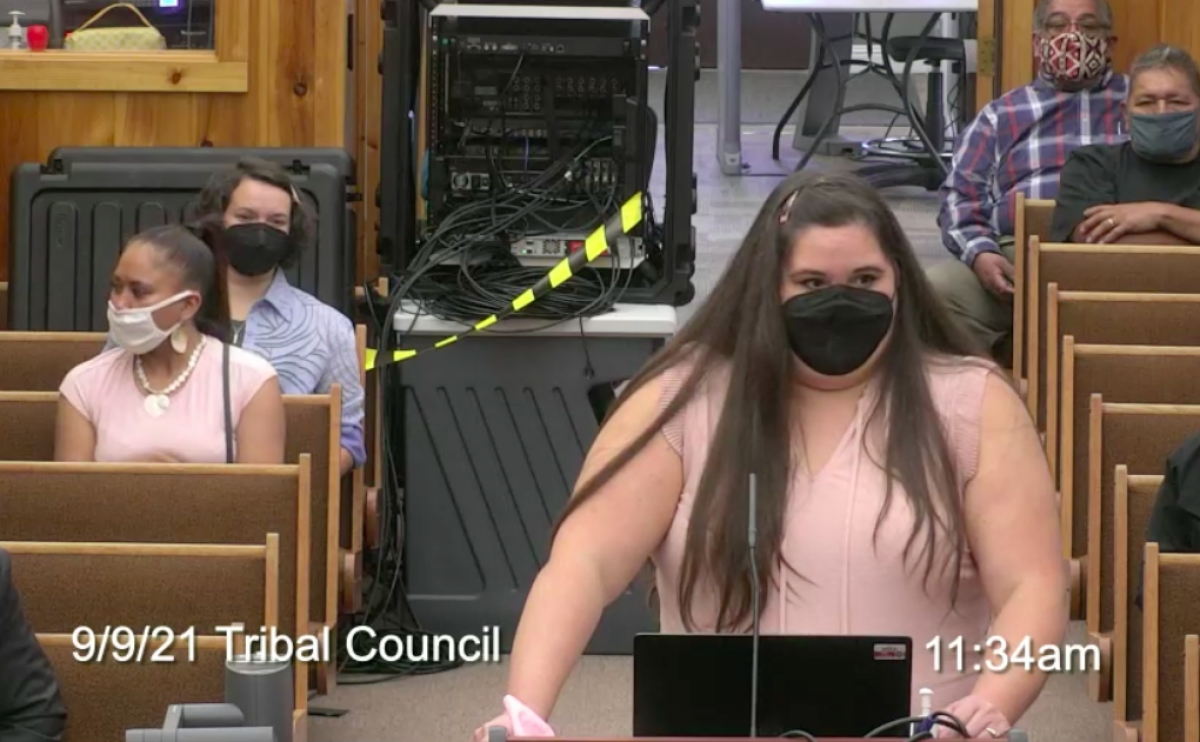 Tamara Thompson addresses Tribal Council on Sept. 9.
After nearly two hours of discussion, debate and even tears during its Thursday, Sept. 9 meeting , the Cherokee Tribal Council shot down an effort to change a law banning the licensing and solemnization of same-sex marriages on the Qualla Boundary.
In a move made by Painttown Rep. Dike Sneed and seconded by Vice Chairman David Wolfe, the body voted 8-3 to kill legislation tribal member Tamara Thompson had submitted aiming to lift the ban. Big Cove Rep. Perry Shell abstained from the vote.
"I don't want to kill it," he said. "I don't want to pass it. I was for the amendment."
Sneed's amendment
The amendment in question was submitted by Principal Chief Richard Sneed.
Thompson's originally submitted legislation specifically stated that "marriage shall not be limited by the gender or sexual orientation of the parties being married" and that "the licensing and solemnization of same-sex marriages that are duly and legally recognized within the United States are accepted without discrimination within the jurisdiction of the Eastern Band."
Sneed's version left out any reference to gender or sexual orientation, stating simply that marriage is recognized on the Qualla Boundary, that any ordained minister or judicial official of the Cherokee Court can solemnize one, and that a couple seeking to get married must obtain a marriage license from and have it recorded with the register of deeds in their home county.
"This is really a simple civil rights issue, is really what it comes down to," he said. "As a tribal government we should not be passing laws that contain discriminatory language, and our current marriage law, (Section) 50-1, does include discriminatory language."
Thompson first submitted the ordinance for the June agenda. Under Tribal Council's typical procedure outlined in tribal law, the ordinance would have been deemed read and tabled and placed on the July agenda for a vote. However, in both June and July the Council declined to give the ordinance the first reading it needed to be eligible for a vote the next month. When it came up again in August, the majority of Council once again voted against deeming the ordinance read and tabled but this time allowed it to be read into the record , paving the way for this month's vote. Cherokee's same-sex marriage ban was passed in 2000 and strengthened in 2014.
Practically, the current law has little effect on same-sex couples in Cherokee, because all counties in the U.S. now recognize those marriages. Cherokee grants full faith and credit to marriages recorded outside its boundaries.
However, the law still has an impact — it tells tribal members in same-sex relationships that "you guys are less than," Thompson said.
Thompson, as well as many of those present to voice their support for her ordinance, told Tribal Council she supported Sneed's amendment. However, the majority of Council declined to accept the change.
Voting in favor of Sneed's amendment were Wolfetown Rep. Chelsea Saunooke, Birdtown Rep. Albert Rose, Yellowhill Rep. Tom Wahnetah and Big Cove Rep. Perry Shell. The remaining eight councilmembers voted against it.
Concerns and objections
Finally, the move to kill prevailed, with only three people voting against the move — Saunooke, Rose and Wahnetah — and Shell abstaining.
Wahnetah said that while he agrees with the church's moral stance on same-sex marriage, that's not what Council's decision should be about.
"It's not about religion or your way of life," he said. "I think this speaks to the law more than it does religion, because I think they should be separated. I think as lawmakers that's what we're here to do."
Three local ministers and a church member spoke against Thompson's ordinance, one of whom stated his particular objection was to any potential that adopting the law could end up forcing ministers who object to such unions to be involved in solemnizing them.
"The original ordinance as submitted (in 2014) was done so to try to protect the churches from outside influence and unnecessary pressure to perform same-sex marriages," said Dan Conseen, pastor of Macedonia Baptist Church. "All we are asking is a modification to exempt the churches from that problem."
Meanwhile, speakers advocating for lifting the same-sex marriage ban pointed out that the tribe receives millions of dollars each year in federal grant money and postulated that those dollars could be in jeopardy should the U.S. government decide that Cherokee's marriage law violates non-discrimination polices.
"Could you imagine if this tribe had to do without federal grant funding?" said Thompson. "How much would that cost because we are discriminating against people?"
Randall Crowe, an enrolled member and attorney, read from a 2015 Cherokee Nation court ruling that struck down that tribe's same-sex marriage ban and expounded on the practice's historical roots in Cherokee culture. He also warned that keeping the Eastern Band's ban in place could impact the tribe's future ability to hold non-members accountable for criminal acts on tribal land.
"This could hurt our chances of getting criminal jurisdiction over nonmembers," he said. "One of their major reasons for not trusting us with this is not trusting Indians with the rights of non-Indians. How can they trust us if we can't even respect the rights of our own members? That's something we should think about, because a lot of our issues on this reservation comes from not having jurisdiction over non-Indians."
Responding to these concerns, Attorney General Mike McConnell said that standing U.S. Supreme Court precedent shows that ministers would not be required to solemnize unions they object to as a result of Thompson's ordinance but that there is a real potential for loss of federal grant dollars if the ban remains in place. The tribe gets about $60 million such dollars each year, he said.
"Potentially if someone were to go through the right channels and make an issue regarding this tribal law in reference to these federal grants, potentially yeah, the federal government could take an action," he said. "Now it's very likely that that would they do it in increments, saying, 'We're going to give you a chance to fix this,' and maybe they would give us multiple chances. But potentially there could be an effect on a large amount of the tribal budget."
An ongoing issue
Thompson's ordinance is now dead, but the issue is not. Thompson has created a GoFundMe page to raise funds for legal counsel to file a civil rights case against the law.
"It'll get fixed no matter what, but it's going to take us to probably charge them criminally and sue them in court before they'll do it," she said in an interview following the vote, "but we're gonna get it."
"We will not be just walking away," she added.
Chelsea Saunooke said that she will attack the issue from a different angle and plans to file ethics complaints against Council members who supported the ban. She claims that it was a discriminatory act and financially irresponsible, due to the potential risk of losing federal grant dollars or attracting an expensive lawsuit as a result.
During last month's discussion on the gay marriage ban, Saunooke came out on air as bisexual, and during the Sept. 9 meeting she announced that she had recently proposed to her girlfriend.
"I hope I can get married here," she said. "If not, maybe I'll wait for the day to come, but thank you for those who aren't in support of violating your fellow Council member's rights."
Leave a comment
5

comments
It is a sad day when council members side with fear instead of rational thought. All people have the right to live and live with the person they wish to be with. Many sane sex relationships are between good people who have a right to share their lives as married- regardless of anyone else's perverted ideas of what being gay means. Heterosexual couples marriages have over 50 percent divorce rates- nothing to brag about there. It's what is between two people that matters. Quit using religion as an excuse to batter people as different - if I recall correctly this is what was done to basically decimate Native Americans as heathens and ungodly.look what happened.

Saturday, 11/26/2022

Someone said "Brave". How are you brave, when you sit with the majority. These thoughts are learned thoughts from a culture that destroys. The others are right, you must let others be happy. Their lives do not concern you. Mutual love is sacride. To date, this country has almost always been wrong on this issue. Separation of church and state is there for this type of reason. One persons beliefs should not be forced on another, but people are so angry inside they are ignoring what is right. Because they have involved government in a private matter, if a man and a woman have legal protections because of their relationship, it is fair that same sex couples have the same. Or it should be made just the opposite, no legal protections, no filings, no anything for anyone. Everyone must be treated equal. My religion says same sex is okay. How can marriage be defined by only ONE set of standards, set by a few faiths? The bottomline is this, these people know they're wrong. They do not care. It is as before, Plessy vs Ferguson and Brown vs Board of Education, same argument different time. Things will only change as the people do. It is not about right and wrong, but I will say this, be careful when you wear another man's cloths, they may carry things you do not wish to own.

Sunday, 08/21/2022

This discriminatory EBCI decision is surprising, given that Cherokee and most other indigenous nations have historically been known for recognizing gender fluidity and individual freedom and equality.

Saturday, 09/18/2021

Bravo Cherokee for doing the right thing! Homosexuality is not a racial, gender or civil rights issue. Its a mental illness.

Monday, 09/13/2021

I always find it ironic when people who have been subject to hatred and discrimination and violence because of the group they belong to (in this case, Native Americans ) don't learn any lessons from that experience or their history. The lesson being that discrimination and hatred of people who are different is wrong. Sounds like this tribe needs better leaders on its council. I would say the next step is having people run for their council who aren't bigoted to replace the haters currently on the council.

Saturday, 09/11/2021