Archived News
Sylva wraps up summer festival season
Wednesday, September 08, 2021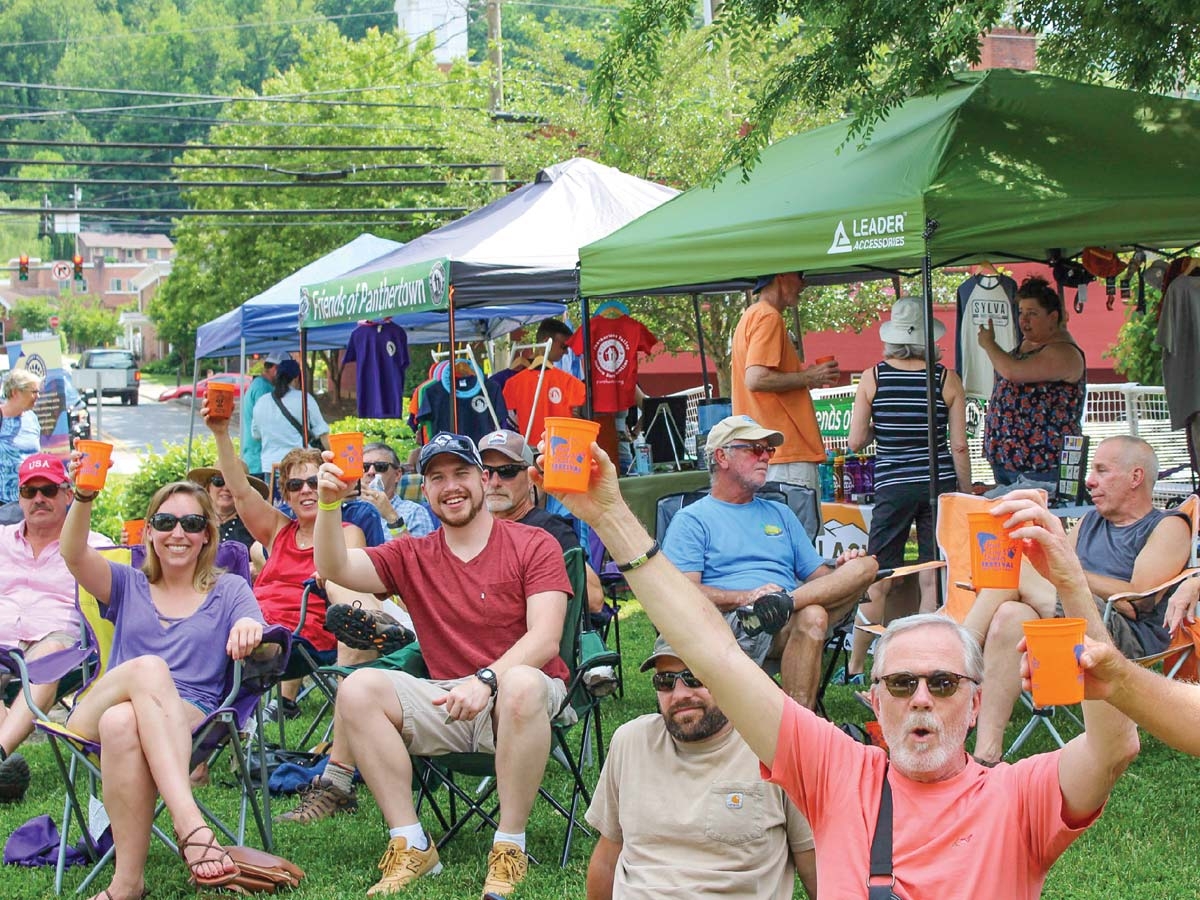 Hook, Line & Drinker Festival at Bridge Park in Sylva.
Planning events during the COVID-19 Pandemic has been no picnic. Just as businesses and agencies make plans for their next festival or fundraiser, the virus takes another unexpected turn.
Even during the height of the pandemic in 2020, the Jackson County Chamber of Commerce was still hopeful it could pull off the beloved Concerts on the Creek summer series given that the Friday night event could be outside and socially distanced.
"Last year, 2020, we tried so hard to make it work. These events typically run on Fridays, Memorial Day through Labor Day. When COVID started, we postponed the series but we hoped we could maybe 'clear the hurdle' so to speak by July 4, 2020," said Kelly Donaldson, assistant director of the chamber. "Of course, we did not. We rescheduled the entire lineup two to three times and even began doubling up concerts to be on Friday and Saturdays or to have two concerts in one day to fit them all in. We even tried going past Labor Day into October. It just never got better as far as COVID numbers went."
After pushing back the dates for as long as it could and consulting with county officials, the chamber finally called off the 2020 season and started focusing on rescheduling the bands for the 2021 season. As COVID numbers started to decrease nationally, regionally and locally with the roll out of the vaccine in the spring, restrictions also started to lift quicker than expected, Donaldson said. Still, staff proceeded with caution.
"For safety's sake, we originally delayed the start of the Concerts on the Creek season until July 2, 2021. But as restrictions dropped, we felt a little push from the community to start earlier, because people wanted to get out and have fun," he said. "It also felt OK for the first time in a long time. So we scrambled and hosted two events prior to the July 2 start date for Concerts on the Creek."
Donaldson said a Beach Night concert held June 19 and an '80s Night concert June 26 were "so incredibly well-received." The chamber had hand sanitizer available and encouraged non-vaccinated people to wear masks and to social distance. Staff didn't know what kind of crowds to expect this summer, but the response made it clear people were ready to get out of the house.
"From that point on, as we held July 4 fireworks and its concert, and then our normal schedule through Labor Day, we've seen probably the most consistent crowds ever," he said. "Typically during any given year, one night will be extra large, the next Friday might just be OK, and the next mediocre or large again, and so on. But this year they were consistently well-attended across the board. I think everyone was ready to get out and put on their dancin' shoes."
Concerts on the Creek has a loyal following of community members that love to sit outside and enjoy the local array of musical talent, but the event attracts tourists visiting the area as well. Donaldson said the growing attendance is also encouraging during a time when downtown Sylva has so much more to offer when it comes to live music.
"We think what is different from years past, or when Concerts on the Creek started 11 years ago, is our downtown has become so eclectic. There are so many great dining options and more live music options at our local breweries than we've ever had in Sylva on any given night," he said.
"I think everyone has more than one option for what kind of live music they'd like to hear on any given summer weekend or date night in Sylva. That's incredibly refreshing. If you don't like bluegrass, you can go down the street and hear a jam band. If you don't like beach music, this brewery has a jazz band tonight. It's hard to believe this is really little ol' Sylva sometimes. It's amazing."
Donaldson said it felt good to be able to have Fourth of July activities this year in Sylva, though some regular features didn't return this year due to COVID, including the bouncy house, inflatable slides and bungee activities for kids. Otherwise, it was business as usual for July 4 as the chamber staff encouraged people to social distance, wear masks and sanitize.
"It was just so much fun to see everyone singing, dancing and laughing again in Bridge Park," he said.
By the time the fourth annual Hook, Line & Drinker Festival rolled around Aug. 21, the region was seeing COVID-19 cases spiking again and vaccination numbers locally weren't as high as expected. Donaldson said the turnout was great, even though more folks were wearing masks and being cautious.
"It's just been a summer of releasing pent-up positive energy after so many months of angst, fear and hibernation to a degree. I think we were all just tired of everywhere you love to go and everything you love to do being closed or restricted. We were back for the summer. Who knows what this fall and winter will look like but for these last few months, it felt good to be back," Donaldson said. "I think overall, people feel safe here in Sylva and Jackson County. We have less crowds and traffic than larger cities. We have the outdoors, the dining, the breweries, the music, the arts and crafts, the mountains, the unique shops, etc., but you can do it all and not feel overly worried about large crowds and the common 'hot spot' threats of the pandemic. Sylva has always been a hidden gem. She just gets brighter with age."
Leave a comment
1

comment
Sylva is turning into another Asheville with its progressive homosexual agenda.

Tuesday, 09/14/2021