Archived Arts & Entertainment
Travelin' this lonesome road: Jeremy Garrett of The Infamous Stringdusters
Tuesday, September 07, 2021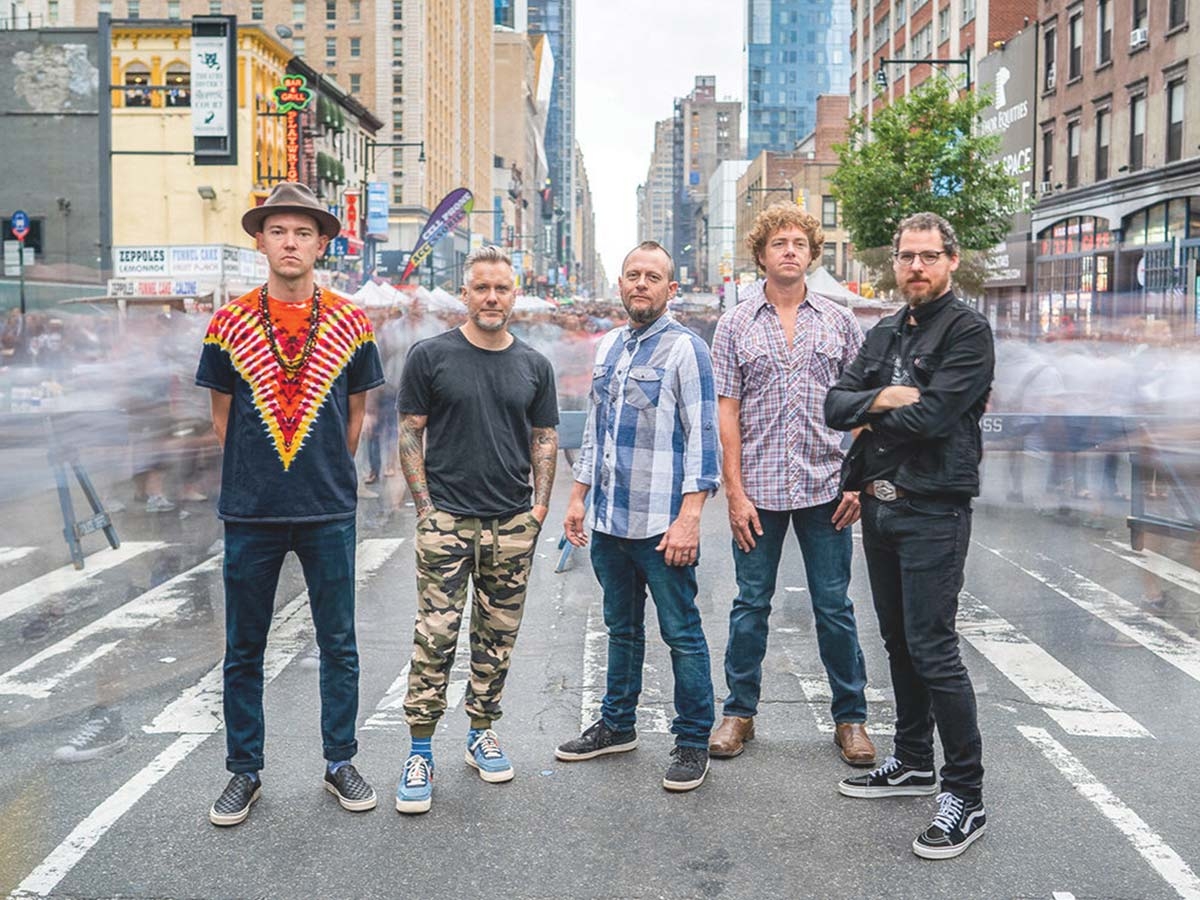 The Infamous Stringdusters.
With its latest album release, "A Tribute to Bill Monroe," The Infamous Stringdusters pay homage to the long gone, yet dearly beloved "Father of Bluegrass" himself.
And it's quite poignant in doing so, seeing as the Dusters are one of the current torchbearers of that "high, lonesome sound." It's a torch also blazing bright and radiant in the hands of the group's 21st century contemporaries, including the likes of Billy Strings, Greensky Bluegrass, Steep Canyon Rangers and Molly Tuttle.
Nowadays, Monroe's bluegrass would be considered "traditional" (and is closely held as so by purists in the scene), especially in the face of modern acts with larger-than-life lighting rigs and an onstage presence blurring the lines between acoustic showcase and rock show.
But, the irony is that Monroe was initially considered a "rebel," someone looking to break the rules and try, well, something new. You see, Bill Monroe set out to change the game, to shift the perception of what was considered music in the 1940s onward. He pulled deeply from Dixieland jazz, Appalachian folk and Southern Gospel music, ultimately combining the genres into an intricate, fast-paced and extremely catchy tone he dubbed "bluegrass."
Though many purists may point to Monroe as the gold standard of bluegrass (which he is), most often forget how much Monroe continued to soak in influences from every direction (blues, rock, country), and was always aiming to push the boundaries of the music further and farther out into the universe — something at the core of Dusters' ethos.
Smoky Mountain News: I'm curious about your take on Bill Monroe. With someone like yourself who grew up in the bluegrass world and raised in the music industry, you must've crossed paths with him at some point.
Jeremy Garrett (fiddler/singer, The Infamous Stringdusters): Oh, yeah. You know, my dad was actually the first president of the Idaho Bluegrass Association. And one of his jobs was to hire bands to come through. The Bluegrass Cardinals. The Stanley Brothers. But, he also hired bill Monroe to come through.
And I was pretty young when he came through. But, I do remember seeing him onstage, and seeing Kenny Baker, one of my favorite fiddle players of all-time play with him. I was definitely interested since I started picking at age three. I was kind of always interested in music.
So, probably more than most kids, I was paying attention as much as I could to them. It definitely had an impact on me, and my dad was a huge influence on me as well, [both of us] influenced by Bill Monroe, Flatt & Scruggs, and such.
Traditional music has always been a part of my scene. My dad and I had a band together for about eight years called The Grasshoppers. We traveled all over the United States. [Traditional bluegrass] was a huge part of my growing up. I feel like I had a full career before I even met the Dusters when I moved to Nashville, you know? [Laughs].
SMN: And that's what you bring to the Dusters, that traditional background, whereas each member of the band has their own influences to contribute.
JG: Definitely. [Guitarist Andy] Falco has the blues and electric guitar thing. [Bassist] Travis [Book] has more of a new age thing, and he was into Yonder Mountain String Band, String Cheese Incident, those kinds of folks. [Banjoist Chris] Pandolfi was really into Phish and bringing that sort of sound to the table. And [dobroist] Andy Hall was into the Grateful Dead.
And I didn't know much about the fringe scenes. I was really steeped in the [bluegrass] tradition at the time when I met these guys. So, I learned a lot about some of those other genres, the periphery of what was happening. And then, you bring all those things to the table, which is such a cool thing — this [musical] melting pot.
SMN: And that's great. It also plays into what Bill Monroe was initially trying to do, which was take all of these influences and create something new with bluegrass.
JG: Well, you know, I think he gets pigeonholed a lot by people who want to hold to the traditions of the music. A lot of time people want to hold down that tradition. But, the thing about Bill Monroe, he was one of the most innovative people of his time, bringing these things from gospel into the scene, from jazz and old country — creating this music he called bluegrass.
People like to kind of talk trash about having drums in bluegrass or an accordion or something like that, but Bill Monroe was hip to trying some of these things. He didn't get away from what was his sort of focus, but that was the thing about him — what he did was already innovative.
So, how can you as an artist — whether you're talking about painting or whatever — hold somebody in a box forever, unless you become a preservation society?
And if you're a sort of new age musician, especially at our age coming up through the ranks, where I was literally learning how to play fiddle with a needle on the record of Kenny Baker solos. I would move the needle back to hear his solo 10 times, so I could try to copy it — all the way up to the point where I have the same Internet that everyone has.
We're in that age group where all of these things can't help but influence us, you know? And, when I was growing up, my band was probably Guns N' Roses in my teens. So, I let all these things just sort of influence who I was. And I took that cue from Bill Monroe as a way to do that because he was an innovator — I think a lot of people forget that.
You almost can't help it, you know? And art is supposed to be that way. Why would we ever want to hold it into a box? That's the whole point about art — to expand and to be creative.