Archived Outdoors
Smokies sees two fatal accidents in one weekend
Wednesday, September 01, 2021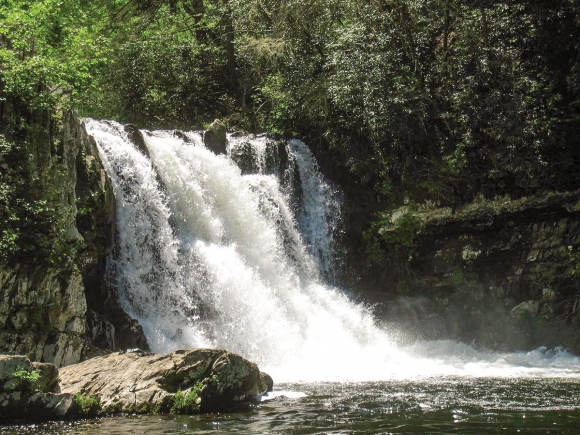 Abrams Falls. NPS  photo
Two men died while visiting the Great Smoky Mountains National Park last weekend, one due to drowning and another resulting from a motorcycle accident.
On Friday, Aug. 27, park rangers and multiple emergency response agencies recovered the body of Stephen Musser, 73, of Roswell, Georgia, near the base of Abrams Falls.
At 2:15 p.m. that day, rangers received a report that Musser was swimming near the falls in a pool that was about 100 feet wide and up to 30 feet deep. He was caught up in the current at the base of the falls and unable to resurface. Rangers searched the area with air support from the Army National Guard, and around 9:30 p.m. divers with the Blount Special Operations Response Team recovered Musser's body, trapped by underwater debris near the base of the falls. The Tennessee Emergency Management Agency and Townsend Area Fire Department also assisted in the effort, with a total of 25 emergency responders involved.
In park history, there have been 60 drownings in park streams, including 10 near Abrams Falls. While swimming is not prohibited, park streams often have strong, unexpected currents that can hold a swimmer underwater, and streambeds are littered with rocks and sunken logs that can snag or trap a swimmer. Swimmers and tubers should be extremely careful when recreating in park streams.
The following day, rangers responded to a fatal motorcycle accident on the Foothills Parkway between Walland and Wears Valley, near mile marker 24. At approximately 11:35 p.m. on Saturday, Aug. 28, David Wayne Birdsong, 57, of Fairview, Tennessee, lost control of his motorcycle and veered off the roadway into a drainage ditch, dying as a result of his injuries.
Emergency responders from Blount County Sheriff's Office and American Medical Response arrived on scene first and performed CPR, with park rangers assisting before Birdsong's transport to Blount Memorial Hospital by AMR. He was pronounced dead during transport.
No other vehicles were involved in the accident, and speed is believed to be a contributing factor. More than 40% of fatalities in the park are the result of motor vehicle accidents, with motorcycle accidents accounting for 1 in 5 of those fatalities. Speed, inattention and use of drugs or alcohol are often factor in these accidents. So far, four people have died this year in motorcycle accidents within the Great Smoky Mountains National Park.
For more information on driving safety in the Smokies, visit www.nps.gov/grsm/planyourvisit/trafficandtraveltips.htm.