Archived Outdoors
HCC student wins national timbersports title
Wednesday, September 01, 2021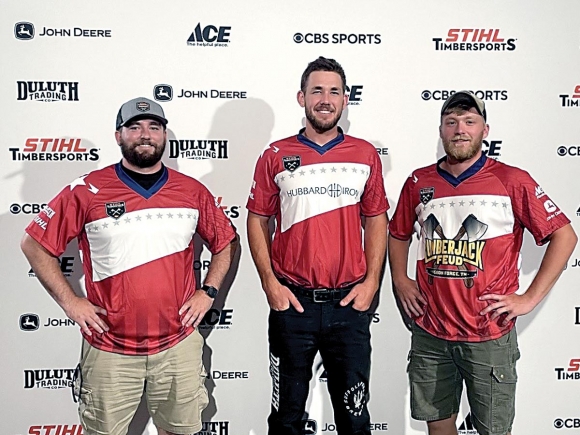 Current and former Haywood Community College students Alec Parsons (from left), Ben Knicely and Darby Hand recently competed at the STIHL Timbersports US Championships in Little Rock, Arkansas. Donated photo
A Haywood Community College student earned the 2021 U.S. Rookie Champion title at the recent STIHL Timbersports U.S. Championships in Little Rock, Arkansas.
Darby Hand, a forest management technology student, will now compete in the STIHL World Rookie Championship and qualifies for consideration to compete in the professional division next year. In 2019, Hand placed fourth overall at the STIHL Timbersports Collegiate Championship, also finishing second in underhand chop and third in the stock saw event.
Full results from the 2021 U.S. Championship competition have not yet been disclosed, but three athletes with ties to HCC competed at the elite event.
The Rookie Competition brought together the top eight athletes under the age of 25 to battle for the U.S. title. In addition to Hand, 2020 HCC graduate Alec Parsons (Fish and Wildlife Technology) also competed in the Rookie Division, with 2014 and 2015 graduate Ben Knicely (Fish and Wildlife Technology, Forest Management Technology) competing in the Professional Championships, which consisted of the country's top 20 male athletes. Parsons, in his first STIHL competition appearance, finished sixth overall and at 23 will have two more opportunities to win the title. Knicely advanced to the competition finals, which includes the nation's top 12 competitors, and took eighth place.
"I have been working at it a good long time," Hand said of his achievement. "Being a student at HCC has absolutely helped me to be able to achieve this. Having the training facility on campus is second to none and having Alex Storm as a coach has been great."
Hand works at Paula Deen's Lumberjack Feud in Pigeon Forge, Tennessee.
HCC Lumberjacks Team Manager Alex Storm said that the support students receive while on campus is an important contributor to HCC's continual success at timbersports competitions.
"Faculty in the past and present have taken a real interest in the team, which allows students to learn the fundamental skills necessary to succeed in the sport," he said. "The financial support of HCC for the Lumberjack team is second to none, giving more opportunities for travel to competitions and the ability to purchase equipment that allows them to compete at their highest potential. The school is also proud of the team, using it as a marketing tool, which helps bring students from far away to come and compete."
The new J.M West Training Facility built for the HCC Lumberjacks will only increase the team's success, he said.