Archived Reading Room
A quiet place: the book nook
Wednesday, September 01, 2021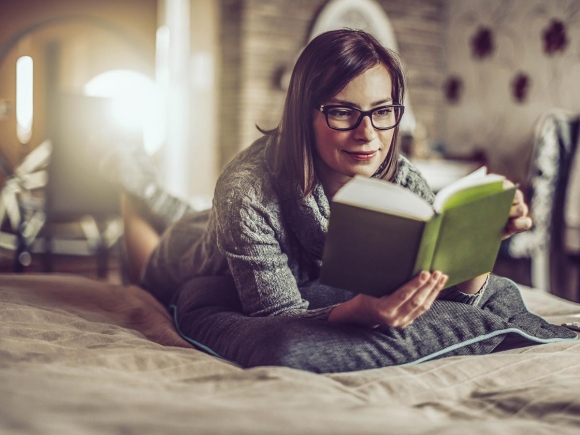 Readers generally look for a special place to sink into their books, to escape the noise and hubbub of the household, to find that sanctuary where they can give themselves over to the reverie and escapism of stories.
Wealthy English families frequently built a private library in their homes, where, surrounded by the books they'd collected, they might sit before an open window in the summer or the fireplace in winter, a whisky or a glass of wine at their elbow, and relaxing in their favorite chair while they took their pleasure from the words and visions of a favorite author.
Some of our own moneyed citizens followed their lead. George Vanderbilt, for example, designed a magnificent library at the Biltmore House. In addition to its impressive collection of titles, fireplaces, rugs, and comfortable chairs, the library includes a secret passageway allowing guests to enter from their quarters while in their sleepwear. Moreover, a small, concealed room, "The Den," provided users even a greater degree of silence and privacy while enjoying one's books.
Of course, such literary citadels are not the exclusive domain of the rich. Many bibliophiles can name their favorite places for enjoying a novel or a work of history. Some might select a café serving a favorite coffee or tea, others might prefer a bookstore or a public library, and long ago, when I lived in Boston, I noted many people riding the subway engrossed in a book or a magazine. We also associate vacations, particularly those taken at the beach, probably because of the slower, leisurely pace brought on by the salt water, waves, and sand, as an excellent place to break out our latest literary find.
A friend once told me that as a child her family established a "book nook" in their house, a dormer alcove roughly 4 feet by 6 feet, where anyone could escape from the household, get lost in the written word, and all with the understanding that an invisible "Do Not Disturb" sign applied. She also mentioned that the children's tree house allowed her to spend hours on a summer day whisked off into another country or historical era without fear of intrusion or interruption.
Another 60-something friend, who leads the life of a buccaneer selling and buying stocks, reads more than anyone else I know. In his apartment, he has fixed a chair and a table by a window, and spends hours a day imbibing history and biography. He has built his own book nook, his quiet place where he retires from the world with all its craziness.
These and other comments on special reading spaces have sometimes brought back my own recollections of my childhood and youth. In my later years of elementary school, my father assigned my brother and me the task of feeding three horses and a pony before breakfast and school, and I often woke even earlier to read Classic Comic books while propped up on an elbow in bed. I have thought, too, of the joy I received as a high school graduate reading James Michener's Hawaii in a lawn chair in our backyard before departing for a military academy, somewhat like a condemned man enjoying his last cigarette.
Several years later, when my wife and I were fortunate enough to spend a month in Paris, I enjoyed reading books on a few afternoons at Shakespeare & Co. I have recollected as well those times I planned a vacation at the beach for my children and grandchildren, and would pack up a small box of books for that wonderful time removed from the worries of daily life.
These days, my favorite place to read is in the front room of my daughter's house, for which I am the caretaker since her family moved north. Here by a window is a comfortable chair, a side table for drinks and other books, good light, and because I only use the room for reading, a refuge uncluttered by papers, unwashed dishes, and stacks of mail. Here the words of various writers lift me away from myself. Accounts of Civil War battles like Fredericksburg, revisited fiction like F. Scott Fitzgerald's The Last Tycoon, and the latest novel of James Lee Burke or Anne Tyler inspire me, grant me a reprieve from the present and myself, and bring me knowledge, some wisdom, and a sense of peace.
The friend who mentioned her childhood places of escape through literature believes all children deserved their own special reading nooks. It might be a tent pitched in a room in the house, or even a card table covered with a cloth to make a cave, but as she noted, we should "give kids a ready nook for reading." I wholeheartedly agree.
Most likely, the rest of us need a nook as well. I'm too old and full of aches to read in bed, and that card table sounds to someone my age like a form of torture, but it's a non-issue because I have that chair, table, and lamp.
How about you? Do you have a special place to read that gives you pleasure along with the book?
(Jeff Minick reviews books and has written four of his own: two novels, Amanda Bell and Dust On Their Wings, and two works of nonfiction, Learning As I Go and Movies Make the Man. This email address is being protected from spambots. You need JavaScript enabled to view it..)