Archived News
'We're already left behind': Following massive floods, Cruso residents getting frustrated
Wednesday, September 01, 2021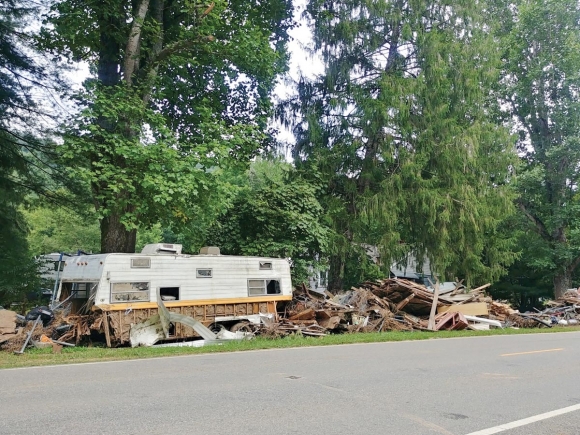 One of hundreds of piles of debris left on the side of the road in Cruso following the massive floodwaters two weeks ago.
Garret K. Woodward
Standing next to a debris pile as tall as he is, Steve Chaney scans up and down U.S. 276 at the countless other debris piles, one for each home in Cruso that was ransacked by the devastating floodwaters two weeks ago.
"Everybody has left us. Everybody is gone. All the disaster relief is gone," Chaney said in a ruffled tone of frustration and anger. "People come by with paperwork for disaster relief and say they'll be back to help the next day. Where are they? We're already left behind."
Steve Chaney.
Situated up Hungry Creek Road, Chaney suffered some damage to his home. Busted spring. Flooded basement. Leaky roof. And so on. But, on Monday afternoon, he was down on U.S. 276 (aka: Cruso Road) to help his good buddy, 74-year-old Ronnie Hannah, clean up the low-lying property.
"Ronnie had a stroke last year. He has trouble getting around. He's lived all his life at this house. He's alone and he has nobody to help get the mud out of the basement and make repairs to the house," Chaney said. "Nobody is coming down to help him. No disaster relief whatsoever — just us neighbors looking out for each other, as we always do in times like this."
Emerging from Hannah's basement are two other friends of his. The duo is covered in mud, scooping out five-gallon bucket after five-gallon bucket of the slick substance from down below the house. It's an arduous process, where they never seem to make a dent in removing the elusive mud.
"This cleanup in Cruso is going to take months, probably years," Chaney said. "All of these folks around here are on their own, sadly. Everyone outside of here thinks we're all just a bunch of hillbillies and we'll take care of it on our own. Well, we probably will end up doing it all ourselves because they done forgotten us in just two weeks."
With recent flood disasters also hitting Tennessee and Louisiana, Chaney, like many Cruso residents, wonders if their small mountain community is already in the rearview mirror — cast aside and swallowed up by the sands of time.
Idle equipment at the base of the mudslide on U.S. 276.
"The national media never got into Cruso to actually see how bad it was. They weren't allowed in and all those folks up there in Washington, D.C., never knew the extent of the damage," Chaney said. "The real story of how bad it is never got told. It's horrible down here and there's nobody around to hear our cries for help — we need help. Where's our government?"
Meandering through Cruso nowadays, there's an eerie, somewhat deafening silence. Piles of debris like ice cream scoops of destruction line every single road and intersection. The smell of dried mud, freshly-sawed timber and waterlogged furniture going moldy permeates through the disaster area.
That Ford Crown Victoria is still up a tree across from the Springdale Country Club. Crushed vehicles remain against trees, in ditches, and on the riverbanks. The now-infamous mobile home left in the middle of U.S. 276 by the flood is still there, just barely pushed to the side of the road.
Crazily enough, the entire scene seems more depressing and hopeless now with everyone gone — a silence of the unknown overtaking the landscape and its inhabitants.
The only sounds are that of the Pigeon River (now a babbling creek) and crickets in nearby farm fields. Construction vehicles at the site of the mudslide are idle and empty. Homes vacant. A ghost town of sorts in many sections, hence the ongoing curfew (10 p.m. to 6 a.m.) to prevent looters.
A lone farm tractor lying in the Pigeon River.
U.S. 276 is up and running, as are phone and electrical lines. Swinging past the Cruso Fire & Rescue Station, there's local fire department and North Carolina Department of Transportation folks scattered about. But, that's about it.
"The DOT, local fire and rescue, local churches and linemen? They did an incredible job getting us power back and the main road running again — can't get no better," Chaney said. "But, now what? They ain't got FEMA in here. They ain't got no help besides getting the roads done. Where's FEMA? Where is this disaster relief we keep hearing about?"
Leave a comment
9

comments
if we can use convicts to clean trash from highways, why can't they be used to help in the cleanup?

Friday, 09/03/2021

if we can use convicts to clean trash from highways, why can't they be used to help in the cleanup?

Friday, 09/03/2021

NUNYA CROSO, HOW DARE YOU!!!! Racist are you kidding me!!!! Yes indeed we are a bunch of hillbillies whom seem to do it all without government assistance at all. You should be ashamed of yourself to be even considered an American. People like you is why this world is to crap!!!!! On a political level you must be as dumb as a box of rocks. Because from my stand point only someone as ignorant as you would base a hurricane ripping through my little town a political view. How pathetic!!!! Maybe you need to read more text book and the true meaning of us hillbillies, one Grand thing about us is you mess with one you get the whole army. It might be wise of you to remove you nasty, unnecessary comment. No one should ever have to endure on ounce of what we have. Maybe it's you that should be on the back burner!!!!

Thursday, 09/02/2021

I'd like to go offer to help muck that mud for this man and his neighbors. I'll take cleaning supplies etc. Can someone send me an address.phone number or give them mine?

Wednesday, 09/01/2021

Nunya Cross. How dare you ridicule and demean people who have lost everything and are crying for help. You should be absolutely ashamed of your behavior and response. This is not a political tit for tat. This is fellow human beings that have no where to turn and feel abandoned. Rightly so, because they have been. I am from Haywood Co and am fuming about the lack of response to a major disaster. I live in Florida and lost everything in o4 to the four hurricanes. I know how desperate the situation becomes. You are despicable for preying upon injured and broken people.

Wednesday, 09/01/2021

What evil, vicious things to say about a community who has lost almost everything! Tropical storms and hurricanes do not pick a political side before they decide to wipe out communities. There is nothing political about people hurting; mentally, physically and emotionally. There is nothing political about communities that don't have a home to go home to because weather took it away from them.
Political views need to be set aside during times like this and love needs to be given. When someone is hurting they need someone to reach out with a loving and supportive hand. I'm so proud of our county and surrounding areas who have spent every spare moment to help these people who are in need; no matter how big or small the problem. Countless hours of volunteer work, hard labor, and love being given to people who don't know each other but know that love is needed not hate.
I'm praying more love continues to be poured into our small community and that evil, vicious and hateful words are forgotten. God is in control and he will heal this land and all of the people during this time of suffering.

Wednesday, 09/01/2021

Peggy, you know they haven't. These are the kind of people (Trump lovers) that hate on others for reaching out for help when they need it, shaming people for needing government assistance, and then when they need it themselves, they just sit back and wait for it to come, hypocritically expecting a hand out. Like he said, they're hillbillies and "hillbillies don't ask for help". The way I see it, they're a bunch of racists who deserve to be put on the back burner.

Wednesday, 09/01/2021

Did the writer try to contact FEMA or county officials to find out what the steps are to getting relief to Cruso? I imagine that dealing with the government involves many steps. Maybe our elected officials, mainly Gov. Cooper, could expedite the process as a matter of urgency. Did the writer try to contact the governor and other elected officials?

Wednesday, 09/01/2021