Archived News
'If the water got any higher, that was it': Lifelong Cruso resident recounts ravaging flood
Wednesday, September 01, 2021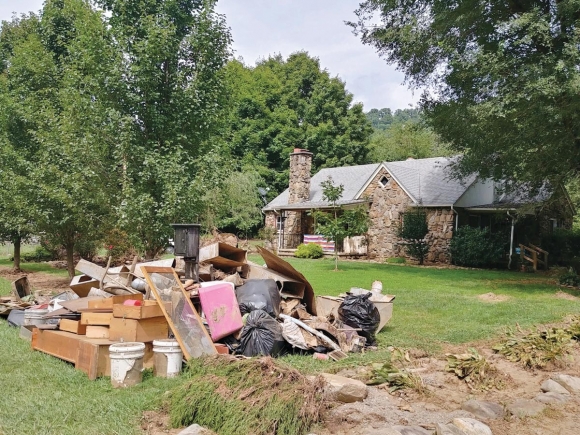 The Hannah household.
Sitting in a chair in an open bay of his garage Monday afternoon, Ronnie Hannah can't help but smile knowing he's alive following the flood that ripped through the Cruso community two weeks ago.
"The river water got all the way to the house, filled up the basement, and started to come over the porch," the 74-year-old marveled. "My plan was if it got into the house, then I'd head for the attic. If it got into the attic, then I'd go out the window and sit on the roof. If the water got any higher than that? Well, then that was it."
Luckily, the floodwaters never got into the house (located on a straightaway just before the Cruso Fire & Rescue Station on U.S. 276). But, the same can't be said for Hannah's neighbors in Cruso, whether next door or just down the road.
Homes all along the Pigeon River were pummeled by the fast-paced, destructive force of nature. It's also hard to imagine how Hannah, who lives alone, would be able to move around in such a disaster, seeing as he had a stroke last year, rearing him somewhat immobile.
"I know some people got washed away and drowned. And I heard horror stories of people in trees clinging for their lives," Hannah said. "There's a lady out here, right behind me next to the river, who grabbed onto a tree because she couldn't get through the rising water back to her house — she stayed in that tree until the water receded."
Hannah is no stranger to floods in Cruso. He's spent the entire 74 years of his existence in the community, in the same stone house he currently resides in. He remembers the legendary 2004 flood, and also the one back in 1977, "where a little girl got washed away and died just up the road from here."
"But, this one? It ranks number one in being the worst that I've ever seen," Hannah said. "That river was roaring by here. It was so powerful. It has destroyed a lot of this community."
Ronnie Hannah in his garage in Cruso. (photos: Garret K. Woodward)
Retired for over a decade, Hannah was a 46-year employee at the Champion paper mill in Canton (now Evergreen Packaging). He was also a longtime member of the Cruso Fire & Rescue Squad, only stepping down from his duties there a month or so ago. Cruso is his home, and will remain so.
"It's things like this flood that bring us together in Cruso — we're even stronger now than we were before all of this," Hannah said. "You wouldn't believe how all of the neighbors and folks here have come out to help one another — it's amazing."
These days, Hannah relies on a fixed income from Social Security and his retirement from the mill. And yet, even with that, he wonders what to do now with the damage to his house atop living alone with medical issues. But, for now, he sits in his chair in the garage and ponders his next move, watching the vehicles constantly rolling by his house.
"It was a convoy of gravel trucks, excavators, search and rescue people. I mean, half of Allens Creek is now in Cruso with all the rocks they've brought over from the quarry," Hannah said. "But, it's pretty quiet now. We're all trying to just pick up the pieces and move forward."
When asked about why he has such a calm, optimistic demeanor to him following such a tragic experience, whether felt personally or throughout Cruso, a slight grin appears across Hannah's face.
"It's just one of those things, you know? You just live with it. If you live by a river, you've got to expect this might happen," Hannah said. "But, I spent years helping others with the Fire & Rescue Squad. I just wanted to help somebody. And people told me it would come back one day. And I never believed it — until now."
Leave a comment
1

comment
Sad,but nice job sharing his story...Not fair.

Tuesday, 09/07/2021