Archived News
Institutional donations roll into Haywood County
Wednesday, September 01, 2021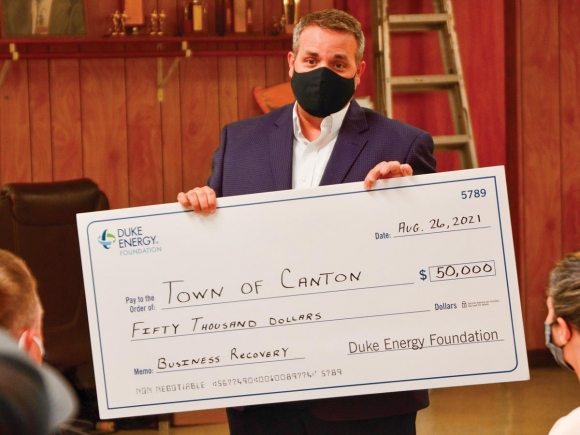 Duke Energy spokesman Jason Walls presents the Town of Canton with a $50,000 check on Aug. 26. Cory Vaillancourt photo
Although Haywood County still waits for news of a federal disaster declaration that would bring much needed resources to storm-ravaged areas, some of the area's most prominent corporate citizens aren't waiting around to pitch in and help.
"One of the things that has been really nice to see since I moved to the region in 2013 is what makes Canton unique — outside of its people, its football games, its spirit — a lot of it has to do with small businesses," said Jason Walls, a district manager and spokesman for Duke Energy. "I've seen these communities grow and it's been a lot of fun to become intimately connected to those places. As a company, anytime something really bad happens in a place you care about, you automatically want to help, you want to send water, you want to send in food, you want to do this, you want to do that, but every once in a while, it kind of helps to stop and to ask what the community needs."
What Canton needs, Walls told Canton aldermen on Aug. 26, is help getting those small businesses back up and running; with that, he presented a check for $50,000 from Duke.
The contribution will be used to start a town-administered grant program available not only to residents of Canton, but to any business in the 28716 zip code, which also covers Cruso and Bethel.
"We know that $50,000 is somewhat of a drop in the bucket, but it is the single largest gift that the company has ever given to Haywood County," Walls said. "We're excited and delighted to be a part — albeit a small part — of the rebuilding and the recovery for a community that has been so foundational and important to the company."
Canton Mayor Zeb Smathers said he was eager to see locals benefit from the donation.
"Even though no one in Cruso voted for us, or against us, they are part of the family. They are part of our schools, our churches, our businesses and so this grant will allow those small businesses in Cruso to also apply and receive direct benefits. It will be up to town staff to figure what that is, but obviously, we're very obsessed with our small grant program — it will be similar to that."
Duke wasn't the only group to get in on the action. A few days earlier, Harrah's Cherokee Casino announced it was chipping in to the recovery efforts with a donation of $20,000 to Helping Haywood, a nonprofit run by the Faith Community Church of Haywood.
"We have strong ties to Haywood County with many of our employees or their families residing there," said Brooks Robinson, Harrah's Cherokee Casinos regional senior vice president and general manager. "The flooding that occurred is truly devastating, and we knew we needed to show our support and express to the residents of Haywood County that we are here to lend a helping hand during this difficult time."
Robinson said the company's strong ties to Haywood County ignited their desire to help, and added that they'd also donated 20 pallets of water and had set up another program through which employees could donate.
Dr. Michael Coleman, vice president of Student Services at Haywood Community College and an organizer with Helping Haywood, lauded the donation.
"The devastation we have seen in the aftermath of Tropical Storm Fred has been very difficult to comprehend," Coleman said. "We will certainly never be quite the same, however the outpouring of love we have witnessed from our community and surrounding areas over the past few days has been nothing short of miraculous. I would like to thank Harrah's Cherokee for their financial gift and contributions to Helping Haywood, which will in turn go directly towards the efforts to help and support flood victims in Cruso, Bethel, Clyde, and Canton. Together, we are #HaywoodStrong."
The Water'n Hole Bar & Grill also held a fundraiser on Friday, Aug. 27, in downtown Waynesville. Six local entities donated a keg of beer each, with sales of draft beer going towards fundraising efforts. There were also $10 plates of barbecue served by Haywood Smokehouse, and a live auction of a painting by Waynesville artist and gallery owner Ashten McKinney brought an additional $575.
Several private citizens made substantial donations as well, but Water'n Hole owner Becky Robinson matched them all — by the end of the night, $10,000 had been raised, and Robinson doubled that to $20,000.
Although all of the donations are substantial, the Canopy Realtor Association and Canopy MLS went above and beyond, donating an astonishing $400,000 toward relief efforts.
"We care deeply about the people and communities that we serve and now more than ever our neighbors who have lost their homes and so much more need our assistance," said David Kennedy, president of both Canopy Realtor Association and Canopy MLS.
According to a release by Canopy Media Relations Specialist Kim Walker, 75 percent of the funding, or $300,000, will be allocated to the United Way of Haywood County. The remaining 25 percent, $100,000, has been earmarked for local social services agency Mountain Projects.
Haywood resident Brian Cagle serves as a director on the Canopy Foundation and Canopy MLS boards, and is also the vice president/managing broker of Beverly Hanks & Associates.
"I am simply overcome and filled with gratitude for the overwhelming support from our industry," Cagle said.
Headquartered in Charlotte, the Canopy Realtor Association is the professional trade association that provides realtors in Mecklenburg, Iredell and Haywood counties with resources and services to conduct ethical, professional and profitable businesses. Haywood Board of Realtors became part of Canopy Realtor Association on Jan. 1, 2020, establishing the Western Region.
Canopy MLS is a wholly-owned subsidiary corporation of Canopy Realtor Association and is the private broker cooperative used by realtors to bring buyers and sellers together with access to thousands of residential listings in a multicounty service area, including Charlotte, the mountain area of North Carolina, South Carolina and beyond.
It's not the first time Canopy has made charitable contributions in Haywood County, or in North Carolina. The group has a long history of advocacy across the state, and has made several rounds of donations to non-profit groups in Haywood.