Archived Arts & Entertainment
There in a dream: A Conversation with Bill Frisell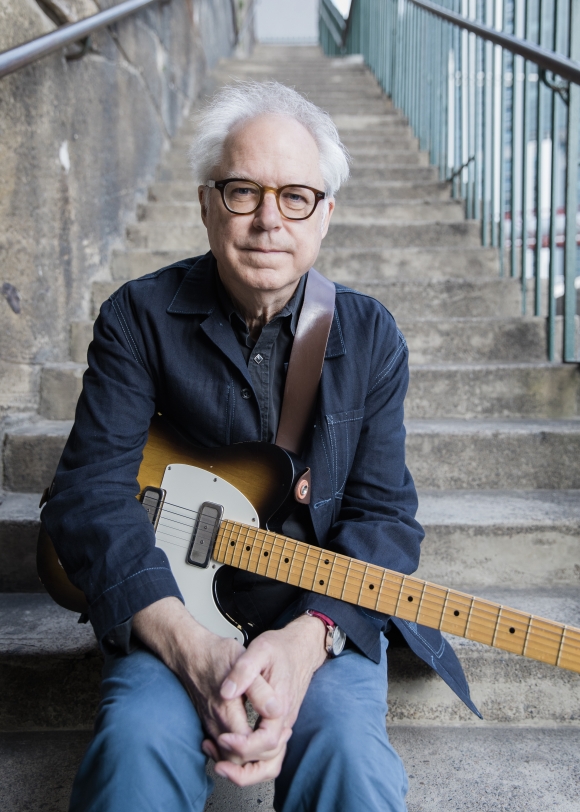 Bill Frisell
Monica Jane Frisell
In the world of electric guitar, few stand taller than Bill Frisell.

Frisell is to jazz and fusion music as Jimi Hendrix is to rock, Eric Clapton to blues, Chet Atkins to country. It's a short list of six-string aces — each as unique, innovative and intricately talented as the next.
To dive down the rabbit hole of Frisell is to take a journey through the rich, vibrant history of America. His works are as much a historical record of people, places and things, as they are sonic masterpieces that create melodic landscapes to wander across — onstage and in the studio.

In conversation, Frisell is calm and collected, this humble, introspective voice that resides behind the raw power, sheer awe and immense scope of his trusty instrument.

Smoky Mountain News: With the shutdown and reemergence of the music industry, what has been your takeaway, creatively and personally?
Bill Frisell: Well, it was shocking and traumatic really, you know? It's my whole life. That's been what it's about — just being with people, [playing] music. What was interesting for me, right at the very first day when I realized, "Oh, wow, everything's shut down. I'm home," is that I have a safe place to live and I have my guitar. And that's what I did. I just grabbed my guitar and started strumming away. So, it was like this kind of going back to when I was a kid, you know? Alone in my room.

SMN: Nowhere to be. Nothing to do. Just you and the instrument.
BF: Yeah. I didn't have any deadlines, no schedule. It was a reminder of how much I just love playing the guitar. So, that was great. Not that I never ever doubted it, but just to have that kind of unlimited amount of time. And I wrote tons of music that I have no idea what will become of it. [Laughs].

SMN: And it proved what I've felt for a long time, which is that music is not just entertainment — it's a healing force.
BF: Oh, yeah. It definitely saved me. It always saves me. So, it meant a lot to finally get to play again, being with my [band] playing. And you can really feel it from the audience, too. Everyone's been starved for it — it's been amazing to start up again.

SMN: What is it about the guitar that it's the way you can express yourself in ways you can't with words or conversation?
BF: I don't know what it is, but that's what it is. I mean, here I am struggling to talk. But, when I play, I feel like that's just really my natural way of communicating more than putting things into words. That's my comfort zone. I never really had a problem with stage fright and all that kind of stuff. It's like, when I start playing, then everything's cool. All the rest of the time in the real world, I'm like, "Oh, my god, what are we going to do?"

SMN: You've had this incredible life, traveling the world and playing music. With the combination of your experiences thus far, what has that taught you about what it means to be a human being?
BF: Music is a model, a teacher for everything. For me, it's just being with people and how to interact with people [through music]. All the things that are going on in music, it's how we get together with each other, too. Harmony, melody and rhythm, and all that stuff applies to tension, release, and space. Music kind of tells you what to do. Like I've said before, if everybody played the guitar, I think we'd probably get along better.

SMN: It sounds like you've always been a curious person. And that's one of the things I love about musicians like yourself — you've never lost that childlike wonder.
BF: Yeah. I mean, for me, that's the most important thing — to try to stay in touch with that. I'll learn from looking back, but then you have to keep going sometimes, [which] can give you a way to look forward. If you can remember what something felt like when you were a little kid and you saw it for the first time, and try to hold on to that, try to keep that kind of attitude — it helps keep that spark alive.

Want to go?
Presented by Plugged-In Productions, jazz/rock guitar icon Bill Frisell and his band Harmony (featuring Petra Haden, Hank Roberts and Luke Bergman) will hit the stage at 8:30 p.m. Thursday, Sept. 2, at Isis Music Hall in West Asheville.
Tickets start at $30 per person. VIP seating available. For more information and/or to purchase tickets, go to www.isisasheville.com and click on the "Calendar" tab.