Archived Outdoors
Wildlife Commission elects new leadership
Wednesday, August 25, 2021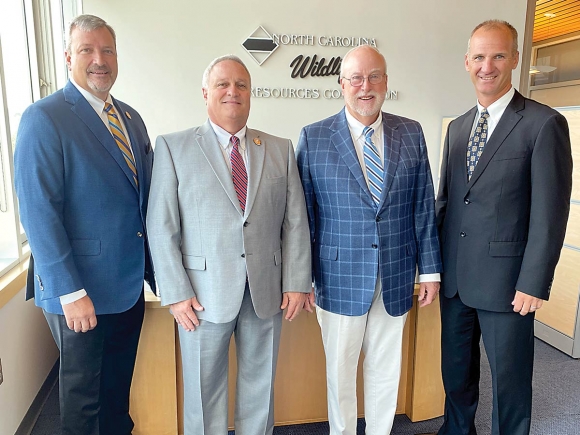 Outgoing Chairman David W. Hoyle Jr (left) stands with (from left) new Chairman Monty R. Crump, new Vice Chairman Thomas L. Fonville and Wildlife Resources Commission Executive Director Cameron Ingram. NCWRC photo
The N.C. Wildlife Resources Commission has elected Richmond County resident Monty R. Crump as its new chairman, replacing Dallas resident David W. Hoyle.
Raleigh resident Thomas L. Fonville was elected vice chairman.
Crump, who served as vice chairman for the past two years, was appointed by Gov. Roy Cooper to a six-year term as the District 6 commissioner in 2017. He is the city manager of Rockingham and owns a small farm in Magnum with his wife Kathy. He is also a lifelong North Carolina sportsman, outdoorsman and conservationist and has been a strong advocate for the preservation and enhancement of the state's wildlife and natural resources, particularly water management.
Fonville has been a Commission member since 2013. An avid angler and hunter, he also founded Fonville Morisey Real Estate.