Archived Outdoors
Fred's impact on public lands
Wednesday, August 25, 2021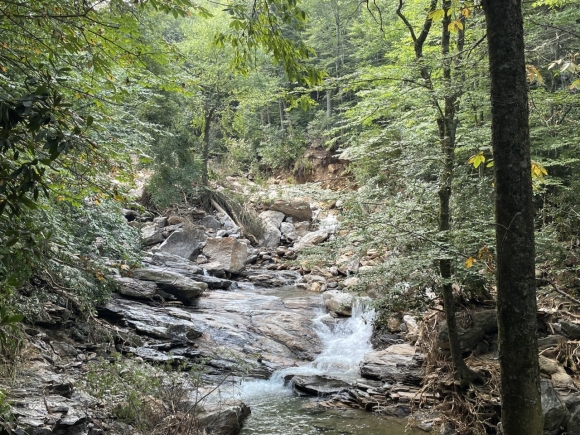 Skinny Dip Falls is nearly unrecognizable after Tropical Storm Fred.
USFS photo
In addition to claiming lives, homes and livelihoods, Tropical Storm Fred has had a significant impact on many beloved sites on Western North Carolina's public lands. News related to closures, impacts and damage to WNC's outdoor offerings will be posted here as it is received.
10:15 a.m. Monday, Aug. 30
Swimming, tubing and boating on the Pisgah Ranger District of the Pisgah National Forest may come with additional hazards following Tropical Storm Fred.
Potentially unsafe conditions for water activities have been found in the course of doing assessments on the District's most popular recreation areas.
One of the District's most popular uses in the summer months is tubing on the Davidson River between Coontree Picnic Area and Sycamore Flats Picnic Area (currently closed). Staff have found several log jams in the river this week that could be hard for tubers and boaters to maneuver while recreating on the Davidson, with a dozen locations in that popular route alone. Some of these log jams span the entire channel, while others protrude into the flow of the river from along the sides of the banks. Also, these jams could break loose at any time during events that increase the water flow, which then creates new hazards for users.
Other popular locations on the District have also been impacted. Sliding Rock remains closed, and the base of Looking Glass Falls has been closed due to a half-acre log jam located above the falls themselves that could pose a hazard to swimmers or other onlookers at the base. With Davidson River Road (FS 475) closed as well, popular water access points along that road are also made more difficult to access. Entire channels have been changed by this event and for now we'd advise finding an alternate location to enjoy the water, for your safety and the safety of emergency responders.
Updates on closures and conditions can be found on the National Forests of North Carolina website and social media channels.
10 a.m. Monday, Aug. 30
Formal closure orders have been signed for multiple areas in the Appalachian and Pisgah Ranger Districts of the Pisgah National Forest. Use of these areas is prohibited until further notice.
In the Pisgah Ranger District, the following closures are in effect:
Entry of any kind is prohibited at: Looking Glass Falls Stairs, Lower Observation Deck and Pool; Sliding Rock Recreation Area; Setzer Fish Hatchery and Wildlife Education Center; Wildlife Education Center Parking Lot and first .01 miles of FSR 475C (Horse Cove Road); Wolf Ford Horse Camp; Davidson River Road from Cove Creek to Gloucester Gap (FSR 475)
Vehicles are prohibited at: Sycamore Flats Recreation Area, north end of the Art Loeb Trail and Little East Fork Trailhead at Daniel Boone Boy Scout Camp; Cove Creek Group Camps (upper and lower).
The following roads are closed to vehicles, cyclists and equestrians: Davidson River Road from Balsam Grove to Gloucester Gap (FSR 475); Courthouse Creek Road (FSR 140); Pilot Mountain Road (FSR 229).
In the Appalachian Ranger District, the following roads are closed to all uses, including camping. Hikers, bikers, and equestrians may be on the closed roads only when using an open trail that intersects with a closed road: Stoney Fork Road (FSR 63); Big Ivy Road, Coleman Boundary (FSR 74); South Toe Road beyond Black Mountain Campground, which is open, (FSR 472).
For updated closure information, visit www.fs.usda.gov/alerts/nfsnc/alerts-notices. Direct questions to the Appalachian Ranger District Office at This email address is being protected from spambots. You need JavaScript enabled to view it. or 828.689.9694, or to the Pisgah Ranger District Office at This email address is being protected from spambots. You need JavaScript enabled to view it. or 828.877.3265.
4:45 p.m. Wednesday, Aug. 25.
The U.S. Forest Service has released a list of areas on the Pisgah and Appalachian Ranger Districts of the Pisgah National Forest that are currently closed due to Tropical Storm Fred.
"We recognize that communities rely on access to our Forest and we do not take that responsibility lightly," said District Ranger Dave Casey. "The safety of our team, the visiting public, and our local communities is always our highest priority, but that is immediately followed by providing access to your public land."
Crews have worked hard to assess and open areas in the past week, but many areas remain closed. It is now clear that Tropical Storm Fred caused large-scale damage across a wide area, and the National Forests of North Carolina is supporting multiple districts reporting outages, with Pisgah National Forest the hardest hit. The disaster comes at a time when resources are already spread thin, with many employees out West working on raging fires and local emergency response departments busy with storm damage and recovery in local communities.
As result, the Pisgah Ranger District continues to ask the public to remain patient as we conduct ongoing assessments. Access is fragmented and areas are taking longer to reach and assess because of damage to roads making them unsafe or impassable. These necessary assessments require focused, methodical, and thorough work, so the process is neither fast nor easy.
In the near future, volunteers will be needed to help with the cleanup efforts. To connect with a volunteer group, contact This email address is being protected from spambots. You need JavaScript enabled to view it..
Pisgah Ranger District closures
Recreation Areas:
Sycamore Flats Picnic Area
Sliding Rock
Roads:
Davidson River Road (FS 475)
Courthouse Creek Road (FS 140)
Yellow Gap Road (FS 1206)
Pilot Mountain Road (FS 229)
Headwaters Road (FS 475B) South End
Upper Cove Creek Road (FS 225)
Appalachian Ranger District closures:
Roads:
Stoney Fork (FS 63) closed completely due to bridge washout
Big Ivy (FS 74) closed at Walker Falls
South Toe River (FS 472) open to Black Mountain Campground, closed at gate 2 miles past campground; no access to Blue Ridge Parkway
Use of roads, trails and dispersed campsites near Burnsville, Hot Springs and Barnardsville is discouraged until further notice as ongoing safety and damage assessments are completed. Do not hike to known landslides and mudslides, as these are dangerous and unstable. Trying to access these hazard locations puts both the public and the rescue squads at risk for injury
4:30 p.m. Wednesday, Aug. 25.
Newfound Gap Road is now reopen.
National Park Service crews received specialized assistance from contractors to complete the work, which included the removal of 50 yards of debris.
11:45 a.m. Wednesday, Aug. 25.
• The Sliding Rock Recreation Area in the Pisgah National Forest is closed, and law enforcement personnel are present to prevent entry to the popular site. Facility infrastructure is damaged, and the pool contains large amounts of debris. Visitors should stay out of the area for their own safety and that of first responders.
• Skinny Dip Falls, accessed from mile 417 of the Blue Ridge Parkway, is unsafe to visit. The bridge has been swept away and the path of the water has completely changed.
• The Pisgah Center for Wildlife Education in Transylvania County is closed to the public and all classes are suspended until further notice. The Bobby N. Setzer Fish Hatchery remains operational but is closed to the public. An assessment of the impacts on the education center and the hatchery is ongoing. However, N.C. Wildlife Resources Commission officials have confirmed that many buildings sustained some level of water damage. In addition, flash flooding caused the hatchery raceways to be overtopped. While some of the 1 million trout survived and remained in the raceways, many were displaced by the rising water and stranded on hatchery grounds. Others died in the raceways due to poor water quality caused by the flood waters. Some fish may have even washed into the Davidson River.
• National forest visitors should not hike to known landslides or mudslides, as they are dangerous and unstable for all forms of traffic, including vehicle, foot, horse and bicycle. The Appalachian Ranger District is currently discouraging use of any Forest Service roads, trails and dispersed camping sites around Burnsville, Hot Springs and Barnardsville in order to allow ongoing safety and damage assessments to be completed.
• All storm-related closures on the Blue Ridge Parkway have been lifted, but visitors should drive carefully and avoid areas impacted by last week's rains.
• Many parts of Panthertown Valley in the Nantahala National Forest were impacted by the storm, and a full trail assessment is in the works. In order to help protect the resource, visitors should use caution on the trails. Water levels are higher than usual, and creek crossings may be impassable. Soil conditions are soggy and may be unstable — mud on boots is a guarantee.
• Newfound Gap in the Great Smoky Mountains National Park is currently closed due to a rockslide that occurred near mile marker 13 around 9 p.m. Tuesday, Aug. 24. The road is closed from the intersection with Little River Road, near Sugarlands Visitor Center, to Smokemont Campground Road. Access to Smokemont Campground remains open from the North Carolina side.