Archived Arts & Entertainment
Ready for 'YerkFest'?
Wednesday, August 25, 2021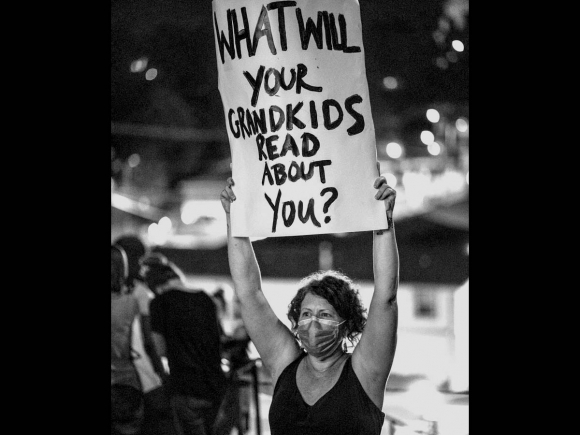 Erica Waldrop. (photo: Quintin Ellison)
Celebrating the life of the late Erica Waldrop, the inaugural "YerkFest" will be held from 5 to 11 p.m. Saturday, Aug. 28, at the Innovation Station and Front Street Takeout in Dillsboro.
The showcase will directly follow the culmination of the Greening Up The Mountains festival. Live music at "YerkFest" will be provided by Ol' Dirty Bathtub (Americana/bluegrass), PMA (reggae/soul), Woolybooger & The Ragtime Drifters (Americana/indie) and Shain Weston Lyles (singer-songwriter).
Waldrop passed away in a tragic car accident last winter. She was a friend to many in Sylva and greater Jackson County. A shoulder to lean on. A smile to brighten your day.
Waldrop was many things to many people. Of note, she was a social justice warrior who stood proudly at any and all community marches, most recently the Black Lives Matter and Confederate statue gatherings in front of the Sylva fountain.
She was also a helping hand and the life of the party. If you were passionate not only about life, but what you wanted out of it, she was right there to amplify those aspirations into the universe. She never met a stranger, and was always connecting the dots of people, places and things within any social setting.
Free and open to the public. Donations will also be accepted for the Erica S. Waldrop Scholarship, which is given to a graduate student at Western Carolina University who are in the speech language pathology program.
Leave a comment
2

comments
I just learned of Erica's tragic passing. I am very shocked and sad to hear this news. She was an amazing beautiful person that created a wonderful legacy. She touched so many in a truly positive an inspiring way. She will be missed by all. Sincere condolences to the family. I hope to attend the next Yerk fest and honor Erica's passion and spirit of having a good time with good people enjoying good music.

V/R

Chip Loye

Saturday, 10/09/2021

Thank you for helping us remember and honor Erica.

Monday, 08/30/2021