Archived News
How to help
Wednesday, August 25, 2021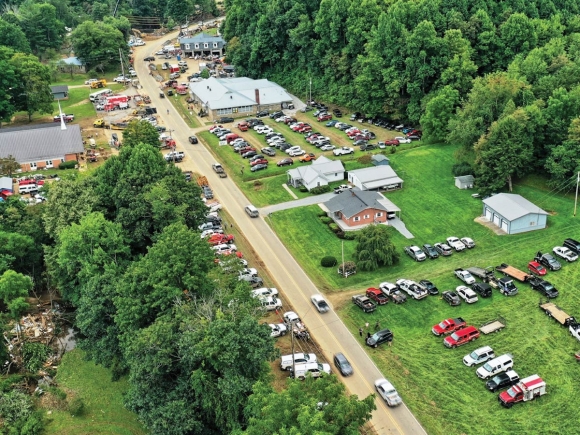 Volunteers and first responders gather in Cruso on Saturday to make plans for recovery efforts after the flood Tuesday. A Shot Above WNC
Haywood County Government urges those interested in donating time to help with relief and recovery efforts to visit recoverhaywood.com and click the "Volunteer" option at the top of the page for registration information.
According to the Haywood County Government, "registering to volunteer helps make sure that your talents and skills are put to use where they are most needed. It also minimizes the risk of scammers showing up unannounced and taking advantage of our neighbors when they are most vulnerable."
Volunteer Reception Center
There are plenty of opportunities to volunteer for storm recovery based on skills, abilities and interests.
The best way to get connected to the right opportunity is to register with the Volunteer Coordinator, John Chicoine in person at the Senior Resource Center, 81 Elmwood Way, Waynesville; by phone at 828.356.2022 or email This email address is being protected from spambots. You need JavaScript enabled to view it..
Potential Landlords
Homeowners wishing to rent to flood victims are being recruited and we are attempting to match them with victims who have requested assistance. Amber Edwards is the primary contact, This email address is being protected from spambots. You need JavaScript enabled to view it. or 828.492.4115.
Services/Labor Donation
Supplies Donations
Things still needed (specific requests)
Financial Donations
Fundraisers (Things to Buy)
Individual Recovery Fundraisers
Lost and Found (all Facebook groups)
Upcoming Volunteer/Benefit Events: