Archived News
Finding Flood Assistance
Wednesday, August 25, 2021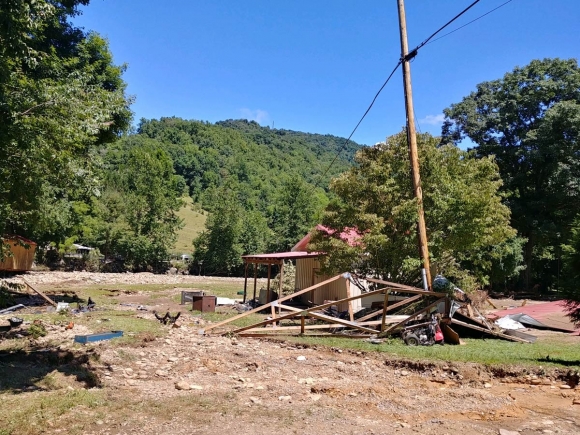 Haywood Helpline
A helpline is in place for anyone seeking assistance related to the storm. The helpline number is 828.356.2022. The hours of operation are from 8 a.m. to 8 p.m.
Types of assistance available through the helpline:
• Missing person information
• Food, housing assistance
• Special needs assistance
• Volunteer or donation opportunities
• Other storm-related needs
Residents with immediate life-threatening needs should call 911. Otherwise use this number for all other needs.
These locations are distributing items to those in need:
• Bethel Baptist Church: 5868 Pigeon Rd., Canton — clothing, children's clothing, food, water, toiletries
• Canton First Baptist Church: 74 Academy Street Waynesville — food, water, toiletries
• Faith Community Church: 289 Industrial Drive Waynesville — food, water, toiletries
Those affected by storm damage will find meals available at Bethel Baptist Church: 5868 Pigeon Rd, Canton, NC 28716.
Free Mudslides/Flooding Home Cleanup Hotline
Call 828.222.3975 for free help from local relief agencies.
From now through Sept. 3, several relief agencies are staffing a free hotline for debris removal and home cleanup after the recent mudslides and flooding. This hotline will connect affected residents with reputable and vetted relief agencies that will assist in chainsaw work, debris removal, drywall, flooring and appliance removal, roof tarping, and mold treatment, as they are able. All services are free, but service is not guaranteed due to the overwhelming need.
Hotline hours may be extended to the weekend as volunteers are available to answer phones. Importantly, this hotline cannot assist with social services such as food, clothing, shelter, insurance or questions about FEMA registration.
Showers and laundry facilities:
• Crestview Baptist Church, 3258 Pisgah Dr., Canton.
• First Baptist Church, 74 Academy St., Canton.
Food & Cleaning Supplies
• Cruso Community Center, 13186 Cruso Rd., Canton.
• Bethel Baptist Church, 5868 Pigeon Rd., Canton.
• The Outpost, Cotton's Place, 6175 Pigeon Rd., Canton.
• Faith Community Church, 289 Industrial Drive, Waynesville.
Section 8 Housing Coordination (income qualification required)
Applications are being taken over the phone from 7:30 a.m. to 5 p.m. Monday through Thursday. Liz James is the primary contact, 828.492.4114 or This email address is being protected from spambots. You need JavaScript enabled to view it..
Non-Section 8 Housing Assistance
United Way of Haywood County, and Mountain Projects are seeking donations to assist with rental deposits and first-month rent (and more if necessary). Requests can be made by Brooke Smith, This email address is being protected from spambots. You need JavaScript enabled to view it. or Patsy Davis, This email address is being protected from spambots. You need JavaScript enabled to view it. . Call 828.452.1447, 7:30 a.m. to 5:30 p.m. Monday through Thursday.
Mental Health and Emotional Support
• 24-hour access to a therapist at Hope 4 NC, through the N.C. Department of Health and Human Services www.hope4nc.org or call 855.587.3463.
• Therapy dog volunteers available at 828.342.2246 or This email address is being protected from spambots. You need JavaScript enabled to view it..
Animal/Farm Help
• Foggy Mountain Mobile Vet Services is offering rescue help and assessment on a volunteer basis to get animals stabilized while sorting out other necessities. Call or text 828.593.9595.
• WNC Regional Livestock Center is offering shelter for displaced or endangered livestock.
• Missing animals? Haywood County Animal Shelter recommends if you are missing an animal, that you post it on the Facebook group "Finding My Way Home" and call the shelter at 828.456.5538 ext. 7 to have your animal added to the lost and found list.
• Tropical Storm Fred Farm Assistance Hotline: 866.645.9403 available 8 a.m. to 5 p.m.
Livestock, crops, food, and feed safety
• Technical assistance available through specialists at NCDA & CS and NC State Cooperative Extension.
• Donated services and material available from NCDA & CS Research Station staff, Cattlemen's Association, and Cooperative Extension
• Damage assessment and recovery information available from USDA Farm Service Agency.
• A donations link has also been established by N.C. Farm Bureau for the affected farm community at www.ncfb.org .
• Emergency Hay Micro-Grants Assistance for equines impacted by the crisis. Individuals, equine evacuation centers and small rescues not receiving other assistance are eligible to apply. Apply at www.fleetofangels.org. Accepting applications through Sept. 30.
Recovery Services
• Appalachian Landslide Consultants: if you are concerned about the stability of your slopes or if you have had landslides that need to be looked at to determine their safety, contact through website at www.appalachianlandslide.com.
• Rusty and Drifa's Hauling and Moving: flood clean-up, moving, labor, junk removal, residential/commercial property clean-out
• Toby's Moving Haul: Help provide meals, transportation to medical appointments and other needs.
• WNC Flooding Home Clean Up Hotline: 828.222.3975
Individuals offering recovery services
• Chris Collins of Haywood County offers handyman/other services free of charge: 828.316.7937
• Andrew Wiley offers handyman services/other needs (mentions searching for lost pets as well) 435.730.3738.
• Donating excavator/saw man services for flood victims. Text 828.550.5565 with name, address and work that needs done for appropriate dispatch. Top priority: Canton, Bethel, Cruso and Clyde.