Archived News
State and federal officials respond to Haywood flooding
Thursday, August 19, 2021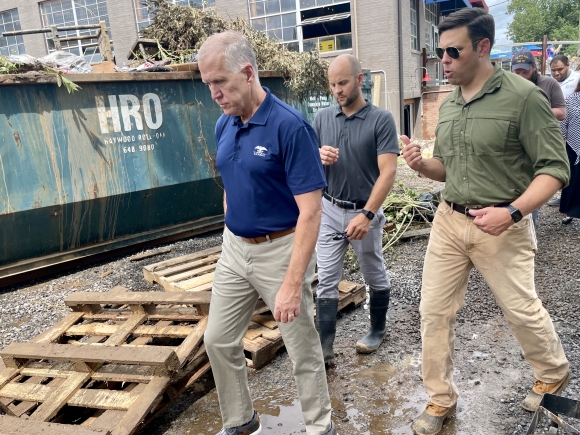 Sen. Thom Tillis (left) looks over damage at BearWaters Brewing with Canton Town manager Nick Scheuer (center) and Mayor Zeb Smathers (right).
Cory Vaillancourt photo
As Haywood County continues to assess damage from the Pigeon River flooding associated with excess rainfall from Tropical Storm Fred on Aug. 18, local officials are asking for help in a number of ways while noting a pair of grim milestones associated with the destruction.
"Our residents are strong. Haywood County is resilient, and we're all North Carolinians. We're standing strong, but we're needing support," said Haywood EMS Director Travis Donaldson. "We need your prayers and your thoughts.
Donaldson led off a press conference earlier today on the grounds of Canton's flooded-out W.G. Stamey Municipal building, but Canton Mayor Zeb Smathers was asking for more than just thoughts and prayers.
"As you can see, our town hall, our basic structures, our houses, our police department, our fire department, our emergency response - it is completely offline," Smathers said, before leading U.S. Sen. Thom Tillis on a walk through Canton's mucky downtown, where several feet of water stood just 36 hours ago. "What you will see on this tour, you will go through our river businesses and homes that have been affected. This storm was so intense that one of our alderman, Dr. Ralph Hamlet, has lost his home. The intensity of the storm literally pushed it off the foundation."
Smathers said he thought this most recent flood was worse than the historic 2004 floods that slammed Canton back when his father Pat was mayor. Smathers went on to plead for a federal emergency declaration that would free up aid, especially housing resources.
In the immediate wake of the storm, more than 30 people were unaccounted for, but that number's since dwindled to around 20 as search and rescue operations continue. Sadly, two deaths have now been confirmed, with further details forthcoming.
Kevin Ensley, chairman of the Haywood County Board of Commissioners, said that more than 500 people had been displaced, and the area around Bethel, Crusoe and Lake Logan remains isolated and devastated.
"We have probably 10 to 30 bridges out from the public safety standpoint, and education and quality of life," Ensley said. "Folks are cut off for an extended period of time, so we're looking to the state and the federal government to help those folks with bridge repair and with their homes."
Sheriff Greg Christopher repeated calls for people to stay out of the Cruso area as contractors and rescue teams move in and out.
County officials had no answer as to when phone and electric service could be restored for those currently experiencing outages.
Resources are available for those residents on the perimeter of the area, and a makeshift shelter at Tuscola High School is still in use as well, although few people remain there.
People who are not in life-threatening situations but still need help are encouraged not to call 911, but to call a special help line established for this purpose: 828.356.2022.
Smathers will host N.C. Gov. Roy Cooper around 2:30 p.m. today for a tour of Cruso.