Archived News
Many still missing in Haywood after last night's floods
Wednesday, August 18, 2021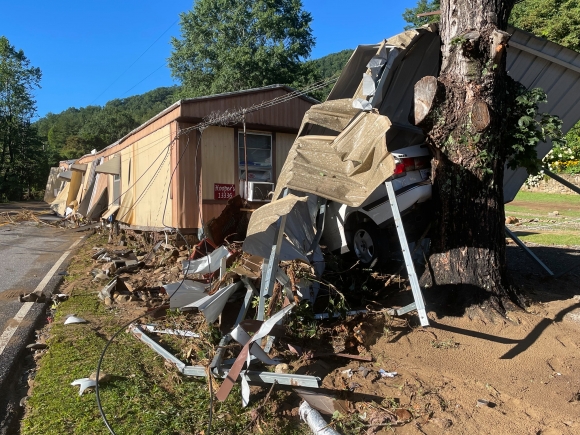 Damage to vehicles and dwellings is widespread near the Cruso Community Center this morning following the massive floodwaters last night.
Scott McLeod photo
More than 30 people remain unaccounted for and search and rescue operations continue at this hour after heavy rainfall from Tropical Storm Fred slammed southeastern Haywood County last night, pushing the Pigeon River up over its banks.
Subsequent flooding throughout Cruso, Lake Logan, Clyde and Canton swept homes from foundations, clogged bridges with debris and closed silt-slicked roads across the area.
"Yesterday afternoon we started getting reports about high water and at approximately 3 p.m. Haywood County Sheriff's Office deputies began to assist families in evacuating areas that were at risk of flooding," said Sheriff Greg Christopher at a noon press conference.
Evacuation quickly turned to rescue, with the help of specially trained water rescue units from across the state, according to Christopher.
"We have been searching abandoned vehicles, homes and buildings for survivors and will continue to search until every community member is located or at least accounted for," Christopher said, imploring residents not to drive through standing water, and to remain at home off the roads if at all possible.
Although significant damage was reported in downtown Clyde and Canton, Lake Logan and especially Cruso seem to have borne the brunt of the damage. Sheriff Christopher couldn't yet confirm any deaths, but said detectives were investigating widespread reports.
Craig Rogers, who has lived in Cruso for 55 years, said he witnessed a man being swept away from his truck and feared he was one of those still missing or perhaps dead.
"He was trying to get his truck out but the water came so fast he had to get in the bed of his truck, but he got washed out," said Rogers. "We yelled at him to grab a tree but he got swept down the river."
The flooding from Fred was much worse than in 2004, Rogers said.
Todd Ford, whose home is between the East and West Forks of the Pigeon River in Bethel, said the water came so fast it was scary. He said the two rivers came together just in front of his home, which is perched on higher ground.
"Sometime between 5 and 6 p.m., the rivers just started coming together. I could see water on one side, and then the two just joined together so fast I couldn't do much," said Ford. "Thankfully my family was already evacuated."
Another couple who did not want to give their names but live in a campground near the Cruso Community Center told a reporter for The Smoky Mountain News that they feared that many residents of Laurel Creek Campground may have lost their lives. They said they'd been told that residents huddling in a pavilion in the campground had been swept away by the raging waters during the storm.
Dozens of bridges and roads in the area are damaged, including several sections of U.S. 276. A mobile home was left resting on U.S. 276, and it had pushed a utility building and a car into a tree.
Both cell phone and landline telephone service to Cruso are currently down, and boil orders have been issued in Canton and Clyde.
"We need people to stay away so the rescuers and searchers, our Department of Transportation, law enforcement, fire departments, will be able to continue to move about in the communities as they need to in order to help these people who need us so desperately," Christopher said.
Haywood EMS Director Travis Donaldson, speaking just before Christopher, said that the Pigeon River peaked at 19.6 feet, and that Cruso remains closed to traffic at Jukebox Junction. A temporary shelter at Tuscola High School reported 54 people had taken refuge there.
Western North Carolina's Sen. Kevin Corbin, R-Franklin, said last night in a Facebook post that he and Rep. Mark Pless, R-Haywood, were working within state government to mobilize assistance to the area.
Congressman Madison Cawthorn, who appeared at the press conference, said that he and his team had been on the ground surveying damage, and that he'd sent a letter to President Joe Biden asking for an emergency declaration. Cawthorn also said he'd spoken with North Carolina Gov. Roy Cooper earlier.
"The people of Haywood County are known for their rugged individualism. They're known for their strength and I'm asking them to call on that now, to heed the guidance of local officials," Cawthorn said. "What the sheriff has done here, the local EMS, the rescue squads, water evacuation squads and local fire chiefs have done, is to be commended. We have an incredible group of first responders here. I believe the federal government will be doing all it can, especially on my behalf, from my office, to assist the people who've been affected the most."
Christopher said he hadn't received any reports of injury or deaths among law enforcement, first responders or rescue personnel.
SMN Editor Scott McLeod contributed to this report.
Leave a comment
1

comment
May God reach down and cradle our county again. The morals and words that many of us were taught in our little mountain churches are put to use. May we all stand shoulder to shoulder and lean on each other until we can get through another hurdle. Thank God for good country raising. We have the best neighbors and friends in the world here in our little mountain towns I hope to be able to help anyone in need to the best of my ability. Didn't they teach us to love our neighbors as we love ourselves and family. Yes thank God for a great sprit of Our Mountain people. Thank you folks Gary Justice .

Thursday, 08/19/2021