Archived Outdoors
Effort begins to clean up Fontana campsites
Wednesday, August 18, 2021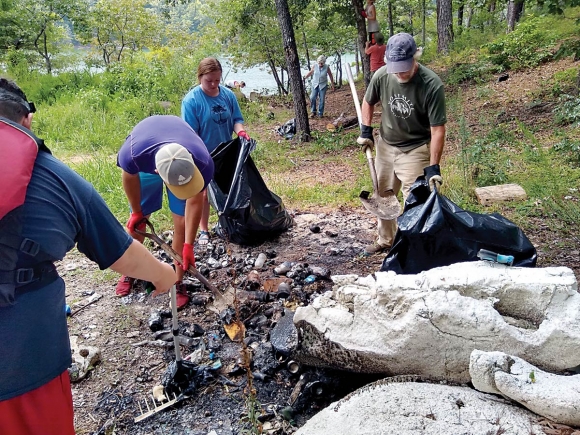 Volunteers work to clean up a trashed campsite. Donated photo
On Tuesday, Aug. 10, 14 volunteers converged on Fontana Lake to clean up dispersed campsites that had been trashed by frequent use from neglectful users.
The cleanup came thanks to a $2,600 grant that the Tennessee Valley Authority awarded to Outdoor Mission Community. OMC co-director Jamie Shackelford saw the need for the grant after a canoe camping trip last summer at the height of the pandemic.
"We were shocked at the trash that campers left behind — a full size innerspring mattress, along with comforters and other rotting fabrics, as well as a metal hammock stand," she said.
Volunteers from HIGHTS and the Youth Conservation Corps helped pick up trash last week, with Haywood Community College, First United Methodist Church of Waynesville and OMC supplying adult volunteers to supervise, drive boats and haul refuse to landfills and recycling centers. The group removed 1,200 pounds of bagged trash, 400 pounds of Styrofoam, six broken lawn chairs, more than 20 empty fuel cans, many metal tent poles, sleeping bags and melted plastic objects.
Other organizations have been working to clean up Fontana, including a shore cleanup led by Fontana Marina each November and a semiannual cleanup of campsites within the Great Smoky Mountains National Park led by the Benton MacKaye Trail Association. But OMC is the first group to take responsibility for the dispersed campsites on U.S. Forest Service land at the lake.
On Saturday, Oct. 16, OMC will organize a second cleanup at Fontana and is currently seeking volunteers. To participate, email This email address is being protected from spambots. You need JavaScript enabled to view it. or text 336.583.9932.